Singer/songwriter/guitarist Ani DiFranco, an early proponent of the indie label movement, began her buoyant career 1989, created her Righteous Babe label in 1990, and without the benefit of the airwaves, built a huge, politically savvy fan base, while producing more than twenty albums, largely on her own.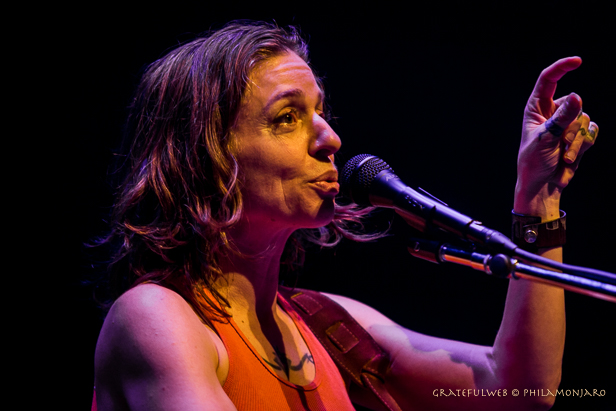 She is not one to shy away from real world issues--in word and in deed, she has, over the years, offered her support to society's most unsupported. To that end, her themes are often fueled by feminist perspectives and an activist ethos. Perhaps that's why she is so easily able to galvanize her audiences, who often share her voice. But, of course, she is a seasoned musician, too, prone to whacking the heck out of her acoustic guitar to emphasize a given phrase—a technique that greatly punctuates her fervor. And her voice at the Park West, Chicago, also came off as bold and brassy.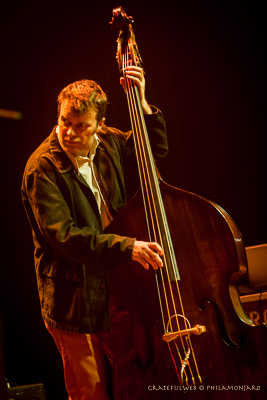 The set list featured some definite rockers, which stand up bassist, Todd Sickafoose, and percussionist Terence Higgins, really rounded out. And the super fans, who knew every lyric by heart, wasted no time joining in, which Ani consistently encouraged.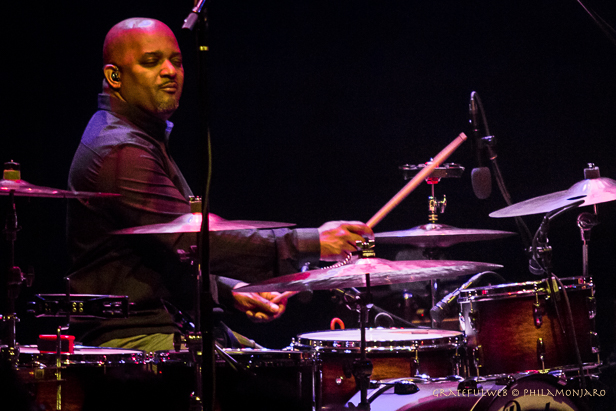 But it was Ani's warm exuberance that set the stage and kicked in early. "I'm not going to be lonely tonight. It's nice," she said, after an exceptionally warm reception the minute she walked onstage. She strummed plaintively on 'Little Plastic Castles' at first, setting the "coffee house" setting, and was soon enhanced by her band.
"People talk about my image / like I come in two dimensions…" she sang in full force, in this testament to illusionary fame.  She still seemed stunned by the audience reaction: "I was looking around at all these warm bodies and it just blew my mind."
Her cantankerous playing continued with 'Names and Dates and Times': "Laugh to laugh, talk too long," was so easy to relate to, and so easy to sing along with.
'As Is' was pure poetry. Ani's voice rose and fell as she interpreted the lyrics. It wasn't long before she spoke her mind about current events. "Vote them out. This is what we must do," she proclaimed, about the recent Florida shootings and the power of the NRA.  She spoke about the brave students who are trying to address current laws. "Back these kids up!" she said, to a sea of support. She then returned to her music. "I'm going to play it (the next song) for all the citizens who are still fighting for the truth."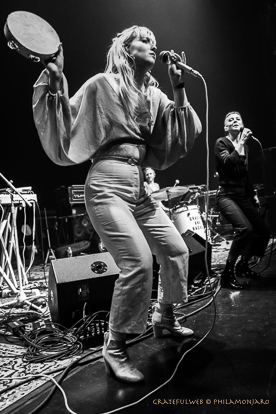 'Marrow' completely followed up the artist's point. "Where was your conscience? Where was your consciousness?" ('Revelling/Reckoning,' 2001). Midway through the set she invited her support act, Gracie and Rachel, to embellish her tunes. The duo's angelic voices and sweeping violin completely changed the mood.
And in true DiFranco spirit, she chimed in with her views. "If you sing it enough, it comes true. That's my belief about life." The evening was full of insights and exciting tempo shifts. Cheers erupted throughout Ani's rousing rendition of 'Untouchable Face' ('Dilate,' 1996) and it was easy to follow the profane chorus and appreciate the disappointed lover's perspective, "And who am I? / That I should be vying for your touch…"
Leave it to Ani to illustrate the three-dimensions of the human soul in the lyric, "I think I'm what I call sensitive   And easily thrown off my game…" on 'Zoo' ('Which Side are you On'? 2012).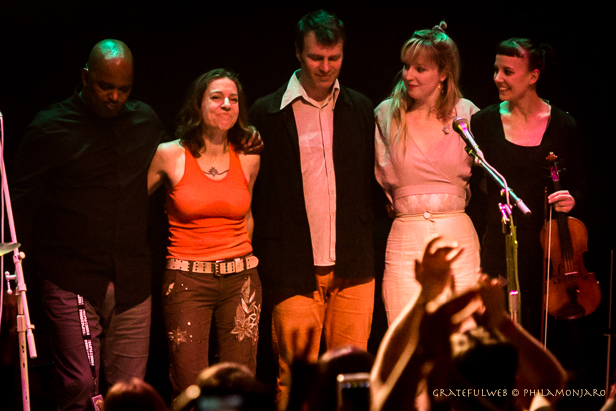 Her set included 'Names and Dates and Times' and 'My IQ' from 'Puddle Drive' (1993), 'Untouchable Face,' from 'Dilate' (1996), 'Little Plastic Castle,' 'As Is,' 'Two Little Girls' and 'Swan Dive' from her highest charting album, 'Little Plastic Castle,' released in 1998,'Marrow' from 'Revelling/Reckoning,' (2001), 'Zoo,' ('Which Side Are You On?', 2012) and 'Even More' from last year's critically acclaimed 'Binary,'
Often what made Ani's songs so compelling was her sly use of metaphor, as in 'Still My Heart'— "That train just won't stop / Blowin' its horn that way ("Allergic to Water,' 2014). And other times, she warmed us over with her awareness: "Let's give it up for the crew tonight."
But overall it was her dynamic persona, as she expressed love for the loyal audience that loves her back… "Thank you now and always for giving my music somewhere to go, giving me a home in this world."
Set List:
Little Plastic Castle
Names and Dates and Times
As Is
Two Little Girls
Coming Up
Marrow
Zoo
Still My Heart
Even More
Swan Dive
Untouchable Face
Alright
Zizzing
All This
Deferred Gratification
Play God
Binary
Encore:
Gravel
Shameless
Overlap