The Steve Winwood Band's Greatest Hits Tour will have touched down on three U.S. coasts by July 8th, concluding thereafter with concerts in Germany and the UK. But it's hard to imagine those other fans showing their love the way Chicago did on Thursday night.
And that adulation was well-deserved, too. The setlist, as promised, swept the ticket-holders through vocalist/multi-instrumentalist/songwriter Steve Winwood's most productive and exhilarating eras. Just a teen when he first performed with the Spencer David Group (he had performed at an even earlier age with his father, Lawrence, and elder brother, Muff), Winwood has since become a life force, a Brit rocker who appears to enjoy folk, psychedelia, blues and rock in equal measures, and whose stints with the Spencer Davis Group, Blind Faith, Traffic and, ultimately, his post solo career have enabled him to broaden his fan base, and, ultimately, allow him to gain the status of sought-after, rock super star.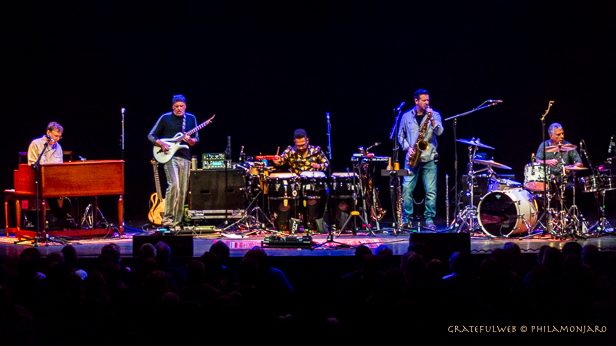 But that didn't happen overnight. The Spencer Davis Group was undeniably inspired by raw, riff-based, electric blues and jazz. Winwood had been primed early for such antics, having backed American acts on Hammond organ (Muddy Waters, John Lee Hooker, Otis Spann, etc.) in his native Birmingham, when the protocol had been that locals would back famous visitors.
Formed originally in 1967, Traffic went through a few incarnations. For the 1970 reformation (with Jim Capaldi, Chris Wood, Dave Mason), Winwood unearthed fine vocal/instrumental based-tunes, such as 'Low Spark of High-Heeled Boys.' At the time of this tune's conception, it relied on a gutsy keyboard ostinato, that once heard, captivated the listener completely. At this point in time, performed live with his pulsating ensemble, the heartbeat still beats strongly, but the texture has changed. Depending on your age, you might prefer the classic version (or not), yet few could argue that this touring band's updated version equaled sheer energy and showcased copious amounts of talent. From my seventh row seat, I could view ground level fans, who just could not get enough.
Winwood's output with late '60s Blind Faith (with Eric Clapton, Ginger Bake, Ric Grech) yielded incredibly, introspective chestnuts--'Can't Find My Way Home,' perhaps being one of the most sensitively composed, candid and relatable ballads of the flower child generation.
And, of course, Winwood's solo career afforded him total freedom as bandleader extraordinaire, offering the triple-threat Brit the opportunity to cherry pick and cross-reference genres at will.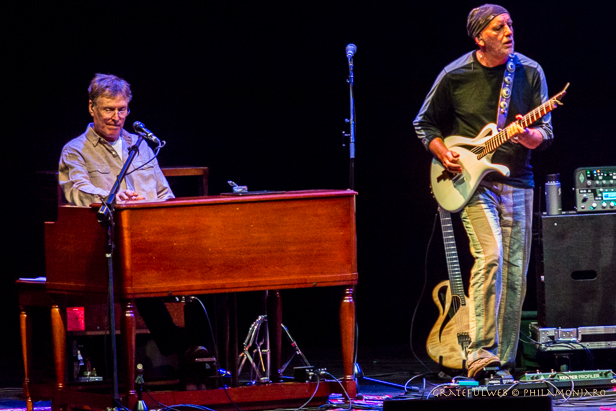 Winwood's solo project, 'Winwood: Greatest Hits Live' boasts a 23-song track list. Fans wanting to recall the exuberance of the Chicago Theater performance gems should definitely check this one-off out.
But back to the here and the now. The Thursday night aficionados that came to witness Winwood was as savvy and gregarious as his lively band quickly proved to be. The set up included electric guitar, bass, soprano and alto sax, keyboards and percussion which included clave, congas and a solid wall of sound kit.
Winwood sat behind the keys for 1967's 'I'm a Man,' permitting his players to showcase their physicality. There was no stopping them once they got into the groove. The bandana-clad, extroverted lead guitarist demonstrated a great ear for melody. The song was also enhanced by an absolutely killer outro, by the passionate percussionist whose hands-on triple skins vibrated with such vigor that they resembled streaks of lightning.  Add to that, the cool sax man's wail, 'I'm groovin'...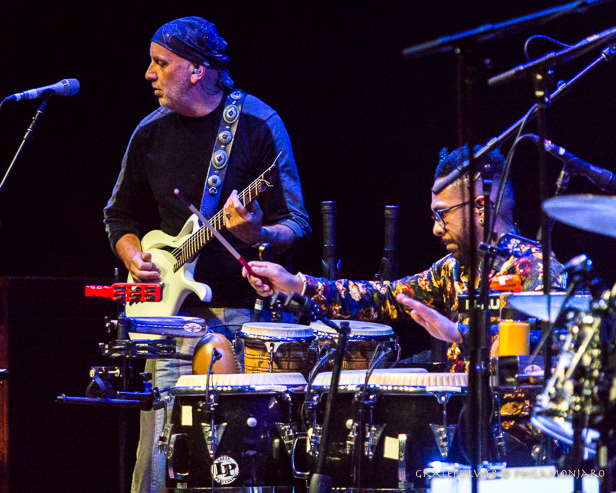 'Pearly Queen' from Traffic's sophomore album of 1968 enjoyed enharmonic, electric soloing, a palpable Mideast groove and ethereal flute. Their anticipated cover of Buddy Miller's 'Them Changes' began with a gigantic drum roll and included the blissful squawking of brass. Winwood was in especially great voice. Even after all these years, he still evokes passion with each counter-culture phrase.
Winwood then walked center stage, revealing his modus operandi. "We're hoping to take you through the decades. It's not chronological, but we'll get everywhere." Then, with his lime-green axe, he played some extraordinary changes, which set off a tumultuous jam session. Despite all of his talent, his persona and choice of clothing did not scream rock star. His simple choice of a beige shirt and jeans spoke volumes.
As soon as the unforgettable riff of 'Low Spark of High-Heeled Boys' began, the audience went ballistic. It was Winwood, back at the keys. Drums echoed each other, and the soprano sax blew hard. It was Winwood's turn to really shine at the keys, and he did not disappoint.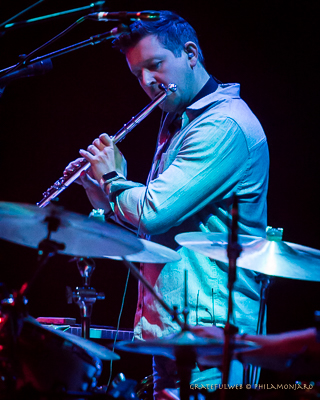 'Can't Find My Way Home' from Blind Faith's 1969 masterstroke was surprisingly cool with the addition of flute. 'Had to Cry Today' was a surefire ensemble feat. The instrumental, 'Domingo Morning' from 2003 'About Time' from Winwood's solo career, probably the least well-known arrangement of the night, created a wonderful contrast to the standard heavies.
'Roll with It' was pure rocker heaven and the '80s hit 'Higher Love' brought force multitude memories of Winwood's partnership with Eric Clapton. From Winwood's fourth solo album, 'Back in the High Life,' co-written by Will Jennings, it once won 'Best Male Pop Vocal Performance and two Grammy Awards for 'Record of the Year.'
For an encore, fans were quick to appreciate a homage to 1970's "John Barleycorn Must Die."  One need not be a drinker or prohibitionist to appreciate the ironic lyric. The lovely Celtic arrangement cast an enchanting spell. The theme song was portrayed stunningly, and followed by the alluring "Empty Pages." With Lilly Winwood at the fore, the blending of father/daughter voices yielded considerable alchemy.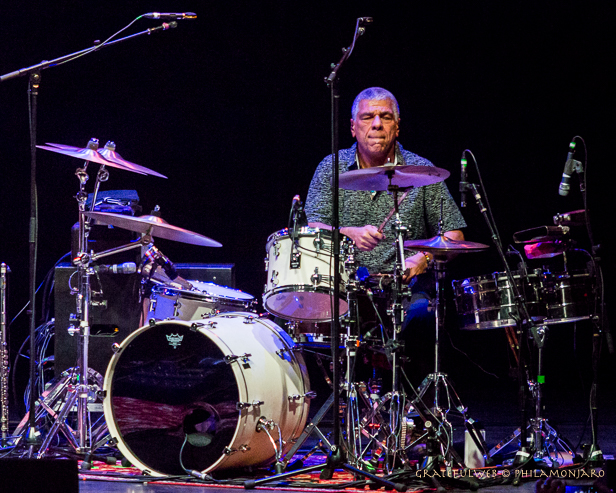 'Dear Mr. Fantasy' (Steve Winwood / Chris Wood / Jim Capaldi) from the 2003 'About Time' beckoned the brethren to rise up in the aisles, followed by 1967's 'Gimme Some Lovin' which motivated all of us to dance with complete abandon only minutes later. From 'Notting Hill,' this stupendous energy drink still holds its own, as a cocky funk rock staple that holds no prisoners. It just doesn't seem that long ago that a group of exuberant 1963 rockers, tore up the airwaves with this charmer. As promised, Steve Winwood's band took us back to "everywhere," a most incredible place to land when the mood cast, is just right.  
SETLIST
I'm a Man
Pearly Queen
Them Changes
Can't Find My Way Home
Had to Cry today
Low Spark of High Heeled Boys
Domingo Morning
Roll With It
Higher Love
Encores
John Barleycorn
Dear Mr. Fantasy
Gimme Some Lovin'