"I love Chicago, I swear," Darryl Jones exclaimed at Chicago's classy Park West, Friday evening. "Come home," a warm voice beamed back. It truly felt like the super star bassist/band leader of the Darryl Jones Project had come home.  
Another smiling woman, Edna, there with her daughter, elaborated on why tonight was so special.  'Darryl was my locker partner. He played upright bass. I've seen him play with the Stones, but this is the first time I've heard him sing. It blew me away."
"We've got West Chatham in the house," another neighbor exclaimed. Once upon a time, Chicago high school students were grounded in musical training. Darryl Jones was one of them, having graduated from Chicago Vocational School. And on his appearance back home on Friday night, he proved how that early education coupled with dedication paid off.
It's easy to understand why these locals are proud: Darryl Jones has had a magical career, yet he's never strayed far from or disregarded his south side roots. During the show, he emotionally gave thanks to his Aretha/James Brown-loving mother and aficionado of Count Basie father. It is clear from his onstage persona, that Darryl checks his ego at the door, but his exceptional talent speaks volumes.
In 1980, Darryl enjoyed his first stint with the Miles Davis Band, during which time he played on 1983's 'Decoy 'and 1985's 'You're Under Arrest.' After two years, he joined up with Sting for the Dream of the Blue Turtles tour. Being a versatile player meant he could easily transition to gigs with the likes of Madonna, Herbie Hancock, Ryuichi Sakamoto and since 1993, as Bill Wyman replacement bassist for the Rolling Stones ('Voodoo Lounge', 'Bridges to Babylon').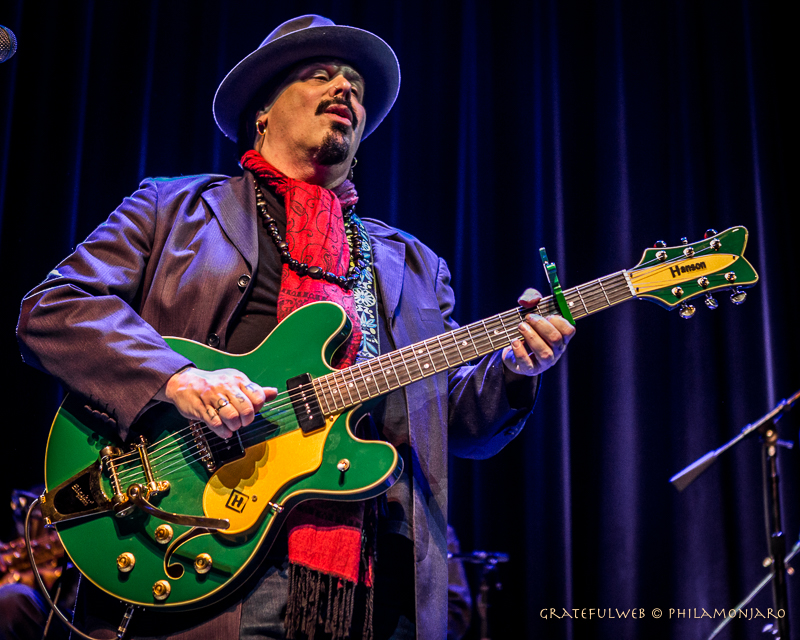 But this show was about the musical road less publicly traveled, more specifically, Darryl's heartfelt inspirations and fully-orchestrated originals. With guitarist/vocalist Nicholas Tremulis as musical director, Santiago Torano (Edgar Winter) on lead guitar, drummer Toby Williams (Curtis Mayfield), James Perkins on sax (Ramsey Lewis, Elton John), Phil Perkins on trumpet (Henry Threadgill), keyboardist Woody Goss (Vulfpeck) and Rene Robinson (Albert Collins) as backing singer and soloist on 'I'm A Woman,' the players were able to cover a massive terrain.
The six-minute 'Games' simmered, before culminating in a full R & B boil with lush harmonies, fierce percussion and a dynamic trumpet solo, while embracing a sultry, minor-tinged progression.  
'Things' enjoyed a funky lead-off by Darryl and the perfect pairing of voicings, when he and Rene swung hard. The honestly-contagious hook made this one memorable; it was topped off by Nick's hard-edged solo.
After commemorating some of rock's fallen heroes, Darryl's iron thumb passionately clamped down for 'Manic Depression,' a Jimi Hendrix chestnut. Santiago offered up some wild effects and ear-splitting runs. The DJP crammed a lot of energy into this five-minute extravaganza, which also featured driving kit work courtesy of Toby Williams and edgy brass by James Perkins.
Beginning with an intricate flute solo, 'In The Blood' (dedicated to his brother) proved that Darryl is not only a family man, but a demonstrative lyricist: "Mom and dad / we didn't understand the things that we had," Darryl expressed, through his buoyant baritone. "Stay together, that's what we learned."  
With Woody Goss on keys, 'Burn Like a Mother' kept up the now-expected pace. The audience roared as band members interfaced and their instruments interlaced. Nick told a story about "macho" males. His burlap-sack voice, making the point viscerally clear. James Perkins made it his own, too.  
"The Radiance" showed off Nick and Darryl's onstage personalities. This more cerebral number was rife with evocative solo guitar.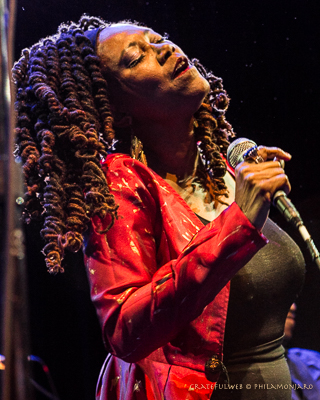 Rene, donning a dramatic, red robe, over a stark, black leotard, gave her all during 'I'm A Woman'. She and Darryl exchanged glances and seemed to be having a blast. The gutsy performance was a great transition into the next song, 'Westside Baby.' "I live on the west side, baby, she lives all across town," Darryl sang, after stating, "We're gonna play the blues."  His electric guitar solo was not only a much-appreciated surprise, but a cool transition to a Stones' cover. 'What's Hip' engaged a multitude of talents and featured Santiago.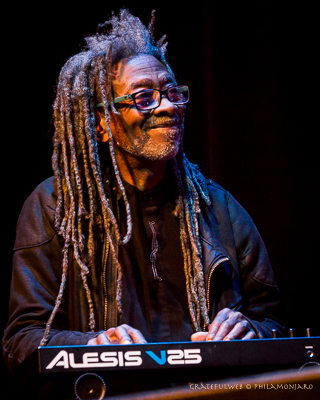 For "The first Miles Davis record I played on," Darryl invited former musical director of the Miles Davis Band, Bobby Irving, onstage to play keys. 'Decoy' was a delirious soundscape, which set the crowd on fire.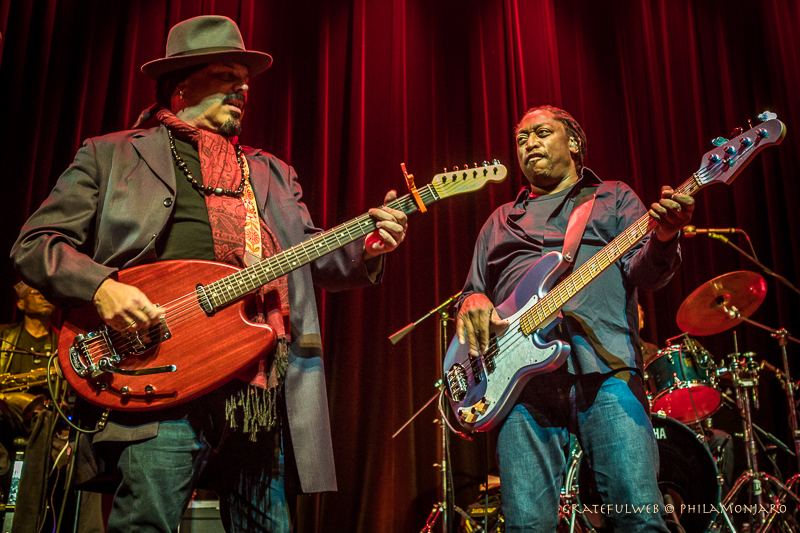 And in keeping with the theme of inspiration, Darryl asserted, "This is definitely something inspired by Curtis Mayfield." Here, Darryl showed off his surprising falsetto, with Nick adding dreamy interludes on his odd-shaped instrument.
'Round and Round' was another democratic undertaking, which allowed for plenty of instrumental input and celebration. Before exiting, Darryl made sure to thank every musician and crew member, but his Chicago fan club was having trouble saying goodbye. After rounds of applause, the band graciously returned.
"We've got one more,' Darryl explained. The politically savvy encore, 'Conscious Revolution,' galvanized voices and united us as kindred spirits. It was sad to see our hometown hero go; but then again, he did promise, "We'll be back," and we're holding him to it.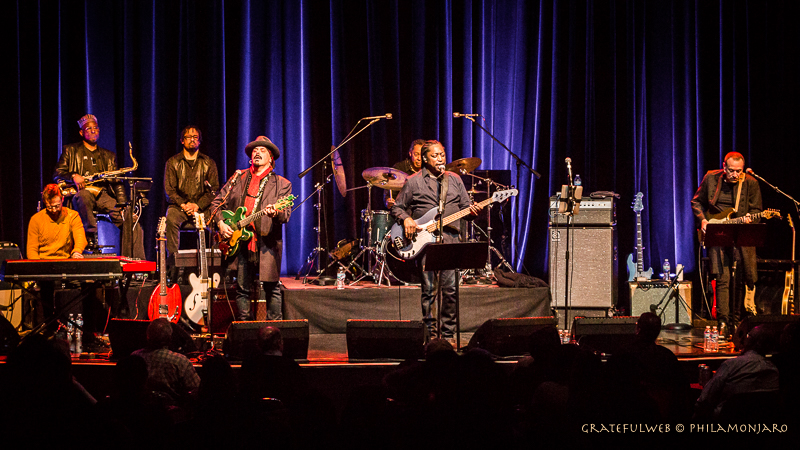 Set List:
Games
Things
Manic Depression
In The Blood
Burn Like a Mother
The Radiance
Westside Baby
Solo
Live with Me
What's Hip
Decoy
Here Is My Song
Encore:
Conscious Revolution ("We'll Be Back")
Round and Round