There was an angel sitting on Riot Fest's shoulder this year. The annual, three-day extravaganza was anointed with spectacular weather and droves of receptive multi-generational devotees. The layout was easily navigable, with the two main stages, Riot and Roots, blessedly close in proximity, while Rebel, Radicals, and Rise were merely a cold brew away. 
Once the sun went down and the crowds conflated, one had to hoof it to catch an act at a neighboring stage, but moving inch-worm style soon became part of the charm. And besides, when viewing the fest as a musical smorgasbord, why be preoccupied with the thought of missing an opening song? The sets were long and lively enough to please everyone.  
The diverse lineup featured Weezer, Blondie, Jerry Lee Lewis, Elvis Costello, Beck, and as expected, a slew of rising stars. Some may scratch their heads over what Riot Fest or their followers consider "punk," but mincing words seemed to be the last thing on the mind. All the more power to the Fest for allowing the program to breathe and open its doors.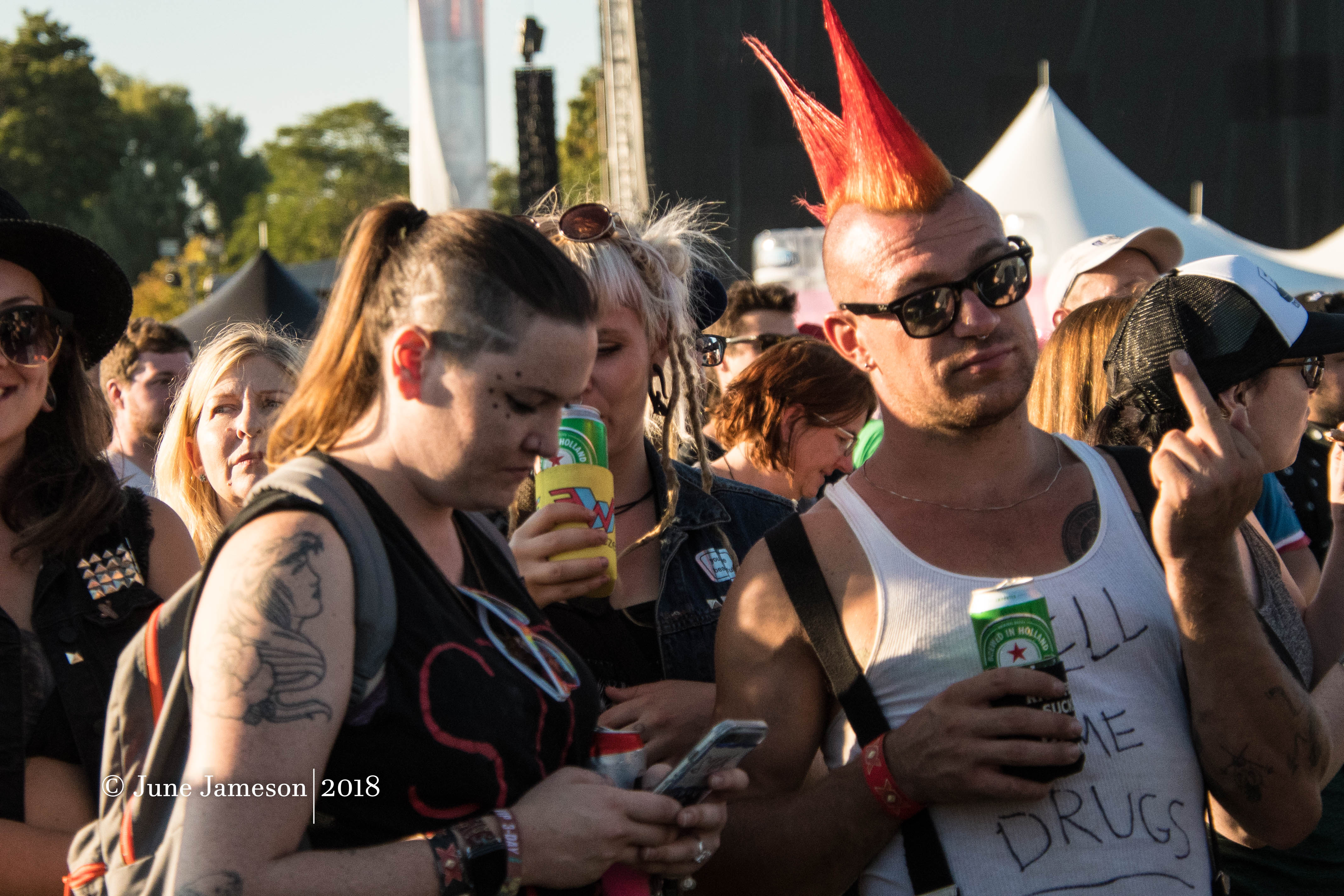 But judging by the apparel, Riot Fest still screams punk. Sleeveless jackets and spiky hair brightened up the sodded fields. And although fans decidedly made beelines to their favored stages, they were open-minded enough to respond in kind to newcomers as well as the veteran acts they clamored to see. The acts were psyched to be there, too.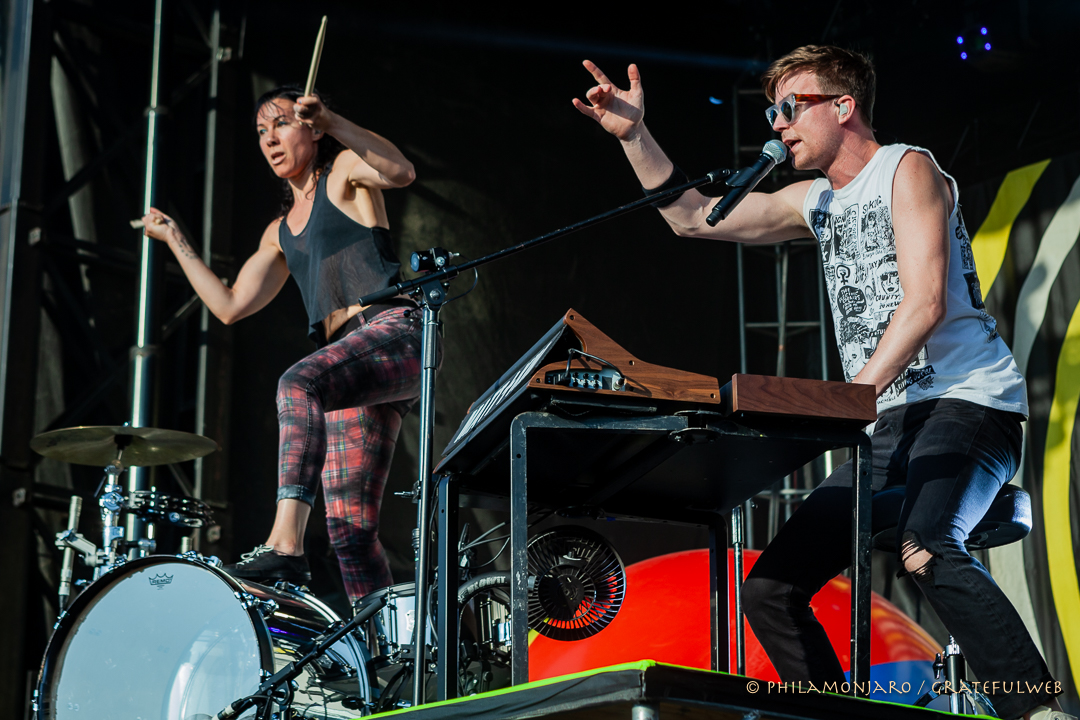 Those crowd-surfing, closet gymnasts, Matt (Johnson) and Kim (Schifino), graced the Roots Stage around dinner hour. Their sing-song melodies, salacious asides, and dime-store beats are typically as delightful to digest as microwaved mac and cheese and tonight was no different. Whether these New Yorkers rant about politics or each other's nasty habits, they lift spirits.  Friday's still-early set proved this point. Drumsticks have never flown so high so early. They've been around since 2004 but retain an exuberance that's impossible not to love.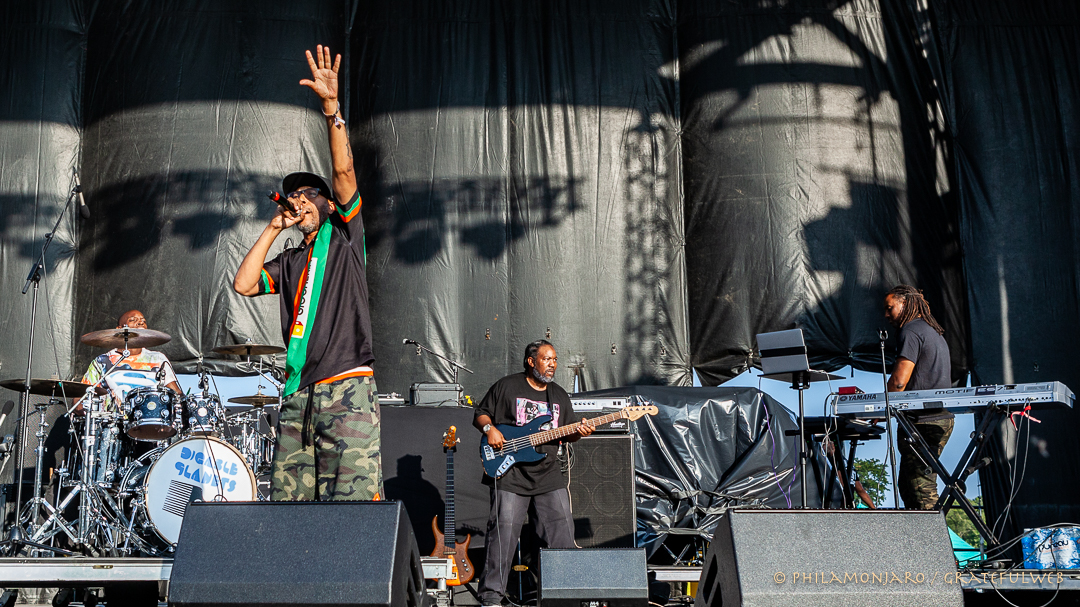 Front man Ishmael "Butterfly" Butler and his players wowed with their full-out performance of 1993 debut, Reachin' (A New Refutation of Time and Space). This band of elites is celebrating a 25thAnniversary—no wonder they're so pumped. Clever samples draw from the likes of Herbie Hancock, KC, and The Sunshine Band and Sonny Rollins. Their energizing, jazz-rap set was mesmerizing. And even fans who couldn't easily identify the curious beats succumbed to the groove and looked ecstatic.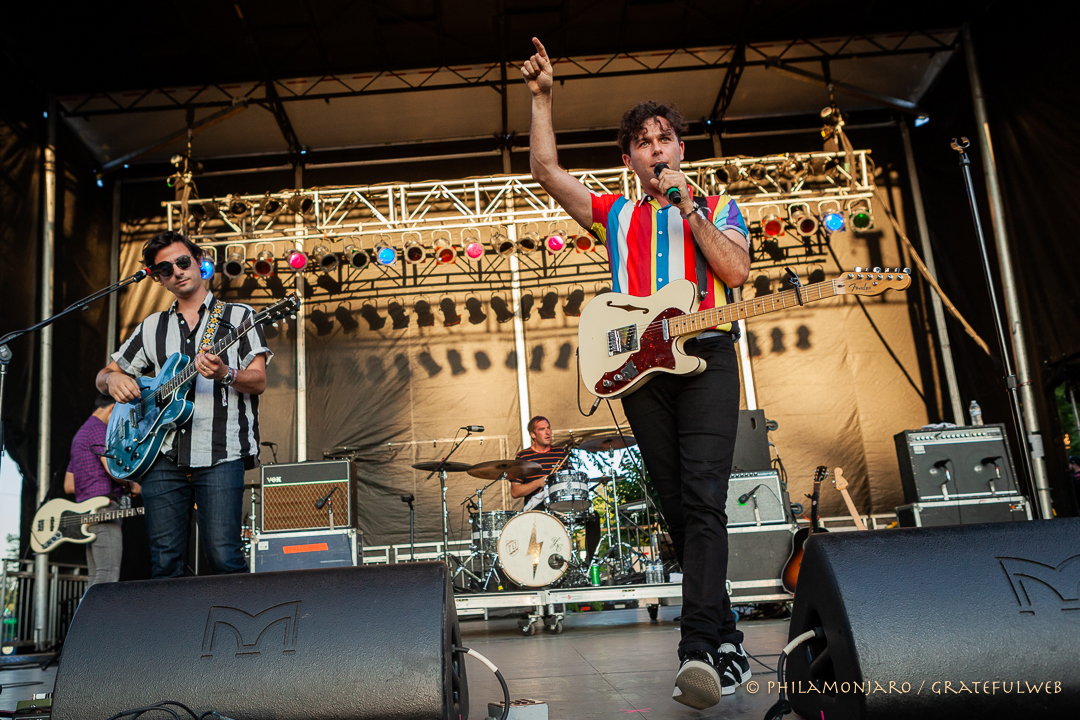 This was the first time that the Arkells played Riot Fest but our Canadian neighbors hardly broke a sweat, even when they performed the cover, "Same Drugs," by native son Chance the Rapper. Frontman Max Kerman possesses an exceptionally warm and flexible vocal instrument and a wondrous falsetto. He truly instilled life into the lyrics.
2018 finds the band boasting the new album, "Rally Cry" as well as experimenting with samples and new ways of crafting songs. They drew a sizable and appreciative crowd. Fingers double crossed Chicago gets to bear witness to them again in 2019.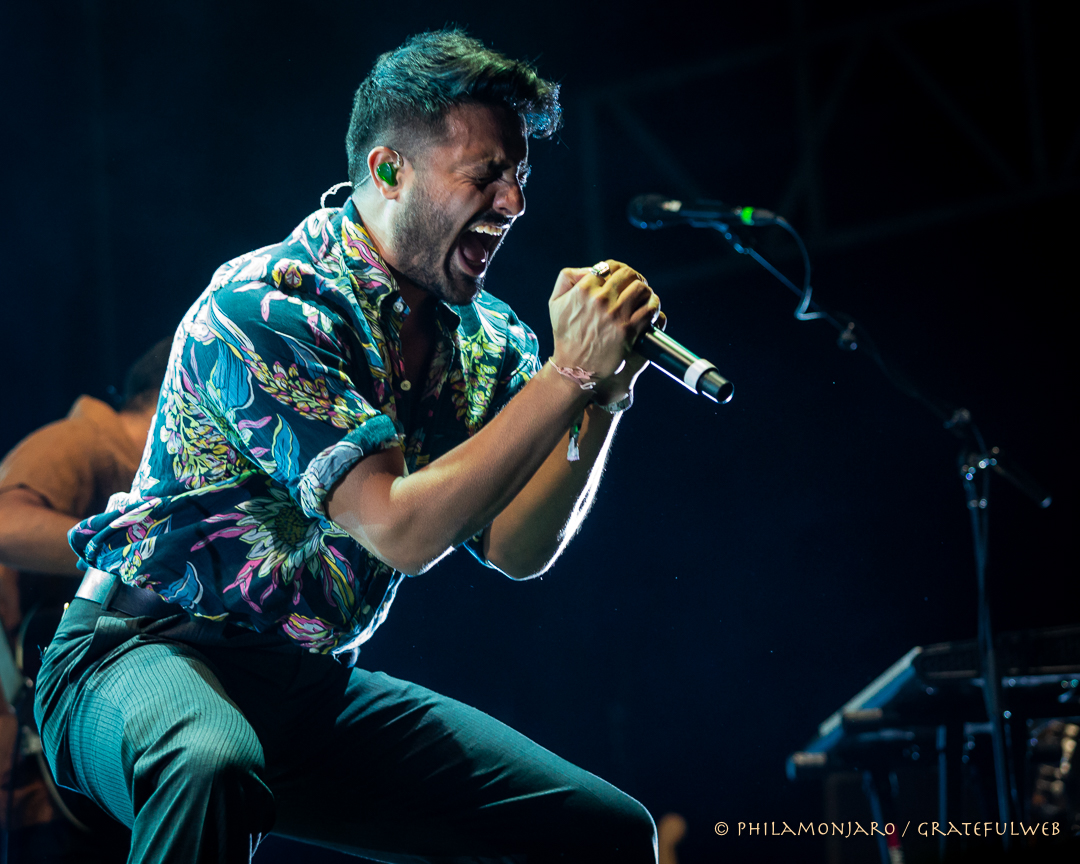 Sameer Gadhia's breathy lead vocals encourage the dreamy harmonies of his bandmates so freely contribute. Young the Giant's performance at Roots took back the night. Their melodies are as tangible as a tender caress; though they are subtle, however, their approach to arranging is every bit as powerful as their peers. Guitarist Jacob Tilley, guitarist Eric Cannata, bassist Payam Doostzadeh and drummer Francois Comtois blend in enviable ways. Watch out for their new track "Superposition." It's stellar.
Young the Giant (previously known as 'The Jakes') created a unifying, peace-loving groove at Riot Fest. A sea of swaying bodies validated that point.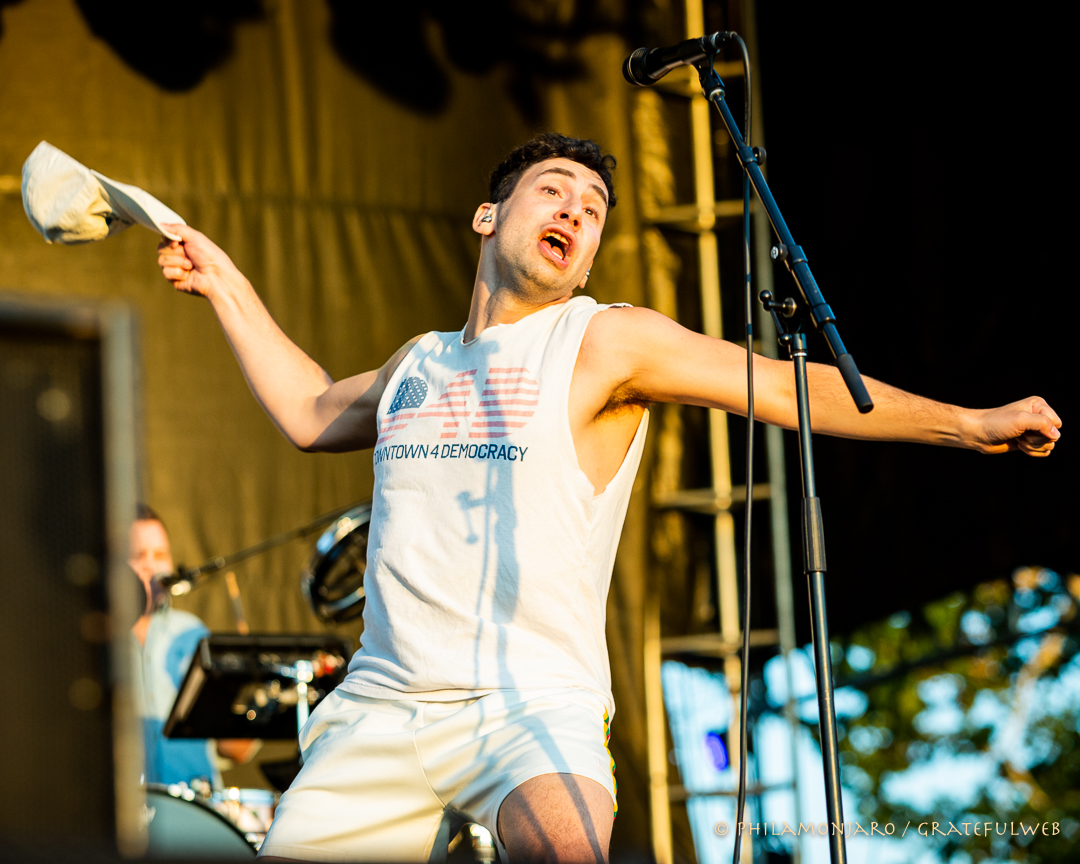 Bleachers were formed by guitarist Jack Antonoff, whose stint with pop-heavy Fun foreshadowed his songwriting and performance fame. "I Wanna Get Better" and "Rollercoaster" were undeniable standouts. Dual drumming and melodies that curl off the lip are hallmarks of this cool band. Antonoff and his crew have an old-school innocence that spells charm.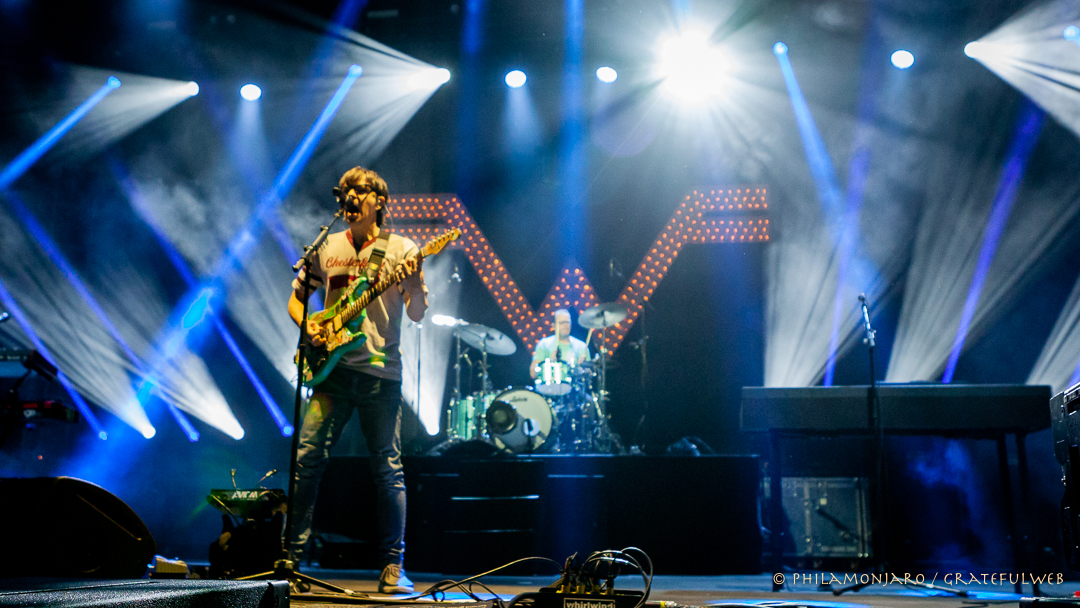 Weezer consists of Rivers Cuomo, Patrick Wilson, Brian Bell, and Scott Shriner. This California quartet has been around since the early 1990s but their setlists, new and old, never sound dated, which speaks to their outstanding musicianship. After Riot Fest, they'll finish their tour of the U.S. and follow it up with appearances in Mexico and Spain.
Weezer was warmly, or make that ecstatically, welcomed as a Friday night closer. In a respectful and very appropriate move, they paid tribute to Blink-182, who would have appeared had Travis Barker not become ill.  That said, Weezer's cover of Blink-182's 'All The Small Things' kicked major arse—"Let's see what it sounds like Weezer style"--but their signature 'Beverly Hills' remains so darn catchy that even dehydration is no excuse not to join in. It was, in fact, fantastic to hear fans join in with such enthuse. Weezer's infectious rendition of Toto's "Africa" mimics the original orchestration in an affirmative way, but make no mistake, those were Weezer subtleties glimmering through. This generous set list also included "Undone" and "El Scorcho," songs designed to spike an adrenaline rush. Weezer has more than earned their stripes as a Riot Fest repeat act. "Turn the lights off, carry me home," indeed.