Seventeen years ago in September, the iconic American rock band the Grateful Dead announced a well-thought but difficult decision. Without their fallen band mate Jerry Garcia, who had passed that August, they would not be able to continue touring as the band Grateful Dead. It was a tough choice to make as certain band members were divided about what should become of their future tours or even the possibility of continuing without Jerry. But the five others decided to disband, ending their thirty-year long career of touring.
Naturally it didn't end there. Especially for the group's youngest member, guitarist/vocalist Bob Weir, who had been touring with Grateful Dead since he was sixteen years old. Being a traveling musician and performing for crowds had always been his trade. In early 1995, he had started a blues revue with friends Rob Wasserman, Lay Lane and Mathew Kelly called RatDog. Over the next decade RatDog would grow from a rootsy acoustic revue to a full-on electric Grateful Dead continuation. RatDog performed many quality concerts, traveling to plenty of venues that Grateful Dead used to perform at and giving fans old and new a chance to have that feeling back. With RatDog, Bob was able to bring out much of his solo material from the 70s and 80s, while preserving his legacy with the Grateful Dead. On a good night, RatDog was taking sensibilities of all previous projects Weir had been a part of, fused all together with a unique brand of jazzy blue-eyed jam. Though Weir had
collaborated with other former band mates: bassist Phil Lesh, drummers Mickey Hart & Billy Kreutzmann, and pianist Bruce Hornsby as either The Other Ones or The Dead, it was always a reunion and never a permanent tour. In 2009, Phil Lesh and Bob Weir combined forces to tour indefinitely as Furthur. Since then, the two founding members have brought together their separate sensibilities in one project, touring constantly nationwide to the joy of their legions of fans.
This year Phil and Bob have continued Furthur tour, but ventured onward with their own pet-projects. Lesh has been busy with his brand new venue/restaurant Terrapin Crossroads in Marin County, California. Weir opened TRI Studios not far from Lesh's venue and both have had a chance to further expand their options and bounds. Bob's newest project has been his solo-acoustic tour, which has been on the road this December alongside common collaborator Jackie Greene. The solo-acoustic format is very new to Weir, who has always donned a sort of bandleader mentality, but never took on a solo acoustic format. His guitar playing is rhythmically complimentary, coloring and nuancing the work of his other band mates. Touring solo was a bit bare bones and a little risky for Bob, but that never stopped him from going for it and trying something tricky. When Grateful Web got the chance to cover his Paramount Theater, Denver stop, we were naturally ecstatic. Obviously, Weir's music means a whole hell of a lot to all of us here. And his show last Thursday was testament to his ability to rise to the occasion with the new format and tear the roof off the place.
Jackie Greene has been opening the shows for Weir with some of his own original material and some common covers along with Hunter/Barlow tunes sprinkled in. Arriving a tad late, I missed a few of Jackie's songs, but the crowd seemed to be really digging the multi-instrumentalists set. He'd jump from guitar to piano, then strap on a harmonica, the slide guitar. It's interesting to see how much he's developed his style since Phil Lesh tapped him to be in his band back in 2007. The highlight of Jackie's solo set was certainly the last song, when he surprised the crowd with his touching rendition of the Hunter/Garcia classic "So Many Roads." One of the last songs written by the late Grateful
Dead, it's a melancholy retrospective about life's trials, tribulations, and different uncertain paths. Jackie's interpretation of the final verse "So Many Roads to ease my soul" really channeled the girth that Garcia's strong renditions of the tune evoked. The crowd gave him a standing ovation as he left the stage, introducing Weir who immediately came out and began to play.
Bob sat down right up front and began strumming the familiar chords to his classic "The Music Never Stopped". The audience embraced one of their favorites with call/response chanting and cheers of enthusiasm. Weir even had one of his signature lyric flubs (really, would any Bobby show be complete without some mistakes?) Naturally, he shook it off and continued into the climactic jam. Next came the Bob Dylan classic "Maggie's Farm" that was commonly covered by the Dead in 1987 then revived again the mid 90s for occasional airing. The highlight of the night for me came next with the Weir/Barlow classic "Bombs Away". An original off of Weir's 1978 Heaven Help The Fool album, much of the crowd seemed to recognize the tune, while other casual fans may have been lost. I have always personally felt that the material off of Heaven represented a step up in Weir's abilities as a vocalist and arranger. Next came the Dead's common cover of "El Paso" with a huge sing-along support from the entire crowd. Weir dug deep into the catalogue with "The Winners," originally performed by Bobby and the Midnights in the mid 1980s, with occasional performances by RatDog. A well-appreciated pair of Dead mainstay tunes, "Peggy-O" and "Loose Lucy" (the crowd went nuts for this one) brought back those lost by the lesser-known rarities played before. Next Weir busted out his signature 90s tune "Corrina". Love it or hate it, Bob loves it. And it also inspired some quality jammed out interludes. Bob closed the set with another Dylan tune "A Hard Rain's a-Gonna Fall" into the Buddy Holly proclamation about unconditional love "Not Fade Away".
Bob quips his signature set break tagline "I'll be back in a bit" and gave the crowd a chance to catch up with old friends. After a very short intermission Weir came back with Jackie Greene to deliver a mini-third set. It was Bob Dylan cover night apparently when they broke out "All Along the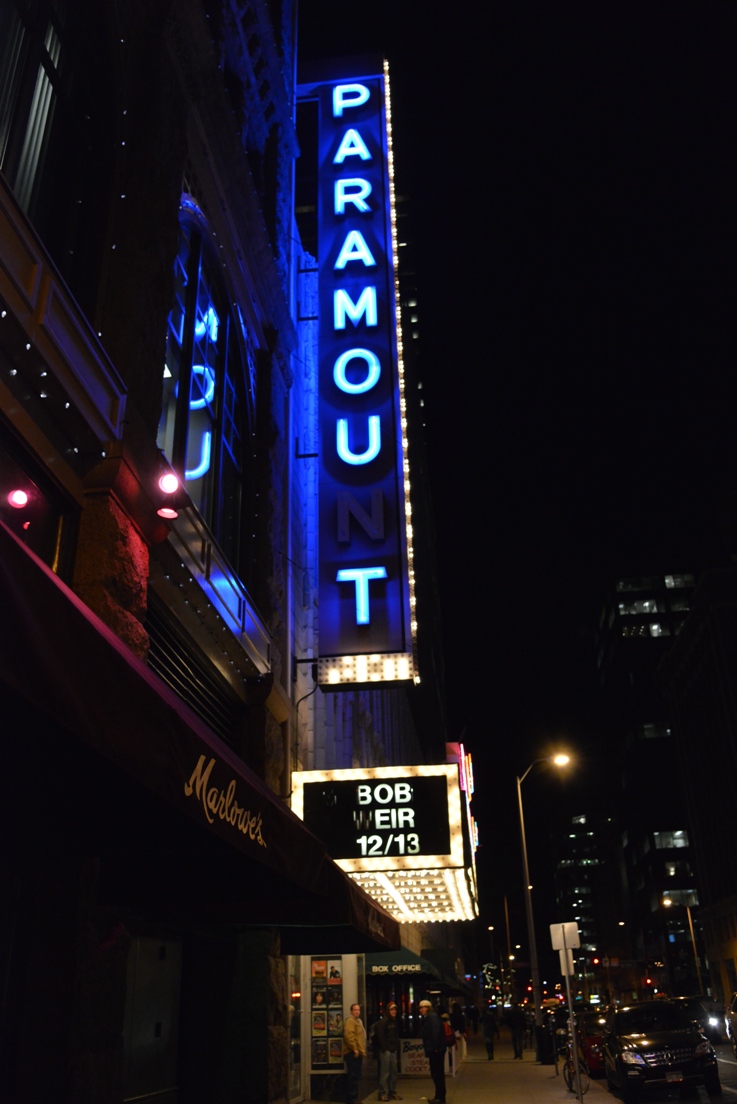 Watchtower" to open up the set. Another highlight came with a punchy rendition of the Deadhead favorite "West L.A. Fadeway." Got to love how Bob used his performance to cover all eras of his career with the Dead and beyond. After a touching rendition of "Bird Song", the two broke out a few more covers with "Most of the Time" and the Motown classic "Standing on Shaky Ground". The crowd appreciated the reprising of "Not Fade Away" to end the mini-third set. My guess is that curfew laws prevented Weir and Greene from performing an encore, as they bid us goodnight after NFA.
The Paramount show and this tour in general is a step forward for Bob as a solo musician. He's never been one to hide behind a big band, but this just forward affirms his talent outside of the Dead, Ratdog, or Furthur. He dug up tunes from all over the place and kept even the most hardcore Heads surprised and satisfied. The Paramount is beautiful 1,200 person seated venue and this was the jauntiest I had ever seen the venue allow the crowd to be. It's pretty hard to contain a room full of Deadheads, no matter how nice the space is. After all, the crowd was just there for a real good time. And Weir hosted a fine evening of music alongside Jackie Greene. After this acoustic tour, Weir will be busy over New Year's Eve with Furthur performing a three-night run at San Francisco's Bill Graham Civic Center. It's so crazy how after all these years he's still putting himself out there and doing what he loves best. Hopefully some kind tapper will put some of these acoustic shows up on archive.org for listening pleasure but for now I'll just have to wait until Furthur's February Colorado run beginning at Denver's Ogden Theater then moving to Broomfield for a three-night stint at 1st Bank Center. See you soon Ace!