On Thursday, for at least the third time in the last 12 months, the electro-dance-rock duo BoomBox graced our fair city and the Fox Theatre with their pulsing beats and feel-good funk. Guitarist Zion Godchaux and DJ Russ Randolph seem to like it here against the mountains, and it's lucky for us that they do. In fact, they like the Boulder crowds so much that this time around, they brought a camera crew for a live music video shoot. Encouraged to wear their finest club attire, and get good and rowdy, the excitable Boulder crowd was eager to put on one hell of a show for the cameras. The band returned the favor breaking out their finest performance since I've known of them.
Zion and Russ get a little better every time I see them, as does their presentation. A few very minor technical difficulties aside, the show was tight, not to mention mind-bogglingly colorful. But that's all part of BoomBox's modus operandi – take the audience out of their world, and put them in a new one created specially for the occasion. Works every time!
Part 70's psychedelic funk, and part ultra-modern electronic dance party, BoomBox feel right at home in groove-crazy Boulder. What is more, Boulder seems to be feeling right at home with BoomBox, and each successive show in the area draws a bigger crowd than the one before. Even for a Thursday night (the unofficial party night of the University of Colorado) the turnout was huge. Before the band came out on stage, the crowd began chanting, pounding, and yelling, generally making their anticipation known. I cant help but notice that people are starting to know the band in an obsessive fashion, talking about shows past the way fans of bands like Umphrey's McGee or STS9 do.
Russ came out first, setting the beats in motion to a twinkling dramatic build-up of synthesizer sound droplets. As the tension built, Zion walked out in full feather boa regalia, sporting a pair of aviator sunglasses and a faux fur hat that scream too-cool-for-a-day-job, and a reverse-strung Stratocaster reminiscent of one of Zion's greatest influences - he cites Jimi Hendrix before the Grateful Dead, despite his familial ties to the legendary jam band.
As things began to pick up speed, the guitar took a greater and greater role in the sonic landscape. Actually, this was one of my favorite aspects of this particular show, which was more guitar-heavy than any previous that I'd witnessed. It wasn't that the electro-half was drowned out or anything like that, but I would say that the duo has found a new symmetry in their work, such that both halves are allowed to show off and pull away again while still and always remaining an integral feature of the total picture.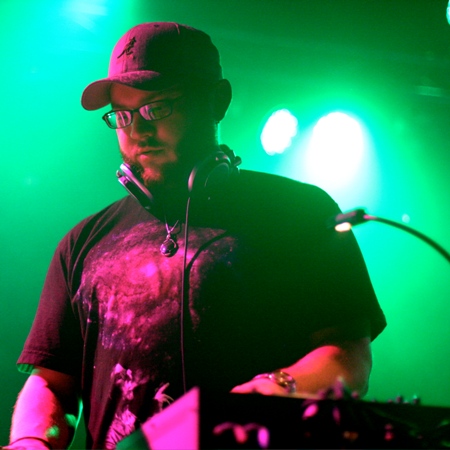 Once the BoomBox engine is moving, it doesn't stop. The guys don't take a break and come back for an encore – that's just not their style. Instead, they start playing, and keep going until the management pull the plug (not quite literally, of course). It's non-stop sensory overload, the kind of trance-inducing hypnotism that makes you fail to realize that an hour or two has just past you by. When you begin your show at 10:30, and curfew is almost 2:00 am, that makes for one hell of a ride. But I'm sure the guys would have played all night if they could have.
If you missed the band this time around, never fear. They will almost certainly be back, and I'm sure the video will be on YouTube in no time. Actually, there's a lot to look forward to in the BoomBox-related future. A new album is one the way, and the band will be playing several festival dates this summer, including Joshua Tree, Wakarusa, All-Good, and 10,000 Lakes. Dig their website for more details, and some juicy stories from the band's time on the road (there was a monitor-chucking story that was quite good!).
To see more photos from this show, please visit the Gallery.