The daunting task of interpreting the music of Frank Zappa has made the iconized jazz-fusion composer/musician less often a cover project than one might expect. The legions of hardcore Zappa nerds have gotten their fix through acts such as Zappa Plays Zappa and The Grandmothers of Invention, both featuring original members of Zappa's bands that understand the challenging and complex nature of performing his music. But generally Zappa cover-acts are less common since it's near impossible to do his music justice unless you know exactly what you're doing. There is no such thing as a two-chord Frank tune. Period. This was why I was pleasantly surprised to see veteran New York and Colorado jazz guitarist, Dave Corbus taking on that challenge in a two-night four performance run simply entitled "Corbus Plays Zappa". Dave Corbus has been a firey scene player for over thirty years, performing and touring nationally with other jazz greats along the way. He is a professor of Jazz Studies at University of Colorado at Boulder. I became acquainted with him as a student there in his History of Jazz course. Never have I had an educator in the arts have as much hands-on experience as Corbus. Though he was a powerful teacher of jazz history and context, my favorite parts of the course was his listening selections, seeing him muse over his favorites in front of an auditorium of young college undergraduates. His course would have been more properly titled "Appreciation of Jazz."
If my word isn't testament to Corbus' talent, the fact that he is a monthly regular at Denver's renowned DazzleJazz Restaurant & Lounge might stand as solid foundation. In addition to powerful original material, he covers everything to the music of Ornette Coleman and Charles Mingus to his newest challenge of Frank Zappa. Dazzle, for those who haven't had the pleasure, is the one of the few true jazz clubs in the city of Denver. A cozy lounge with free music most nights of the week sits beside the showroom with full dinner and drink service (both of which are fantastic). The service and ambiance support the strong cannon of jazz musicians that make their way through every night of the week. Locals and worldwide legends have graced the Dazzle Lounge stage making it a nationwide renowned club. Corbus being somewhat of a regular had no trouble unveiling perhaps his most consuming project to date. He was supported by Wendy Fopeano who handled all of the vocal duties, common collaborators Jeff Jenkins & Bijoux on Keys and Bass, Paul Romaine on drums and Andre Mallinger on Vibes. The band took Frank's music out of the rock context and really honed in on the instrumentation and complex changes that could only be properly defined as jazz. Though they played loud, hard, and fast, Corbus' ensemble focused on the earlier stages of Zappa's career, primarily Mothers of Invention material and Zappa band pre-1975. Classics such as "Oh No", "Black Napkins", and "Peaches En Regalia" we're given extensive workouts with heavy hard-bop laced transitions making the hour and fifteen minute set neat and seamless.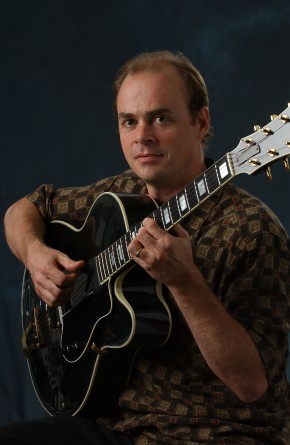 Corbus' style of playing is suppler than Frank's, exploring the melodic sensibilities that his compositions elicit rather than trying to parrot them note-for-note. He also allowed his band mates to interpret Frank's leads often rather than trying to steel the show as the guitarman. Vibes-lady Andre Mallinger was fantastic at challenging to near impossible progressions of Zappa Vibes-lady Ruth Underwood. Bassist Bijoux is a six-string madman who I remember playing fusion jazz years ago in Corbus' college course. His fast fingering and harmonic bending reminded me more of the music of Stanley Clarke than Zappa, nonetheless he was a fine addition to the lineup. Drummer Paul Romaine could have been MVP of the night, leading the band through insane changes and beat patterns that would have made Frank proud. Though it took me minute to warm up to the softly presented vocal interpretations of Wendy Fopeano, it fit the lineup well. She didn't evoke the comedic nature of Flo & Eddie or Ray White, but her style was fitting to Corbus' show. By the end she had won over the crowd with her strong reinterpreting of the vocals.
The lineup is performing two separate sets tonight, both of which are already sold out. For those who are going, get ready for an evening of familiar favorites and extreme oddities. I commend Corbus for accepting a true challenge, his powerful execution, and for not compromising his own style in the process. True artists put out their own signature when paying tribute, and Corbus understands that well. I look forward to his next run of shows at Dazzle, and have reminded myself to make it there as often as possible.