Sunday morning hit me like a ton of bricks.  I'd been out for the first day of Mile High, leaving sometime around 1:30 am for the drive home, and only slept about 6 hours before I was out of bed again.  In some ways, being able to sleep at home was a bonus.  I got to shower, for example.  But leaving the scene of the crime takes the fight out of a person, makes them soft.  To beat the elements, be they natural or of man's design, one must enter a Zen-like state of self-preservation.  Stamina and persistence are the stimulants of necessity, but going home removes you from the game, takes you out of character.  Without waking up in the game, the weather felt just as hot, I felt just as thirsty, and the lack of sleep felt like it really mattered.
But there were a great many reasons to get out of bed, not the least of which was the first act I planned to see: Brett Dennen.  Actually, I'd already seen Brett Dennen.  He sang a few songs the night before during the Rebel Alliance Jam, including an excellent rendition of Stir It Up.  I really don't know that much about Brett Dennen, but I do know that he was handpicked by John Mayer to be the opening act on Mayer's tour, and that he's been named one of Rolling Stone's "10 Artists to Watch."  Now, I don't personally know John Mayer or anyone involved with Rolling Stone from Adam, but I get the distinct impression that neither celebrities nor popular magazines are to be unconditionally trusted.  I decided to see for myself.
Brett Dennen's music is laid back.  It's also a little bit folksy and at times a little funky.  Songwriting is Brett Dennen's strong point, but everyone's got to shell out for the festival appearance, and Brett's performance had the guitar solos and musical interludes cranked just for the occasion.  It was ideal music for those of us who wanted to sit down and drink a noon-beer, which the roaming vendor a few feet away was more than willing to provide.  Apparently, Brett Dennen is something of an activist (that's someone who encourages other people to act), and is also apparently compared to the likes of Paul Simon, Tracy Chapman, and even *gasp* Bob Dylan.  I don't know if that's what I heard on Sunday, but I liked what I heard, whatever it was.  Fairly basic, down to earth, and thoughtful, I found Brett Dennen to be refreshingly unpretentious.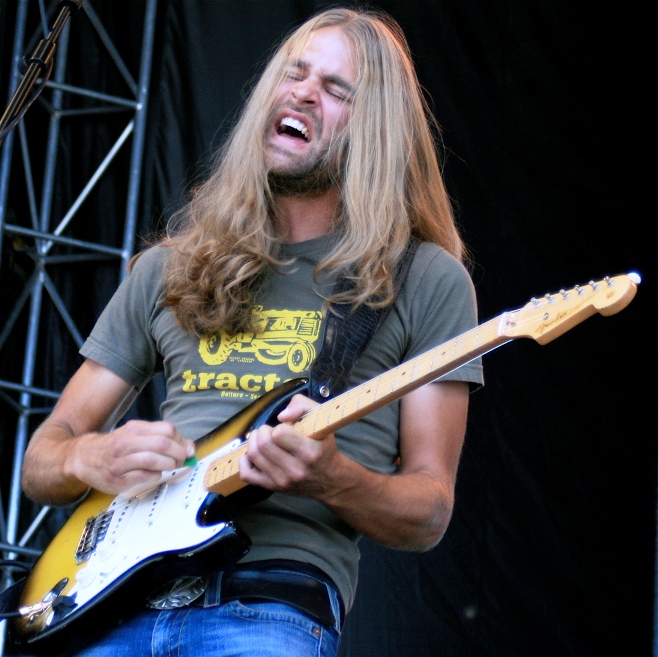 I made the longest commute yet, from the Main stage to the Lizard stage at the far end of the grounds, to see, for the fifth time over the last few years, Rose Hill Drive.  But that's easier for me than for others, since they're from my hometown.  The thing I appreciate about Rose Hill Drive is that they play rock as it should be: loud.  So loud that the only adjective suited to describe how loud is "fuckin'."  Only a few weeks ago, Rose Hill Drive held their second CD release party at the Fox Theatre in Boulder, and yours truly was there to cover the event.  It was a different experience to see the band in a festival environment, mostly because their set was far shorter.  They pulled songs mostly from their new album (Moon is the New Earth) and only a few from their debut (self-titled), including Alter Junkie, Sneak Out, Trans Am, Raise Your Hands and Do You Wanna Get High?.  It was a fairly small crowd for the size of the stage, but those who attended were way into it, and the enthusiasm sort of made up for the size of the audience.  Rose Hill Drive's high-octane brand of pure and simple rock and roll is reliably intense in concert, and Daniel Sproul, guitarist and brother of singer/bass player Jacob Sproul, can always be counted on to make liberal use of his ability to emulate the psychedelic sound of the 60's.  Had we been in a theatre, hardcore fans would most likely have been smashing into each other like big horned sheep.
The next act I was set to photograph was Tea Leaf Green, but they didn't go for another hour, so I made my way all the way back across the grounds to the main stage for the second half of OneRepublic, just in time to hear back to back covers of For What It's Worth by Buffalo Springfield and an atmospheric, twinkling abbreviation of U2's With or Without You.  It all seemed a little Pop Sensation flavor-of-the-month to me, and I didn't stay long.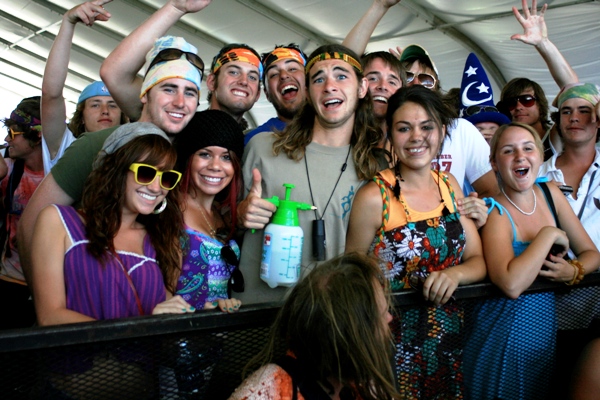 Tea Leaf Green played in the nearest tent stage, the perfect place to find yourself as the heat determinately crept up on you like an unstoppable tide.  Inside the tent, the air was still relatively cool, kept that way only just by the intermittent breeze.  A jam band of sorts, Tea Leaf puts a higher emphasis on lyrics than do a lot of other jam bands, and unlike a lot of other jam bands, they know when to end a song, rather than playing it into the ground.  There's only so much a person can take of the jams that border on mindless continuum, and I appreciate a jam band that gives itself a per song time limit, and then moves quickly on to the next thing.  Guitar and piano are the driving forces in Tea Leaf's setup, and a strong bass and rhythm section keeps the crowd energized.  With a touch of the southern rock vibe, noteworthy since the band is from San Francisco and not the south, Tea Leaf Green is a leader of the pack in the modern Jam Rock scene, and if you were to ask me, I'd tell you that I prefer them any day of the week to better known acts like Medeski, Martin and Wood, or even Widespread Panic.
During the first three songs, I had a bit of an altercation with another photographer, a real winner of a guy who yelled at the band to play something faster right after insisting that I use my flash to get a better exposure.  Now I like to think of myself as a rebel, refusing for instance to be escorted by a cadre of promotional staff to the main stage for any of the headlining acts, but there are a lot of good reasons photographers aren't allowed to use their flash in the pit.  Firstly, it probably pisses off the musicians to have bright lights constantly flaring up right in front of their faces.  Secondly, using the built in flash, like this gentleman suggested, makes your photos look flat, boring, and unprofessional, like they were taken on a disposable plastic camera by a child.  Furthermore, he insisted that I could learn a thing or two from him, a statement he could only back up by way of his vastly advanced age.  The real irony was that this man appeared to have some sort of albinism, and had I used my camera flash in his face, I may have blinded him for life.  Whatever, I hope someone kicks his ass.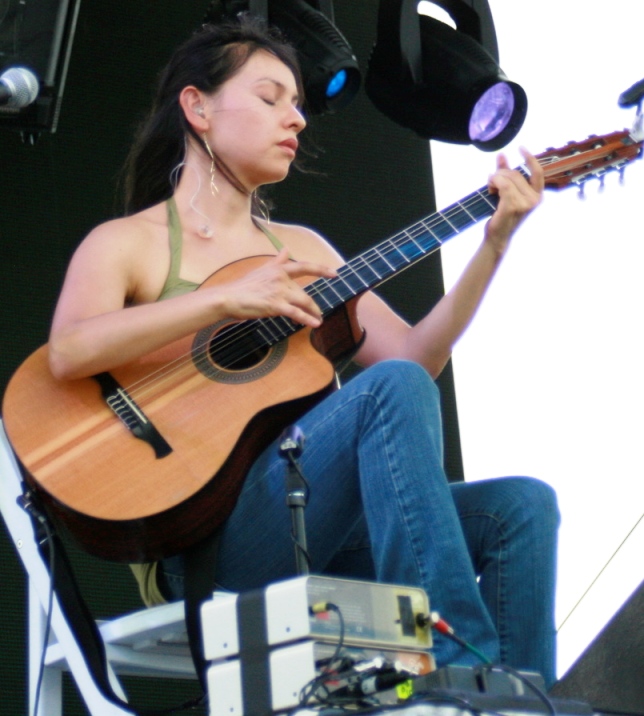 Rodrigo y Gabriela were about to take the main stage, and I hurried back there next.  Now here is a band with an interesting history.  The brilliant guitar duo began their careers in a Mexican heavy metal band.  After the band broke up, Rodrigo and Gabriela moved to Dublin, Ireland to become street performers.  After a few years struggling through the colder-than-Mexico winters the duo was "discovered" and began to make a real name for themselves.  Now they play a unique brand of purely instrumental music that can only be referred to as Hard Flamenco.  Incorporating the elements and tones of heavy metal into an all-acoustic, Latin flavored framework, Rod & Gab may have been one of the most innovative acts at the festival, a "breath of fresh air" according to the guy standing next to me, and I tend to agree.  Rodrigo plays lead, picking his way madly through complex patterns, while Gabriela plays the rhythm section, strumming and banging on the body of her guitar to create beats as well as notes.  You can count on the pair to cover something by Metallica at nearly every show, as well as a consistently good version of Stairway to Heaven.
Rodrigo y Gabriela played a late night set at Bonnaroo last year, which was the first time I'd seen them live.  Having missed the first half of their Bonnaroo set (ironically because I was watching Tea Leaf Green), I'd been determined to see them ever since.  When I heard they were playing Mile High, I was thrilled, and built Sunday's schedule around their performance.  The beautiful part was that since John Mayer was slated to be the next act to catch, also at the Main stage, I didn't have to go anywhere after Rod & Gab finished their set.
I sat back and chewed the fat with the people around me, many of whom had been camped out in place since the gates opened that morning, wanting desperately to be within sight of either John Mayer or Dave Matthews or both.  Then came something I truly appreciate.  Without warning, and almost a half-hour early John Mayer stormed the stage, breaking immediately into a raucous rendition of Start Me Up by the Rolling Stones.  It took me a moment to realize that it wasn't the PA system, and that the tattooed guy on stage wasn't a roadie, but was in fact John Mayer.  I hauled ass to the photo pit, and was only the second on the scene, most other photographers assuming that he'd be starting at the scheduled time.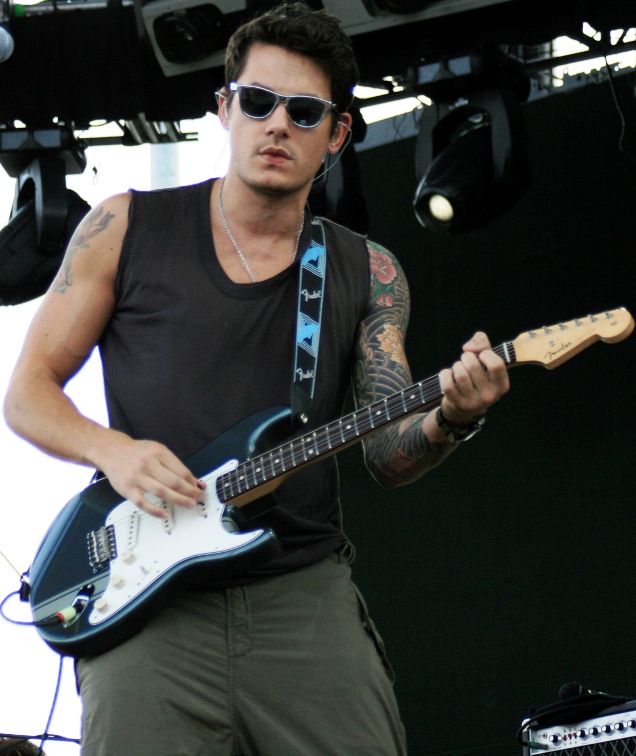 I must admit to a period when I harbored an unexplainable dislike for John Mayer's music.  But I gradually came around, largely due to hearing some of his live material played to me via Pandora, a outstanding streaming music website that I highly recommend to everyone!  John Mayer is, in my opinion, one hell of a blues guitarist.  Rolling Stone magazine would agree, and featured his photo on the cover of their issue on "The New Guitar Gods" alongside Derek Trucks and John Frusciante.  It was in fact this article that inspired me to seek him out on Pandora, and I've been hooked ever since.  On his latest album, Continuum, Mayer embodies a beautifully elegant less-is-more technique that I have come to appreciate almost as much as his live work.  In this album, there exists only what you need, nothing that you don't, and is sonically just as rich and vibrant as anything that could be created by a band with twice as many musicians involved.
Following Mayer's take on Start Me Up came crowd favorites Belief and I Don't Trust Myself, both off Continuum.  Soon after, came brilliant covers of Crossroads by Eric Clapton and Mercy by English up-and-comer Duffy.  John Mayer gave everyone more than they bargained for, starting early, playing late, and doing two full sets of exciting rock and blues.  Also worked into the set were covers of I Don't Need No Doctor by Ray Charles and Panama by Van Halen, which closed the show.  Mayer admitted to the audience at one point that festival appearances mess with his mind.  "I'm always convinced that everyone at the show is just waiting around until the next thing," he said, but judging by the crowd's reaction, I'd say that pretty much everyone was there just for him… and Dave Matthews.  But at that point, if at no other, it was possible to have both.
Unlike the great many people determined to hold their ground until The Dave made his appearance, I left the main stage once more to catch a performance by The Black Crowes, across the grounds at the Bullsnake stage.  There was a quite a sizable crowd amassed already, surprising given just how many people were camped out back at the Main stage.  If I had to categorize The Black Crowes beyond the level of Rock and Roll, I might be tempted to put them in the same mini-category as Tom Petty.  Somewhat carefree, relaxed, laid back, and comfortable in a way that only years on the road could accomplish, The Black Crowes showed off their jammier side to the crowd, extending every song to near-epic proportions, going full bore on the lead guitar and instrumental interludes.  As the pot smoke wafted over the grounds (The Black Crowes regularly pull in that particular segment of counter-culture), I was pleased to find that the band was making every effort to sample from more than their best-of collection, playing a lot of songs that don't get played on the radio.  This was a dancing crowd (maybe the pot had something to do with that too), and even though there were a ton of people, the density of the crowd was light, and we all had plenty of room to shake our hips, or lie down in the cool evening grass, what was left of it anyway.  For one song, a huge over-the-shoulders bass drum was pulled out on stage, featuring a manic likeness of George W. Bush with a black eye and missing teeth, and one of the guitar players proceeded to beat the shit out of George much to the crowd's delight.  The thundering low beats weren't half bad either, and in my humble opinion, it was the best use of the president I've seen in the last seven years.  Peace flags flying, The Black Crowes were just as good as they've ever been, something that unfortunately can't be said of every band with a history as extensive as theirs.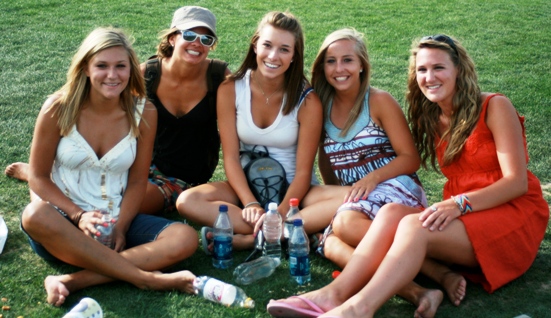 I, like a great many others, left early to make the final pilgrimage back to the main stage for The Dave, and I was disappointed not to see the closing moments of The Black Crowes.  For my part, I would rather have stayed, but with only three songs in the photo pit, I had to go or miss the main event.  The crowd was enormous; easily the biggest of the festival, bigger even, for reasons unknown to me, than Tom Petty's audience.  At ten minutes until show time, the crowd of people stretched from the stage all the way back to the Elk Tent stage, and blanketing the field from side to side.  Even the photo pit was fuller than it had been for Petty, and we were lucky to get a square foot each to stand in.
Here I must make another confession.  I've never been a Dave Matthews fan, but I've never really disliked him either.  His early stuff is good, but only ever having listened to him on the radio, I was under the impression that all he ever sang about was having sex with some girl, and how much he enjoyed it.  But like all good acts, the live show is a completely different animal.  The first three songs (those in the pit were the only ones where I was close enough to actually see anything) were a veritable explosion of light, sound and dynamism.  As with the Petty show, the Main stage was tricked out to the Nth degree, glowing with a cascade of multicolored lights and special effects that would make even George Lucas jealous.  Again, the jammier side was on display, and there were moments when I'd come-to and realize that we were in the middle of a ten minute fiddle solo.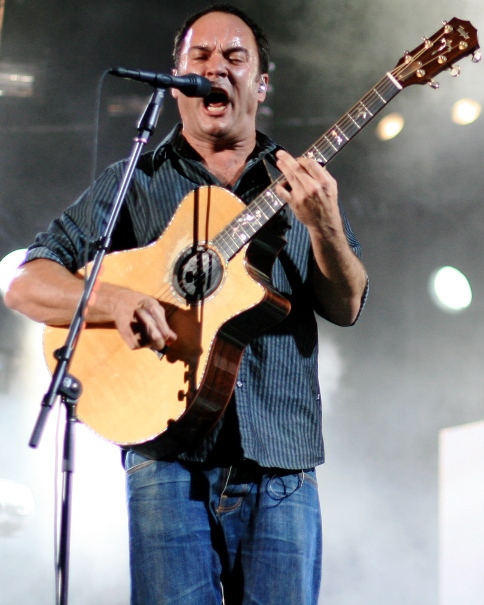 From my perspective, everything was green.  The lone girl that I gave a ride home to, however, saw things a bit differently.  She was a big Dave fan, and had come just on Sunday, and just for Dave Matthews, scalping a ticket for a mere $50, and then promptly losing the friends she had come with.  "He's so corporate now," she said.  "All the lights, and production, it felt a little phony.  And I didn't feel like the band was really backing him up as much as they could have, they were all just a little off."  I suppose it would probably take a hardcore fan to notice.  Poppy though it may have been, I hadn't noticed the laxity she spoke of, and in fact was quite impressed with a live and in person Dave Matthews Band.  Admittedly, I was most stoked when he was playing stuff I'd never heard before (again, only ever having heard DMB on the radio), and there were a handful of songs that were a little blah just because of their being overplayed to the extreme on Clear Channel radio.  Music, though, is almost always better live, and even these songs, hyped up in the grand festival tradition, were tolerable, and even had me singing along on a few occasions.
I didn't have it in me to stay for the Rebel Alliance Jam, having already climaxed (musically), and sunk into the depths of exhaustion and a desire to sleep.  I didn't even really need to listen to music on the drive home, as a weekend's worth of songs were swimming through my head, surfacing to my lips at random, and usually only for a verse or two.  Then it was on to the next one, and the next, and so forth all the way home and into the morning.  As much pain as lack of sleep on Sunday morning had caused me, I knew it would be double back at the office the next day, and yet, with all the energy from the festival running through my veins, it was nearly impossible to sleep.  Mile High Year One was a success.
As a whole, I would say that everything was damn decent.  A little more mainstream than some of the other summer festivals it may have been, but at the same time, all the small acts, the local acts, and the indie faves made up for the pop star headliners and corporate consumerism.  Even the pop star headliners were damn good, and performed their hearts out for the exuberant masses.  And it was clean.  People make a mess, and the mess is always worse at high densities of people, but whoever was in charge of keeping up appearances was doing their job, and I was especially pleased to see the recycling and compost bins placed nearly every 100 ft, and even more pleased to see people actually use them.  And the best part, I only had to drive for an hour to see throngs of high caliber musicians play in an atmosphere that brings out the best sides of people.  I believe in the healing powers of music, and Mile High may have added years back onto my life.
I already find myself wondering how it will all go down this time next year!