Back in 1990, three former YES band members, vocalist Jon Anderson, guitarist Trevor Rabin and keyboardist Rick Wakeman rejoined forces for the successful YES 'Union Tour'. In 2010, the three talents decided to create their own band, which they named ARW (Anderson, Rabin and Wakeman). As their 2016 tour promised, their aim was to play YES hits and more. YES was formed originally in 1968 by Anderson and the late bassist Chris Squire. The band experience the usual lineup changes and officially dissolved, but has been held in high esteem in the prog rock pantheon, so the announcement of this tour has been big news. Their dynamic rhythm section consists of Lee Pomeroy (ELO, Steve Hackett, Rick Wakeman), who is known for contributing to major American films and TV shows and percussionist Louis Molino II, who has worked with Julian Lennon, Kenny Loggins and Roger Hodgson. The entire band is enthusiastic about celebrating YES classics and broadening the scope of the traditional recordings.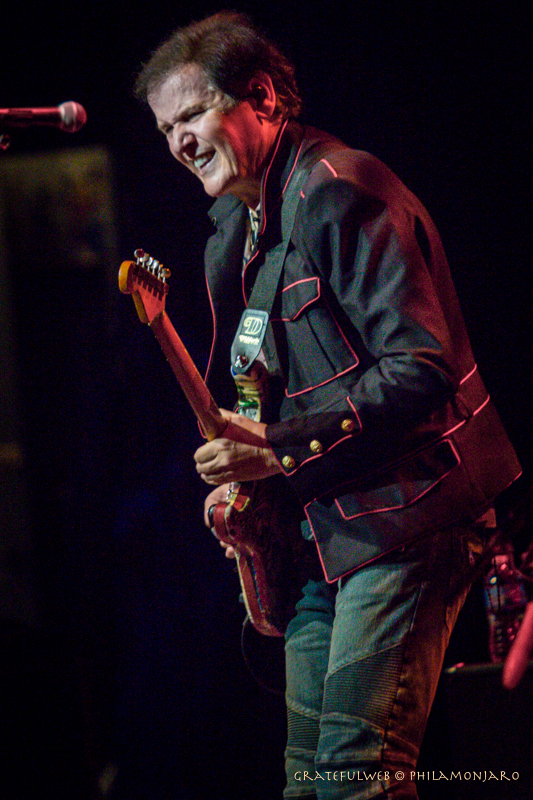 In recent interviews, band members have expressed jubilance over the reformation. Said Wakeman in a recent press release, "The 'Holy Trinity of Yes' is, for me, very much a dream come true." Wakeman is referring to performing again, particularly, with co-founder Anderson. YES ruled the prog rock roost during their highly-documented time together. Their textured discography includes debut 'Fragile,' 'Close to the Edge,' 'Tales from Topographic Oceans,'Going for the One' and '90125.' Wakeman's reign flourished during the '70s at the height of the movement, while Rabin experienced the band's more mainstream appeal and the popularity of the chart-soaring 'Owner of a Lonely Heart'.
The tour kicked off in early October in Orlando and will end December 3rd in Indio, California. Next year, ARW will set their sights even higher as they embark on a tour which primarily covers the UK, but will also include Belgium and the Netherlands. As the band walked briskly onstage, they were greeted by roars of appreciation and a standing ovation. Although they would enjoy a variety of lights, there were no back-in- the day disco balls or huge screens to distract from their irresistible onstage chemistry. They wasted no time flooding the stage with hits. Short but tantalizing 'Cinema' won a Grammy for Best Rock Instrumental Performance in 1985 ('90125,' 1983). Their version reverberated across the historical theater with the precision of a sharp shooter's bullet.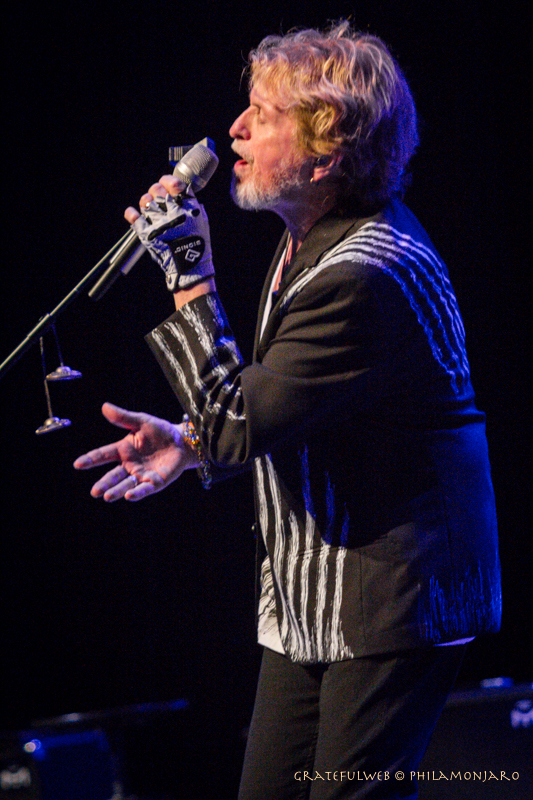 Jon Anderson looked especially youthful in his stylish black and white jacket. His voice has, surprisingly, lost none of its universal sparkle and strength over the years. Whether gesturing, playing acoustic guitar or a small harp as the night progressed, he won over the crowd with his ease and ability to transition seamlessly from mood to mood and rhythm to rhythm as he transitioned to 'Perpetual Change.' Anderson shot a delightful smile to his many fans as he sent them back to a simpler time. "I think we were all children then," he proclaimed wistfully. Rick Wakeman's signature, bejeweled cape only half-hid the bright, blue T-shirt underneath.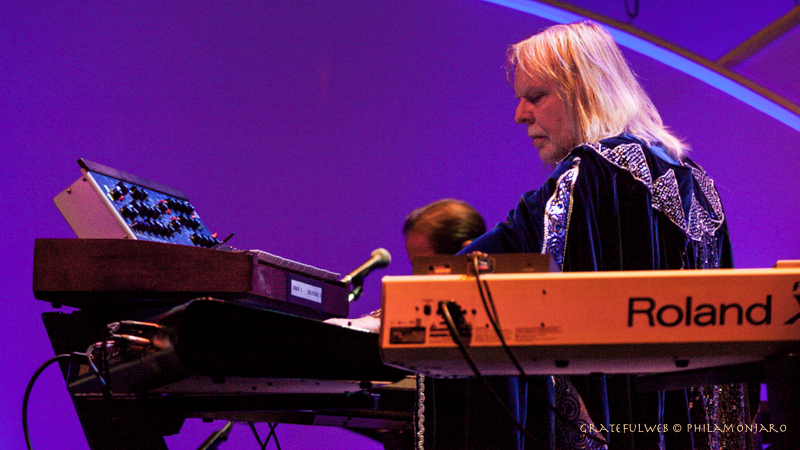 Wakeman definitely curried particular favor with the Cubs fans in the crowd – I was seated next to one wearing the full regalia. We both chuckled when we noticed the word 'Champions' peeking out from his chest. Rock star Wakeman doubles as a team player. How cool is that? The dazzling multi-instrumentalist pulled off another surprise later in the set, when he mysteriously vanished - Buddy Guy style - and then reappeared, this time traipsing through the bewildered throngs, wielding a glistening keytar.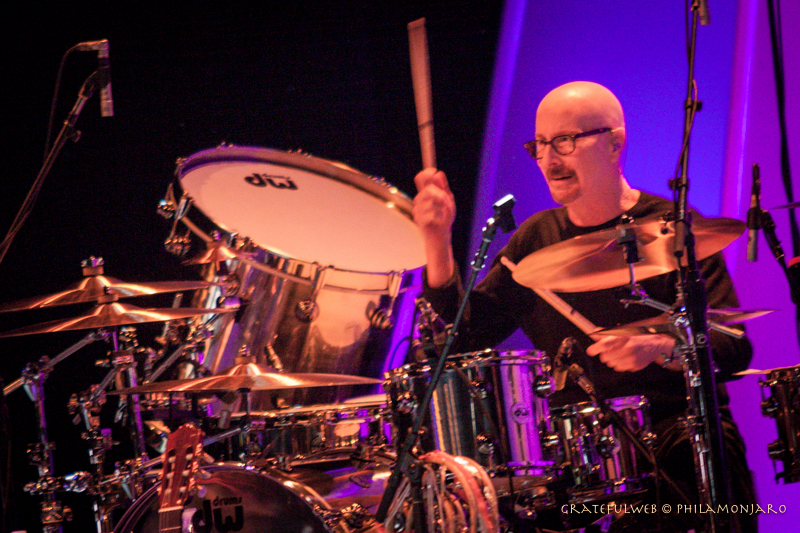 But his other moments were spent playing intricate runs and programming powerful, chromatic keyboard harmonies as he commandeered his sophisticated gear. The feisty Molino displayed confidence and subtlety, electing to punctuate Anderson's phrases with a delicate ping or, at the appropriate time, pounding a mallet during a group crescendo. He wasn't too shy, either, when it came to providing some comic relief. The contrast was great, too, since Molino's display of skill occurred after the swooning acapella harmonies of "I've Seen All Good People."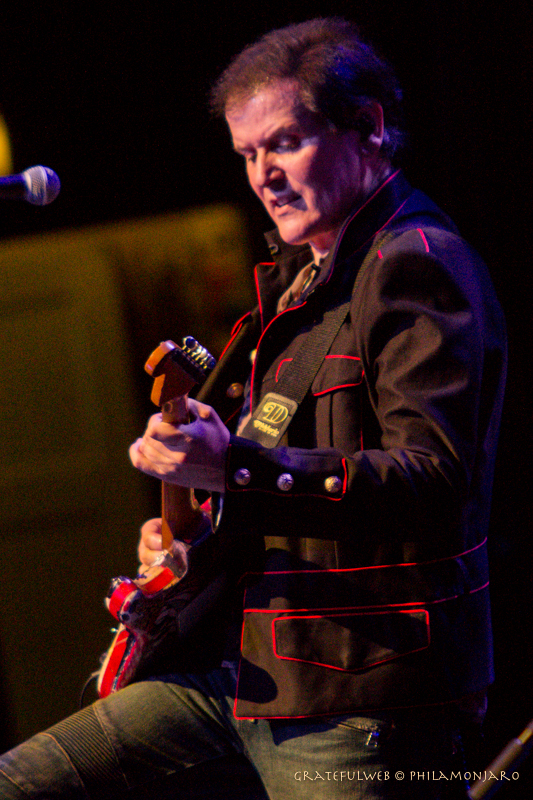 Rabin clearly enjoyed showing off his fine chops, too. He worked all sides of the stage and demonstrated stellar shredding. There were times when he chose speed over a breath of white space, but he proved that his ear for melody is top-notch. Anderson reflected on Chris Squire's legacy before the band plunged into "Long Distance Runaround." Pomeroy came upstage to perform his own hefty solo, eliciting awe as he slid, thumped and emotionally connected with the first rows.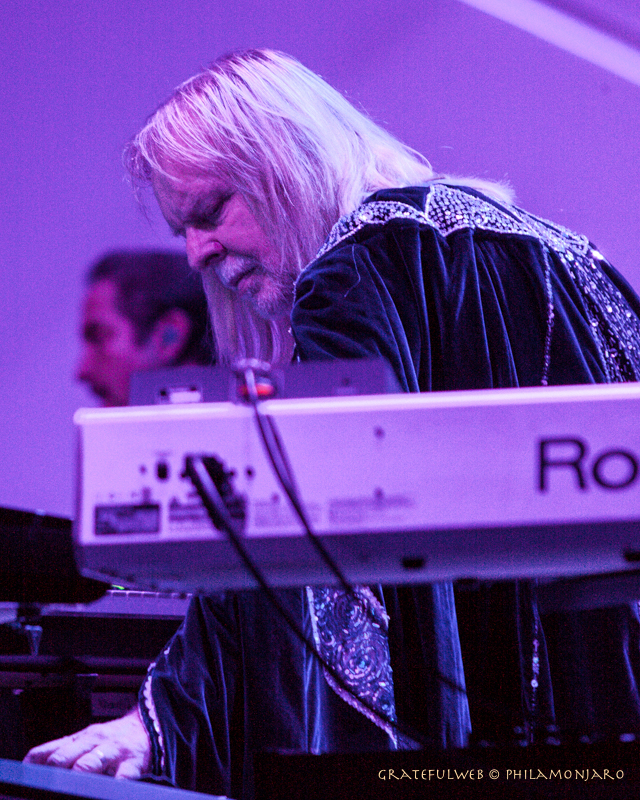 And although it was enjoyable to watch the camaraderie that appeared to just organically flow, it was especially moving to witness Anderson and Wakeman perform a tender duet under soft lights. It was also an opportunity to hear Wakeman on the acoustic piano, as he gingerly framed Anderson's crystalline tenor. "Owner of a Lonely Heart" had been, of course, eagerly anticipated. All rose again to sway, sing and celebrate. Anderson handled the high notes like a young Placido Domingo. I'd be hard-pressed to name check a live performance that could equal this one.
Although the generous two-hour concert allowed ARW to deliver the best of the best, there was still something missing, the hit that would truly set the hall on fire. That something came about after the fans went ballistic for an encore - but to back track, it was only last week that the Cubs had won the World Series - Wakeman had commemorated that victory, but ARW's own victory cannot be understated. The band had elevated the vaults, injected their own brand of vibrance and brought together generations. These arrangements were every bit as fantastic as their spirit.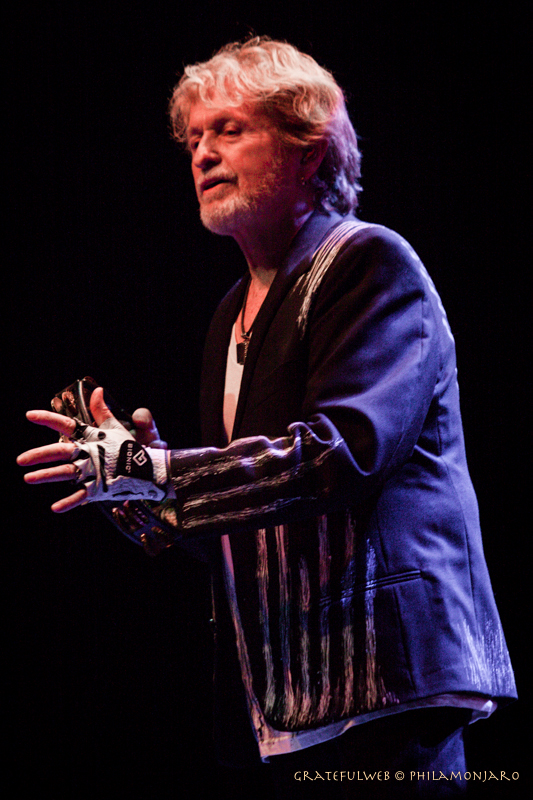 Anderson, clearly overcome with emotion, had repeated at one point, "Give love, give love, give love." Perhaps it was a heartfelt plea for unity or perhaps it was simply his positive self, inviting fans into his inner sanctum. After all, he had also uttered that next year will be a year of "bliss" if we can survive all of the craziness. Fingers crossed, fans, just days before the election… But back to the set and that energetic, end-of- the evening encore of "Roundabout." Back-in- the day fans may have missed the acoustic progression and subtle harmonics that jump started the recording (which had now been electrified), but true to the holistic YES vision, ARW had made "the music dance and sing" and will hopefully continue to do so for years to come.