Some years back, former Grateful Dead vocalist Donna Jean Godchaux MacKay made a remarkable discovery in the storage of the family houseboat. Boxes of reels taped by legendary recording technician Betty Cantor-Jackson. The Grateful Dead tapes were the first to be dusted off, restored, and ultimately released for the enjoyment of all. Recently Donna Jean found yet another box consisting of all Jerry Garcia Band reels.
While a number of soundboards already circulate in bootleg format, the archive majorly benefited from the latest inclusion. Beloved Grateful Dead guitarist and de facto bandleader Jerry Garcia had always toured rigorously, and not just with the Dead. Back in 1976, the band had announced its return to touring after a much needed year and a half long break. Beforehand, the Grateful Dead of 1974 had too big of a road crew, too big of a sound system, played too large of venues, and had too much overhead with not enough benefit for the musicians. 1975 and 1976 became time for the band members to focus on individual projects, especially guitarists Garcia and Bob Weir. While the Grateful Dead played consistently during their small theater comeback tour in June of 76', the band only played a total of forty-one shows, which left room for Garcia to formulate the newest incarnation of his band.
In 1975, the Garcia band featured lineups with his lifelong bass partner John Kahn, former Elvis Presley drummer Ron Tutt, and veteran British Rock pianist Nicky Hopkins. Hopkins lasted only a few tours, his musical brilliance sadly shrouded in substance abuse, and Garcia knew he needed to find a more fitting pianist. The answer was clearly Keith Godchaux, who had generally played remarkably with the Grateful Dead since the fall of 1971. His wife Donna Jean also came onboard to strengthen the vocal prowess. Her vocals completely flourished in the intimate confines of the smaller club-style venues Garcia Band tended to gig at.
The band had transitioned away from the horn-accompanied rave-ups of the Merl Saunders accompanied years to a refined multifarious ode of Garcia's many musical muses. Motown, soul, rhythm and blues, gospel, jazz, disco; basically anything that Garcia felt more confident developing away from the instrumentation of his other band. With his own band, Jerry felt free taking his favorite tunes to elaborately explore, lengthen, and jam. While many of the 1976 shows circulate in bootleg, the latest addition to the expansive GarciaLive release series is Volume Seven: November 8th, 1976 at Sophie's in Palo Alto, California. Sophie's would eventually become Keystone Palo Alto, a club that the Garcia Band would frequent at for years to come.
Right around 70 Garcia Band shows were performed in 1976, compared to the aforementioned 41 shows performed by Grateful Dead. By November this lineup was tight and well accustomed to how Jerry wanted to investigate these tunes. During that period, Garcia's catalogue was vastly expanded upon with the release of his Reflections album earlier that year. The lineup of the Gochauxs, Ron Tutt, and John Kahn had begun performing that January and knew each other well. The night opened with a stellar cover of Smokey Robinson's "The Way You Do The Things You Do," a rare instance where Kahn, Godchaux and Garcia all harmonize together. The results are sensuous and the band took it farther out than Smokey had ever dreamed. "Knocking on Heaven's Door," was developing into a passionate favorite of Garcia's many Bob Dylan tributes. It would continue to strengthen throughout his career with Garcia Band and eventually Grateful Dead.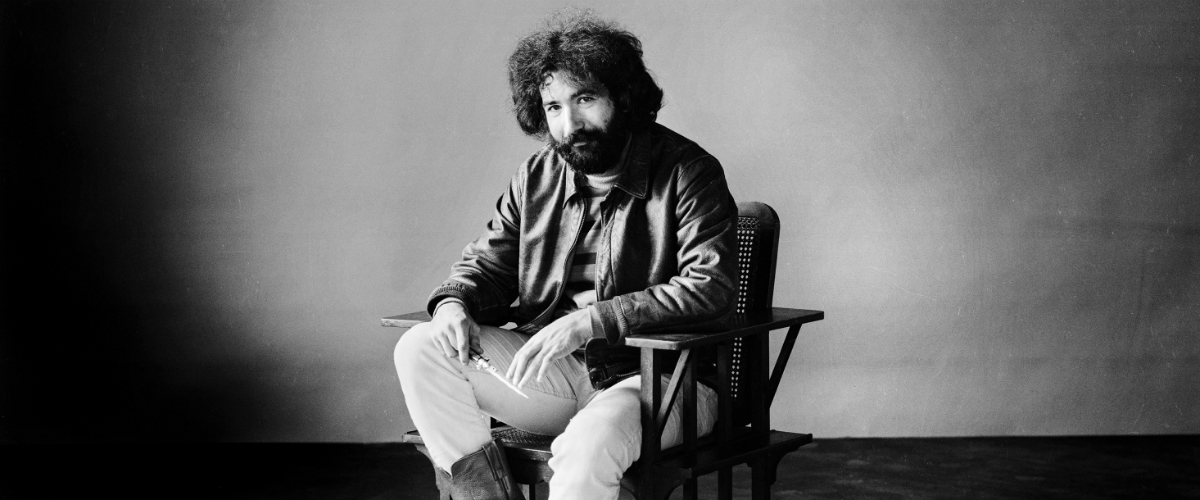 Jerry loved J.J Cale's "After Midnight," and would play it often in 1976. The rendition at Sophie's features some truly inspired solo work from Keith, who was still playing in top form in 1976. A haunting tribute to the traditional gospel "Who Was John?" is an ultra rarity with those chilling harmonies revealing some of Garcia's strongest vocal work. Listen to his singing in 1976 is to discover an artist who had truly discovered his full range. "Mission In The Rain," off of Reflections, was premiered on the Dead's June comeback tour to universal acclaim. Folks loved the melancholy of Robert Hunter's lyrics and the further display of Garcia's strong harmonies and authentic sentimentality. Next, Donna Jean took the reins for an enthusiastic cover of Bob Marley's "Stir It Up." Point and proof, in smaller settings where she could properly hear herself and the other musicians, Donna sang beautifully. Garcia likely began performing Peter Rowan's treasured tune "Midnight Moonlight" in their collective bluegrass band of 1973, Old & In The Way. It stuck with him throughout his career, and the bouncy rendition at Sophie's found Kahn, Godchaux, and Garcia trading leads boisterously with audible crowd noise to boot.
The semi-obligatory cover of Hank Ballard's "Tore Up Over You" ended the first set that night. When the Garcia band came back they played the evolved arrangement of "Friend of The Devil." Earlier that year, the Dead brought back the song in a slow-tempo arrangement that some found plodding and others found intriguing. The arrangement at Sophie's is delicate and yet another display of Godchaux's striking mastery of the ivories. "Don't Let Go" became a universal favorite of both Garcia's and his crowd. The song aptly represents how Deadheads feel about passion, embrace, truth, and love. It became the band's wildest launchpad for jamming. This twenty-two-minute version is sure to please hardcore and causal Garcia fans alike.
Covers of Etta James "Strange Man" (featuring Donna Jean on strong lead vocals yet again) and Jimmy Cliff's "Stop That Train" are strong renditions for the time. The true show stopper was the rare performance of "Ride Mighty High." The song was as rare as the circumstance of Garcia performing a Billboard pop song during its peak popularity. The song by L.A. based disco-soul group Mighty Clouds of Joy might have seemed like an odd choice for Garcia, but in the few recordings of the song circulating it became clearer why Garcia developed it. He always loved a good pop tune, and despite coming from the mainstream, it caught his ear and he turned it into a show stopper. The nine-minute rendition is the longest in circulation and is surely notable for collectors.
GarciaLive Volume 7: November 8th, 1976, Sophie's Palo Alto will be available on August 19th through major retailers, I-Tunes, and other such outlets. It's a very intriguing addition to this Gratefully growing catalogue. Thanks to all involved for getting this discovered, restored, and released.