On Wednesday, August 17th, at The Fillmore in San Francisco, The Rex Foundation and SF Giants starting pitcher's Jake Peavy Foundation will co-host a charitable event that has been dubbed "Can't Stop The Train," a Tribute to the music of Jerry Garcia. Headlining the event alongside Peavy's band The Outsiders is none other than Grateful Dead bassist Phil Lesh. Other players include Colonel Bruce Hampton, Jackie Greene, and Luther & Cody Dickinson. While Peavy's name might not immediately strike a chord in the Dead music world, after a lengthy conversation it's plenty clear his commitment and devotion to the cause. Recently we spoke with Jake about his musical influences, his band The Outsiders, and his affiliation with the other artists on the bill. Deadheads are everywhere, including San Francisco's home team.
GW: What were your musical influences as a boy? When did you begin playing?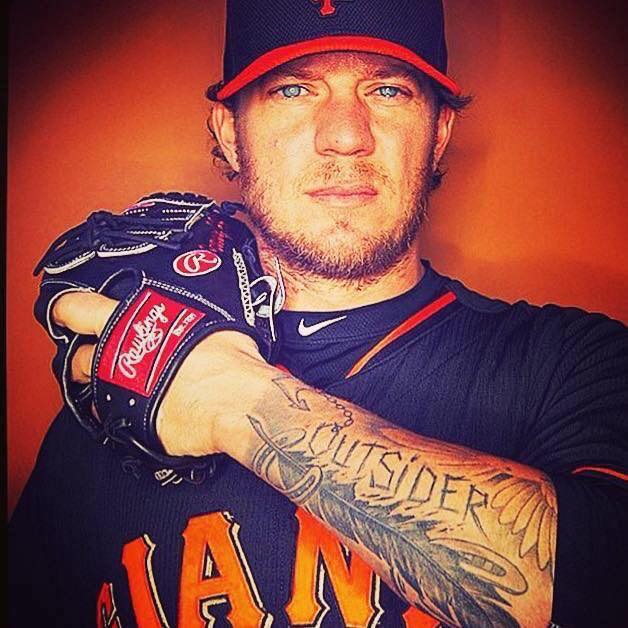 JP: I grew up on Waylon Jennings, Merle Haggard and Willie Nelson. Didn't begin playing until I was in the majors with Tim Flannery.
GW: When was the first time you heard the Grateful Dead? Were you immediately hooked?
JP: I'd heard them growing up, but I didn't really understand the scene until I started playing in San Francisco. Getting plugged in here, and being here for those Santa Clara shows...that's when I was all in.
GW: Who are some of your other non-Dead musical influences?
JP: I'm music lover and I love all kinds of music, but that being said, the music I grew up on, Willie, Waylon and Merle, has been a big influence.
GW: To you, what makes the Dead different from other bands?
JP: It was a bigger than the music. The Dead created a scene and fostered a community of people that wanted to take care of each other. I didn't fully realize that until I experienced the Grateful Dead family firsthand, here in the Bay Area. It really is special.
GW: You founded your charitable organization; the Jake Peavy Foundation in 2012. What is the mission of your foundation and who do you aim to support?
JP: Ultimately, I'm trying to give back in the towns that I've been fortunate enough to play.
GW: When did you first hear of the Rex Foundation?
JP: My first interaction with Rex was during Grateful Dead Day at the ballpark for Grateful Dead day.
GW: The Giant's annual Jerry Garcia Tribute night is this August 18th . What is the event all about? What does the Dead have to do with baseball?
JP: With the Dead being a local band here in the Bay, naturally, a lot of those same fans are Giants fans too. So it just makes sense to marry them together for event at the game. Obviously, I'm a big fan. It's easily on of my favorite theme days at the park.
GW: The night before, your Jake Peavy Foundation and the Rex Foundation are teaming up for the Can't Stop The Train benefit, which will feature a slough of seasoned jam rockers and your band, all in honor of Garcia in the name of charity. Can you talk a little bit about your band The Outsiders? What's the instrumentation?
JP: Look, I don't even pretend to be a rock and roller. I'm a major league pitcher and this is all for the cause. That being said, the guys I surround myself with, the Outsiders, are all incredible, accomplished musicians. Ben Jernigan on lead guitar and Chris Spies on the keys. Both are Mobile, AL homeboys and we spend a lot of time together in the offseason, playing music and staying up way too late.
GW: Do you guys improvise and jam deep? How long have ya'll been together?
JP: We've been jamming for years now. We will definitely be doing some deep jams on Wednesday night. With the Dead's catalog of music on setlist, and the talent we're going to have on stage, I'm really honored and humbled to be up there.
GW: Are you familiar with all of the other musicians in the Can't Stop The Train superjam?
JP: Absolutely, these are my friends! 
GW: Will you collaborate with the other musicians on the bill?
JP: We definitely plan to collaborate that night!
GW: What attracted you participating musically in addition to your charitable sponsorship?
JP: I love to get up there and play, it's just so much fun.
GW: If all goes well, could you see yourself collaborating with these musicians in the future? Do you see this event opening up doors in your musical evolution?
JP: Absolutely, as long as we're able to get up here and have this much fun for a good cause, we're doing it!
GW: Have a great show!