GW: This is Dylan Muhlberg of Grateful Web here with Richard Loren. I am thrilled to have the company of one of the rock era's most pivotal music agents. His new memoir High Notes, recounts his monumental career. His early days in the corporate music world representing such legendary acts as The Doors, Jefferson Airplane, and The Chambers Brothers gained him recognition and success in the music business. The cutthroat nature of the corporate music world led him to pursue the independently minded and spirited California Bay Area.  Through the Marin County California Newgrass scene he became professionally and personally acquainted with Jerry Garcia and became his personal manager for exciting solo endeavors in the early 70s. Eventually he landed the daunting gig as the Grateful Dead's agent and eventually fulltime manger. Throughout the decade Richard's idealistic spirit and pursuing of less likely avenues propelled the band in their journey, bringing to fruition extraordinary gigs at the Giza Plateau in Egypt during a lunar eclipse, the band's northern most performances at a high school in Anchorage Alaska, and the benchmark of being the first ever rock act to play Manhattan's Radio City Music Hall. We have the pleasure of Richard's company today to talk about his story. Thank you so much for joining us.
RL: My pleasure Dylan. It's good to be here with you and Grateful Web.
GW: Likewise a pleasure for us. As a New York native from the beginning of the baby boom, how did you relate to the radical changes in popular music around the world beginning in 1963?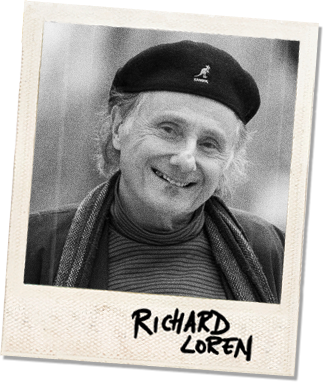 RL: In 1963, our hero John F. Kennedy was shot. Oddly enough, in a way, that marked the end of the folk era. Eleven weeks after that, the Beatles stormed into town and changed everything in music. Prior to that, I'd grown up as a fan of fifties rock 'n' roll:  Chuck Berry, Jerry Lee Lewis, Bill Haley and the Comets. These were the people that were mentors to the classic rockers of the 60s.
Then guys like Bobby Darin came along at the end of the 60s and kind of moved music away from the pop Frank Sinatra kind of stuff. And then he went into rock in the early 60s and had a bunch of hits. As for the folk music scene, Bob Dylan came along and produced an entirely different sort of folk. He opened things up quite a bit. But it wasn't until the Beatles came to town in 1963 that things began to change radically for pop music.
GW: It was a time where the music reflected the thoughts and feelings of other significant changes in the air.
RL: Well in the 60s, rock music became a movement and spokesman for the counterculture. It became a whole other thing.
GW: Your break into the corporate music world began in New York City with the Agency for Performing Arts.
RL: Yes. I had been a theatre manager before I started at APA and had worked with Liberace at a tent theater the previous summer. He recommended me to the agency in New York where I got my start as an agent.
At APA, I booked Jefferson Airplane, The Doors, and The Chambers Brothers. I worked with Love, Iron Butterfly, and Steppenwolf. But the bands that I was closest with were the Airplane, The Doors, and The Chambers Brothers.
I really didn't connect with the West Coast scene until 1970 when I met Jerry Garcia through my friend David Grisman at a Grateful Dead concert at The Fillmore East.
GW: And in those days both sides of the country had entirely different music scenes. Getting back to APA, a lot of the bands that you booked for them had anti-authoritarian beliefs and purposes especially for the time. Did this clash with your professional commitment with an old-time talent agency?
RL: Not really. They realized that "The times they were a'Changin", and that they needed to climb onboard with these new artists. It was not exactly easy to sell artists like John Davidson or Anita Bryant to that generation of students who were not connected with that kind of music. So APA was wide open and that's why they hired me at the time. I was young and they felt that I could be understood by the musicians I worked with. The people in the company were considerably older than I was and they didn't connect with the young rock scene. I didn't either at the start. But I quickly learned that if I wanted to keep my job I would have to go out and find some talent that colleges on the East Coast would want to have performing on their campuses.
In late 1966, I got a tip from a college student at SUNY University who had been talking about talent and about how we needed to get some bands from the West Coast. He told me that Jefferson Airplane were going to be playing his campus and that they didn't have any talent agency representation on the East Coast. I really jumped on that. He also told me they were going to be playing at a club in Manhattan's Greenwich Village called Café Au Go Go, I was there for every night of that two week run. I befriended Bill Graham and Marty Balin and got to know the rest of the members of the band. At the end of that period I took Graham, the bands manager up to meet my boss at APA and he agreed to have our agency represent them, me specifically. So I went on to start booking the East Coast Jefferson Airplane gigs.
Shortly after that, I was contacted by Jac Holzman of Elektra Records. He said had this new band that needed agency representation. They had a new album and he wanted to send it over to me. He knew I was working with Bill Graham and the Jefferson Airplane and thought it would be a good fit. That evening I sat back and listened to The Doors for the first time in my life and I was absolutely blown away by the power of their songs, musicianship, and the presence of Jim [Morrison]. I called him back the next day and said "Jac, these guys are great where can I see them?" It just so happened they were playing at a club uptown called Ondine's. He put me on the guest list and I was there right away. It didn't take me long to realize that this was an incredible band and I unquestionably wanted to represent them. The next day I met with their managers [in New York City] and they signed the contract with us. That was the beginning of my career.
GW: Two of the most iconic yet drastically different psychedelic rock bands of the era. Speaking about the Doors and Jim Morrison as an anti-establishment figure, after knowing him personally, do you recall him at his core as an artist or provocateur, or a little bit of both?
RL: I wouldn't say provocateur at all. He was an incredible poet with an incredible backup band. I would say he was first and foremost a poet with a complex personality. He was painfully shy and vulnerable, yet he could be the flipside when his anger showed. But Jim was a very soulful guy. When I watched him I could see the power of the muse and how it affected him. I could see the fusion and the strength of poetry in music. He's one of the few first poet singer/songwriters. You have Dylan, you have Leonard Cohen, any maybe a few others.
The way I saw Jim was as a shaman for his generation. He was really possessed by the muse. Unlike any other musician, his music and theatrics were never staged. With Jim you never knew what he was going to do next, unlike Mick Jagger, who is a great performer with great moves reflecting those of his mentor James Brown. Jim never copied anybody. People copied him later but he was alone and unique in his expression. His band was really strong and the music underscored Jim's poetry and constantly changing choreography brilliantly. I went to a lot of shows, and to me, the band seemed to be telepathically connected. If you're familiar with The Doors music they're unlike any other band.
GW: And most fascinatingly as you talk about in High Notes, your tenure with them was the triumphant times. Those are the moments talked about in rock history. Jim's antics, the Ed Sullivan show. It's great to hear first hand from you of their power, speaking of them highly as entertainers and artists.
RL: Absolutely. Jim was a brilliant entangled soul. A soulful and a very sweet guy. I was there at the beginning and saw the band through "Light my Fire" until about 1969. Jim was basically like a shooting star. He gave it all he had, and at a certain point he'd done it. One time we we're riding in a car together, and he told me he wanted to die young and a poet. Half of him enjoyed that connection to the audience but toward the tail end of it all he seemed to become the rock star that he didn't want to be. He was going to quit the band at one point before a big tour. It was a big burden.
GW: It's all in the book and its all a large part of rock history. Even more fascinating is that these stories of the early days with the Airplane, The Chambers Brothers and The Doors that alone would be worthy of a memoir.
RL: It's interesting. I didn't grow up in the mid-sixties in California in that counterculture scene with the acid tests and social changes. I found myself learning about the trade and the business world as an agent. I met some really interesting people in my line of work and one of them was Jerry Garcia. After I befriended him I moved to the Bay Area and the next thing I knew he was asking me to manage his many side projects outside of the Grateful Dead, with the Garcia Bands and his work with Merl Saunders and John Kahn, Old & In The Way.
One day in early 1974, [Jon McIntire] manager of Grateful Dead called me and told me they band had fired their agent and asked me if I wanted the position. This was during the Wall of Sound era of their touring. It was a monstrous sound system designed by Owsley Stanley. Despite its great sound it was financially infeasible to take on the road. It took hours to erect and take down. My first job as The Dead's agent was to book a thirty-city tour from March through August with this colossal sound system. It was an awesome task and I really had to use everything I learned as an agent on the East Coast in the 60s to be able to pull that off. It was quite a feat.
GW: At the same times as those 1974 gigs with the Grateful Dead you had been working with Garcia solo for a while and the various incarnations of the early Jerry Garcia Band. Why do you think Jerry was seeking so many outside musical outlets at the time?
RL: Jerry was a guy that was solely driven by the desire to grow as a musician. Those who knew Jerry remember that he never sought the limelight nor was he a spokesperson for any movement. He was very talented and played all the time and not just with the Grateful Dead. He played with a bunch of different musicians throughout his career. Whether it be with David Grisman who shared his roots in bluegrass and country or playing jazz with Ornette Coleman or learning pedal steel with the New Riders or with Old & In The Way. Jerry never wanted to be the leader of a rock band. But because of his fame he could play with a bunch of different musicians and it gratified him. Jerry would show up a few hours before a gig at the Keystone in Berkeley and just practice scales, always looking to improve.
GW: The Compliments of Garcia album that you had a hand in producing really reflected that spontaneous musical spirit of his. The test of time shows it was one of his most successful solo endeavors.
RL: Yeah. It's interesting because its unlike any other Jerry Garcia record. It was a bunch of different songs that he loved, selected by John Kahn except for "Russian Lullaby" which Jerry requested. It was a produced album. It has a lot of fans but a lot of others didn't like it. I was what he wasn't with the Grateful Dead. It was just another example of his openness to embrace all kinds of different musical stuff.
GW: And that desire for production was reflected on the Grateful Dead records of the later 70s. With Terrapin Station when producer Keith Olsen came onboard. They wanted to have a sleek sound and be progressive in the studio.
RL: Right!
GW: The later half of the seventies saw the Dead embarking on some of their most exciting gigs of historical posterity and music alike. The highlight of your and the Dead's collective career was the journey to Egypt to play at the Giza in 1978. You had a personal journey that preceded and inspired this monumental event. Can you talk about your previous experience and the fruition of the Egypt concert concept?
RL: Yeah, sure. When I first moved to California in 1970, I stayed with Marty Balin of the Jefferson Airplane who had invited me out. Marty is of course the founder of the San Fransisco sound. Besides being a great musician he's a great dancer and a painter, a real renaissance man and an avid reader. One of the things I gravitated toward was his books on Egypt. It really absorbed me during that month. I became interested in the pyramids and the mysteries. When the Grateful Dead went on hiatus in 1975 shortly after I was appointed their manager and had the chance to go to Egypt. Ken Kesey had just returned from Egypt and was writing a five-installment feature for Rolling Stone entitled, "The Search for the Secret Pyramid." He told me all about his experiences in Egypt and gave me some advice on things I should do and not do.
One day while ridding on a camel around the Great Pyramids I looked down and saw a stage. A light bulb went on in my head and I said "Whoa! Maybe the Grateful Dead could play here!"
I befriended a boatman who I told of my idea and he introduced me to some tour directors who then in turn introduced me to travel industry bureaucrats who made it sound possible. When I told the band about it they flipped out, Jerry said "Wow. Fantastic!" A few years flew by and finally in 1978, I said it's either do or die, we gotta make it happen. The whole Grateful Dead collective got together and the band appointed a colleague Alan Trist, Phil Lesh, and me to go out and see how we could make it happen. We met with the state department in Washington then the embassy to Egypt. Finally we got a signed contract for three nights and then we had to put it all together. Fortunately I was able to connect with The Who and their manager and got all of their recording equipment shipped out from England. It was very helpful. Next thing I knew the Grateful Dead was playing their first note on the Giza Plateau. On the third night, while the band played there was a lunar eclipse, and on that same day the Camp David peace agreement was signed. It was really a momentous time for the Grateful Dead and one the most amazing events of their history.
GW: Undoubtedly. Western music in the eastern world let alone the power spot of the Great Pyramids. And all these years later we have the Rockin' The Cradle CD/DVD released back in 2008, to commemorate the thirtieth anniversary of their performance.
RL:  I really wanted to get some video footage I had taken of the band in Egypt out with the thirtieth anniversary. I finally convinced Rhino Records that I had something viable, and they released an abbreviated segment, "The Vacation Tapes" on the bonus DVD.
GW:  As the Dead's agent you were constantly interacting with the many of their integral cohorts. Legendary promoters Bill Graham and John Scher were drastically different to interact with. The Hells Angels were a whole other story. What did you learn from your time as the Dead's agent?
RL: I learned how to deal with all different kinds of people. Bill Graham was an amazingly complex person, as you'll learn from reading my book. We had a changing relationship over the years. I met him first as the manager of Jefferson Airplane and he hired me as their agent. I had to report to him all of the offers that I had from promoters. Then when I moved to California he was a huge promoter out there. When the Dead appointed me as their manager he had to report to me to approve shows he wanted to put on. I dealt with him on a different level. Bill always wanted to be the Dead's manager and I believe he resented my position. The truth was that the Dead knew better than to hire Graham as manager. He had a reputation for being less than honest with expenses. On one hand he did a lot for promoting rock 'n' roll. I had to protect and overlook the business affairs of the band and I was a thorn in Graham's side despite our mutual admiration and respect.
GW: Some of the most brilliant moments of High Notes are the little anecdotes. Parties with the Kennedys, feuds between Jim Morrison and Andy Warhol and so many examples.
RL: Sure like my meeting with Jane Fonda, my meeting with Bobby Darin, my moment with Gilda Radner, and partying with the Saturday Night Live crew. Lot's of little vignettes in there that I hope readers will be interested in. They were my coming of age experiences.
GW: Your book has been met by critical praise in the literary and music communities. Was it worth all the hard work?
RL: Absolutely! I enjoyed nothing more than writing this book and promoting it. I did it on my own terms, self published it and didn't get an agent. I wanted to write the book that I wanted to write. I didn't want editors or publishers to change my work under contract. I'm really proud of the work I did and how it came out. It took like three or four years to put together with a lot of help and advice from friends rather than the traditional business world.
GW: And it's that grassroots sort of support that ended up being the support for the artists that you represented. It's all fitting.
RL: It was amazing. I got to meet some amazing people who represented a unique period of time.
GW: It's an insider's viewpoint. It was incredible to learn how you inspired these bands to take a diplomatic approach at owning their own.
RL: Thanks. It's really nice to have someone appreciate those nuances and I want to say too that I was really fortunate to have my "insider's viewpoint" supported by David Browne of Rolling Stone, Marty Balin, and Dennis McNally, the Dead's former publicist who wrote their biography A Long Strange Trip, and Blair Jackson. They all helped me move the book along and I am thrilled to see that it's been well received and doing so well.
GW: Grateful Web shares in that enthusiasm Richard. We want to encourage our readers to get a copy of High Notes from the website www.highnotes.org and book retailers everywhere. You might also enjoy following High Notes on the Facebook page. It's a quintessential story of the rock era that people need to know about.
RL: Well thank you Dylan. I appreciate the interest and support!
GW: It was great read your story. Take care.