Grateful Web recently had the opportunity to speak with photo anthropologist Susana Millman. Longtime spouse of the Grateful Dead's historian and publicist Dennis McNally, Susana began her friendship with and photographing the Grateful Dead in the mid-1980s. Her unique vantage as a true insider granted her access to photograph behind the scenes intimately with the band, their family, their friends, and the Deadheads. Her photo-bio Alive with the Dead or A Fly on the Wall with a Camera, from Watermark Press is limited to 1,000 copies. Dylan Muhlberg recently spoke to Susana about her early days of enlightenment into Deadhead-dom, photographing the Dead onstage and off, and how the community is still thriving strong today.
GW: Tell me about your background and how your relationship to the Grateful Dead began?
SM: I have a doctorate in Social Psychology and ran off to South America in the early 1970s when I took off with a bunch of hippie Deadheads, which began my relationship with the improvisational life and the band. They were all from the Bay Area.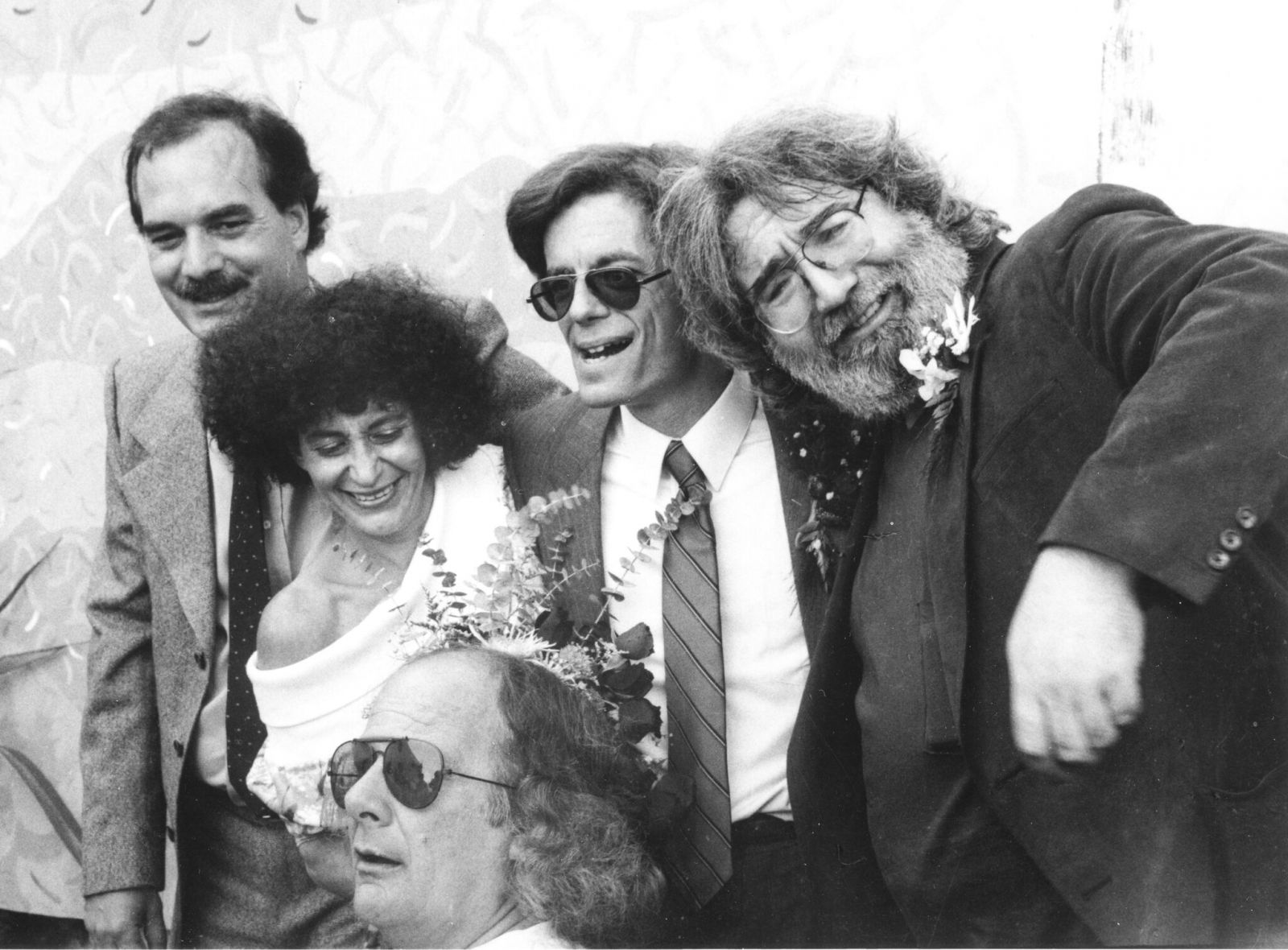 I'm from New York originally, born in the Bronx and grew up on the Upper West Side of Manhattan. When I got back from South America I was in the clothing import business from Bali and India. Then I started becoming a serious Deadhead and had picked up on photography as a travel hobby. I thought, "gee wouldn't it be fun to photograph the Grateful Dead." In the early 1980s I became friends with Rock and Nicki Scully. Our daughters went to camp together. I went to their house for dinner often. Their house in Hepburn Heights in San Rafael was the upstairs, where Jerry [Garcia] was downstairs, and Jerry came to dinner sometimes.
GW: So it sounds like you were acquainted with a lot of Dead organization folks and family right around the early 1980s. But when was your first Dead show?
SM: Well, I'll admit that my first show was one of those classic Fillmore East shows, in February of 1970 that became the famous Dick's Picks release. In retrospect I'd like to hear more of it than when I went [laughs]. I just didn't quite get it at that time, but I was still really glad that the recordings were released and have them to listen to. My first Grateful Dead show that counts was 12/29/77 at Winterland Auditorium in San Francisco, which also became a Dick's Picks. That was the first show that I went to in as my "new incarnation" post-South America self. That's where I met Dick Lavata [the original Grateful Dead archivist and biggest Deadhead of them all.]
So between Dick and the Scullys I began to discover what being a Deadhead was really about. Dick started giving me a lot of tapes and drove around listening to them. I had mystic Dead experiences, like "Franklin's Tower", on the foggy coast. I put it on, then right as the line "roll away the dew" came along the fog lifted! Cross my heart! [Laughs] So I started getting it, and would get into shows. My main connection was Rock [the Dead's manager at the time], who had a lot of magic to him; but he also had his shaky side. He had certain substance problems that were detrimental to his relationship with the band. When he was in bedstead I had trouble getting into shows. So I started getting backstage with my daughter in the kids area who happened to go to Wavy Gravy's Camp Winarainbow.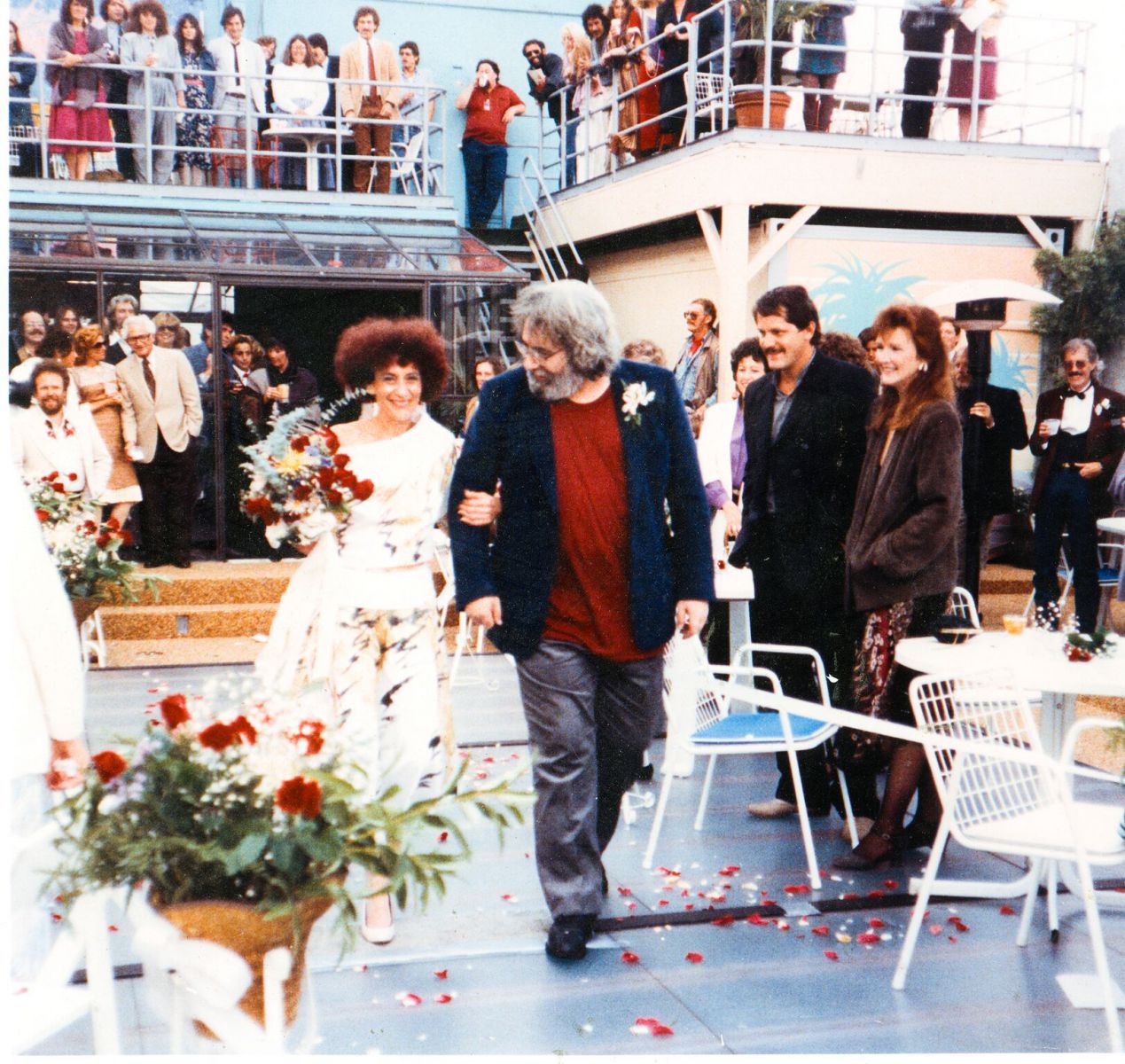 GW: Your husband of over thirty years is Dennis McNally, the Dead's historian, longtime insider and former publicist. How did you become acquainted with Dennis?
SM: At that time I was living on Chestnut and Van Ness in the San Francisco. Unbeknownst to me there was this guy Dennis McNally who would come into my life who lived right in the same neighborhood. I was acquainted with Dennis through his biography on Jack Kerouac (Desolate Angel, 1979) was marvelous. When we met he had already been the band's biographer and it was right around 1984 that he officially became their publicist. Garcia believed in him. They were always tight and had wonderful conversations as you can tell from Dennis' book (Jerry on Jerry, 2015) of interviews.
In my life my dad passed away when I was three, and [my daughter] Zuni's dad was basically a surrogate had been out of the country. So, Dick had initially introduced Dennis and I because we lived nearby and thought we would get along. We got together one night and the next day when I was out on an errand Dennis stopped by because he had forgotten something. When I walked back in he was there helping my daughter with her English paper. I thought, "Oh wow. This guy is really cool. He's going to be kind to my daughter!"
GW: And a good English tutor too!
SM: A good English tutor [laughs]. Then a little while after that Jerry said, "Hey man, you and McNally ought to get together!" I wasn't about to ask Jerry, "Did Dennis say anything to you?!" [Laughs] I don't think so. Right around that time Dennis came through with his promise to put me on the list for a Dead show [laughs]. I cannot tell you have often I stood there saying "Rock really did put me on the list!" And the rest is history; the first topic in Alive with the Dead was my wedding to Dennis. Jerry walked me down the isle. Wavy Gravy married the two of us. It was a surreal experience.
GW: Your book is subtitled, "a fly on the wall with a camera." This is very much NOT just a concert photography book, but you capturing the lives of the Grateful Dead and their organization. Can you elaborate on the meaning of that?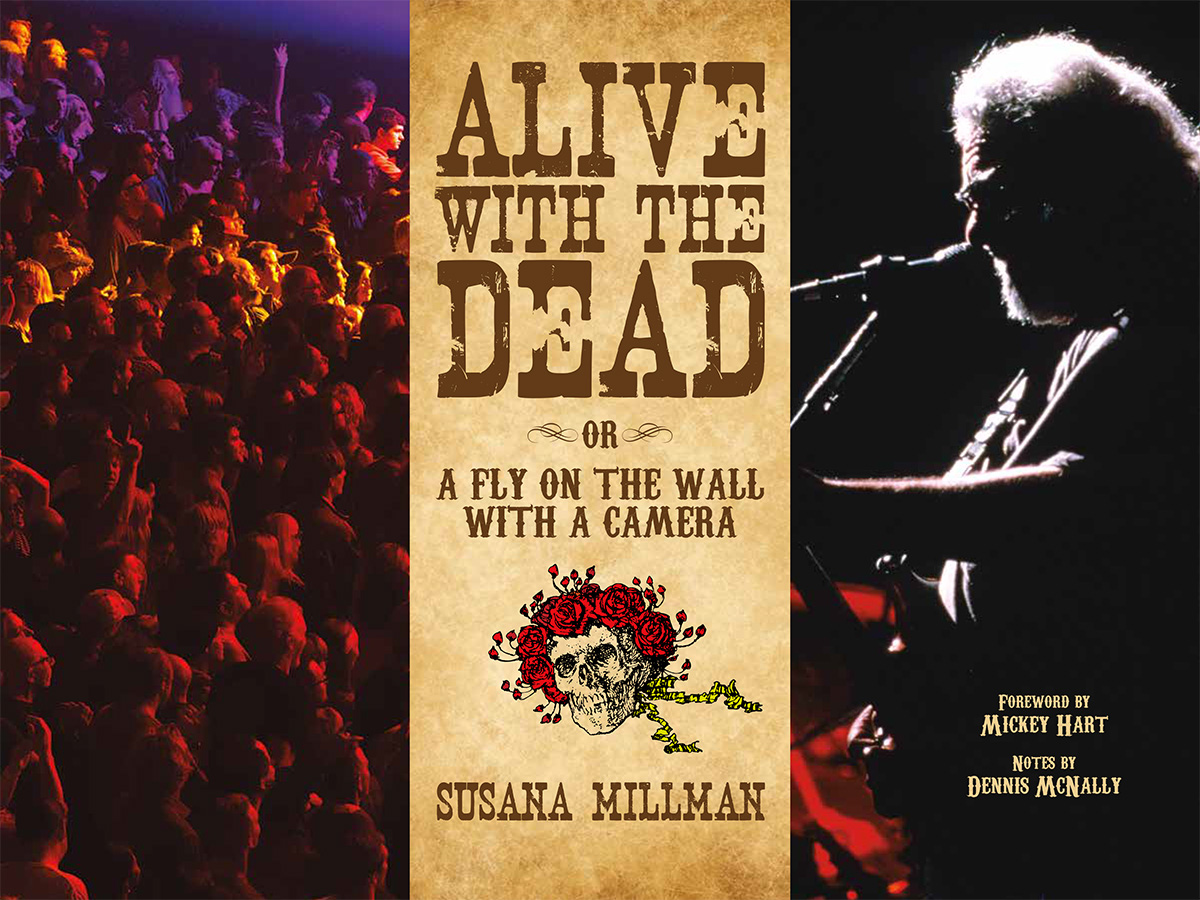 SM: Even at shows, the crew being the crew, it was best they didn't notice me [photographing the band] too much. They could get very cranky over very little. They were practical jokers too. One of the first things that I shot was their making of the Len Dell'Amico music documentary video for "So Far…" right around 1986-87 at Marin Civic. When I had the nerve to get near the stage, Kidd Candelario "confiscated" my camera just goofing around and pretty quickly gave it back. It was all in good fun.
I generally believe that unless you're asking people to pose for you, it's best for a photographer to be unobtrusive so you can capture what's actually going on. Gestures between the subjects, candid stuff like that without your presence interrupting that flow of events.
GW: The era of Grateful Dead you started photographing was when their fan base grew immensely and so did their stage, sound, and lighting production. In turn it unintentionally put some of the older fans father from the band in these larger venues.
During this time you were regarded as an insider. For example you were invited and photographed the "Hell in a Bucket" music video on set.
From your perspective did the era of mega-Dead negatively impact the members and the organization?
SM: I couldn't really firmly say. The thing I know that affected at least Jerry the most was [beloved Grateful Dead keyboardist] Brent [Mydland's] sad and sudden death. He took that very hard and very personally. I don't think he was ever fully the same after that. It also expanded good stuff that they did, like the Rex Foundation and Seva Foundation. They were almost always there and fulfilling their commitment, with the family charities.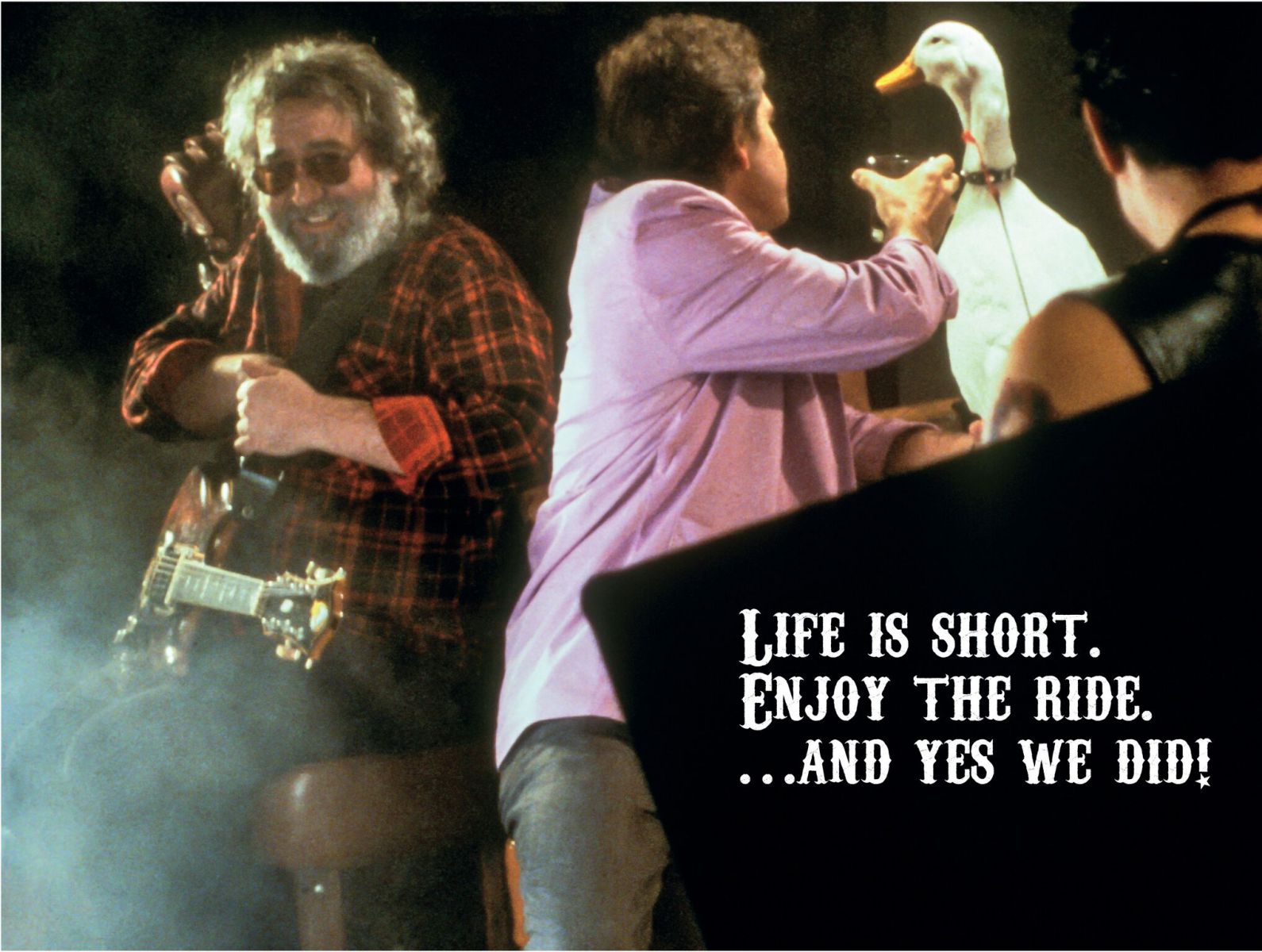 GW: They began being more socially proactive.
SM: Yes they did. The big one that I talk about in the book was for the environment (circa 1988). Jerry never did anything political. This was about survival, not politics. Sadly I had other commitments and couldn't be there for the actual benefit concert the Dead played with other heavy hitters at Madison Square Garden on September 24th, 1988. Jerry did stuff for the environment that he didn't do for anything else cause-oriented. He went to an after party where Rainforest Action Network personnel met him. So those aspects of change were all positive.
As it grows larger it's always less personal and that's inevitable. I think that they always cared about and recognized the audience, just maybe not quite in the same way. It's a different relationship when you're playing clubs then arenas, then stadiums with hideous sound.
GW: One intersections of your photo bio that struck me was Mickey Hart and the Gyüto Monks. This continues from when Dennis [whose editors notes are interspersed throughout the book] introduces them and pops up regularly throughout Alive with the Dead. Could you talk about photographing the monks? What did you observe?
SM: Mickey is the only continually multi-cultural member of the Dead, perhaps Bobby [Weir] also to a lesser extent also. I think his collaboration was an extension of his fascination with World Music. His fascination with it was not the Buddhism aspect, but the throat chants with three simultaneous chords, which nobody else in the world could do.
GW: Apparently the Monks had not been at all exposed in Western popular culture.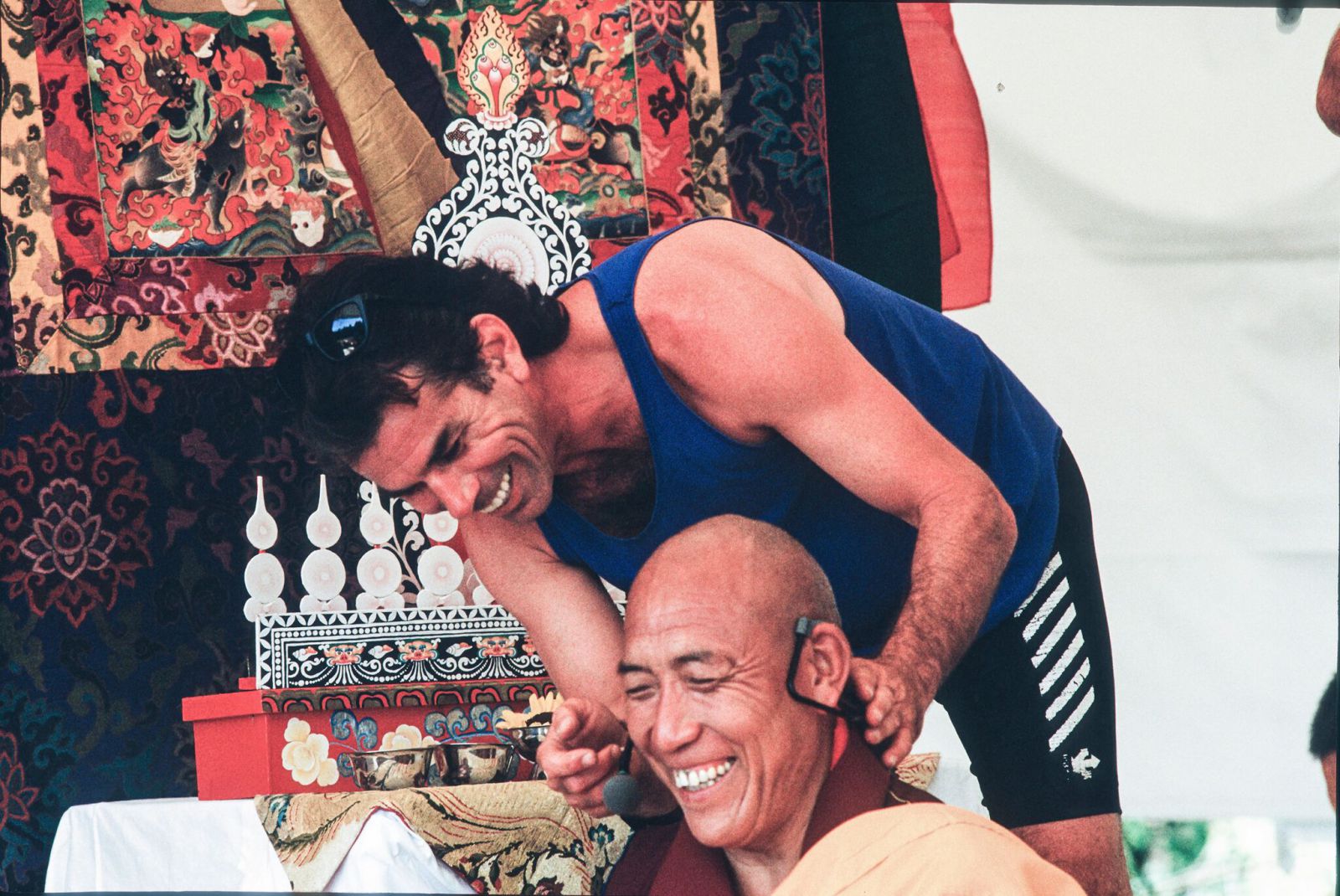 SM: Yes, Mickey bridged that. He really wanted them to succeed. He took that on as part of his "running a transportation business" as he often puts it.
GW: You have all of these wonderful pictures of them meeting, performing, and coming together for future events.
SM: Yeah. I'll tell you it's funny this book was printed in China. The PDF arrived in China the day that president Obama met with the Dali Lama, which Chinese politicians were not too thrilled with. When it arrived the manufacturers questioned whether this was a book about religion, which was funny because there was one picture of Mickey in front of a Cross at San Quentin. They questioned if perhaps the Grateful Dead was an obscure religious cult in America [laughs]. It turned out it was about the Monks and the robes. But we were able to clarify and not get it sent through the any of the consulate screenings. Who knows when it would have gotten here?!
GW: That's a funny anecdote. From my perspective, you tend to take pictures of the band from near and far, all different perspectives. What did you like to capture besides stage-side shots of the band? What fulfilled you artistically?
SM: The enthusiasm of the audience, the scope of the whole event of a Dead show, and the backgrounds of any given venue. For example in Las Vegas (Sam Boyd Silver Bowl) in the 1990s, the vastness of the sky and the mountains behind it, or the backdrop the entire San Francisco Bay and city from Berkeley's Greek Theatre which I wanted to capture for a while. I needed a tripod for it to properly get the band and the sky both. So finally in 1989, the second to last night of the run (and the second to last time the Dead played the Greek) I had the laminate that said "All Access," which finally meant I could stand on an empty platform with my tripod. And I did and just as the twilight came I used a little filtration to tone that down while balancing the exposure to reveal what was also happening onstage. That was a tremendous sense of the Bay Area. These are our guys, this is our home, and this is where they are from.
GW: In some ways the Dead's music has organically become part of the nature at the Greek.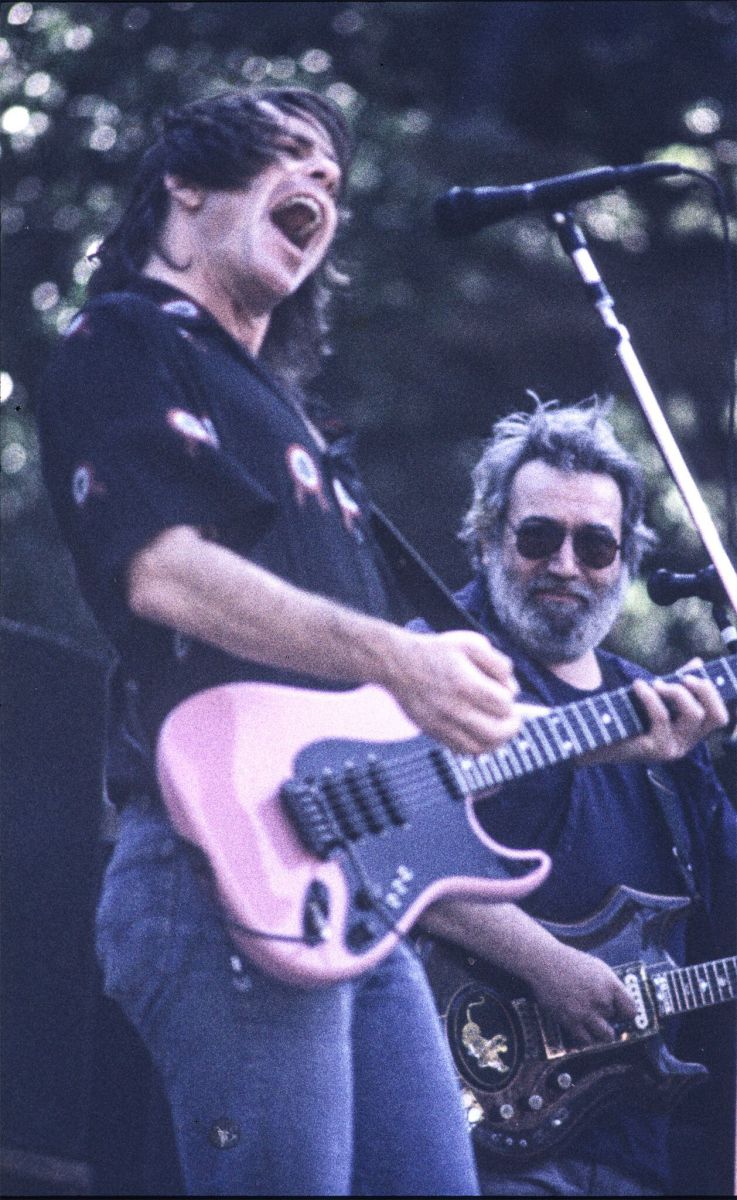 You captured a lot of the post Jerry years which I as a Deadhead under thirty really appreciated. That was when I came into things. Was it touchy getting back into that environment without Jerry? A lot has happened since.
SM: There were good and bad parts both. The good part was really watching Bobby grow into a bandleader and how he developed RatDog. Family politics being what they were I was not too involved except for Rex and Seva benefits from 2008 on. The politics had me a little mixed on actually putting this book out. But then I saw Dead & Company, and I thought, oh yes! This is what it's all about, these are my peeps, and this is family. Wow, listen to the music, this is transcendental and we are in a new millennium.
I've become a Zen Buddhist in the interim. I've become more comfortable with the idea of indifference and change. Life is always changing. I didn't really know anything whatsoever about John Mayer. I just love the way he doesn't try to be Jerry, but he loves the music and you can feel it. Him and Bobby get off on each other so much. And the drummers [Bill Kreutzmann & Mickey Hart] are just grinning, and while we miss Phil [Lesh], Oteil [Burbridge] is a great addition.
GW: It really does feel like family. It was a nice coda Alive with the Dead to see all of these photos shot in 2015-2016. It's really lovely.
You got into the Dead and the scene later than some of the newer generation youngsters. What did you observe was different about that newer generation compared to the more old school Deadheads?
SM: I love that everybody regardless of when they hopped on is always having a great time. I'm not sure if the newer fans quite fully understood how special it was other than it being a good time. Some got it; others thought it was just another party. To me, it really boiled down to: how many places can you go where everybody is joined in energy and there's no opposition? It's all-pro, and it's all community. Maybe that sense of community got lost because of when you have that many people there. It might be similar to having 70,000 people at Burning Man.
GW: Yeah, like is there really a common consciousness? I think the parents might have introduced a lot of the younger devoted fans, and because of Dick Lavata and the tapers we can hear it. It's not the same as living it probably. Still it's a real beautiful time to be a Deadhead.
SM: Yes, and of course there's their repertoire and the music. Ansel Adams was asked why he left his negatives wherever he shot, and he said something to the effect of "this is a basis, I printed them one way, and other people are going to print them another way." It's all art and creativity that we want to share with the future, and it's the same with the Dead's music.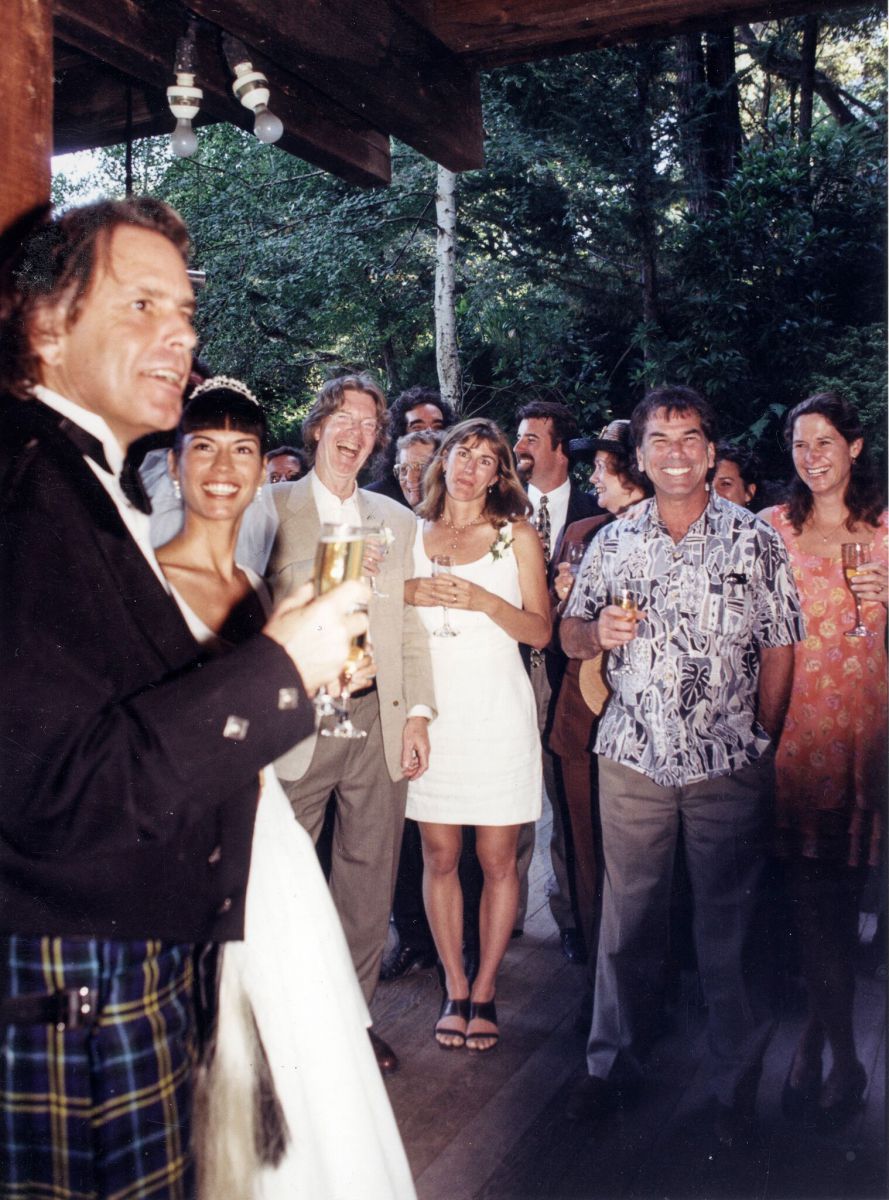 Susana Millman's photo biography, Alive with the Dead or A Fly On The Wall With A Camera will be available in very limited quantities on November 1st through mamarazi.com. Susana will also be promoting the book during various events including a book premier at the California Historical Society in San Francisco and on tour with Dark Star Orchestra, on the East Coast, where she will open the shows with a book talk.  Alive with the Dead also notably opens with a forward from Grateful Dead drummer Mickey Hart.