The contemporary musical universe of Mickey Hart is perfectly aligned with the cosmos. Never has his theological approach to music or pursuit of combining music sensibilities across the globe been so relevant. From the beginnings he sought out further bounds than his primary project, the American rock institution, The Grateful Dead. His evolving contributions to the band began when he was taken on as a full time member in late 1966 and continued until their disbandment in 1995. Starting with 1972's groundbreaking album, Rolling Thunder, he fused elements of Eastern percussion with help from collaborators, Allah Rakha and his son Zakir Hussain (the later of whom would be a musical partner for life,) with western free music and acid jazz. Though all of the members of the Dead played on this record, it sounded nothing like their concerts or studio material previous.  Throughout the Dead's thirty career Hart continued to expand the band's sound by bringing in percussion from India, West Africa, Egypt, and beyond. Though the death of Jerry Garcia was a huge blow to the band, Hart in particular continued to create incredible music separate from the Dead's previous repertoire. Perhaps his opus was 2007's Global Drum Project with continued support from Hussain, Nigerian drummer Sikiru Adepoju, and Puerto Rican percussionist Giovanni Hidalgo. This was a milestone for a quartet who had been playing together collectively and separate for decades. I had the pleasure of seeing this tour five years ago and it spawned a sincere affinity toward the great big world of music beyond western pop.
For many, the drum solo segment of a Grateful Dead concert was misconstrued as a chance to talk amongst friends about the show, or even grab a beer. But for those willing to focus in on Hart and co-drummer Billy Kreutzmann's experimentations were often treated to the most interesting and varied segment of the show. Hart and Kreutzmann's arsenal continued to build throughout the years and inspiration was gathered from traveling the world, and exchanging musical ideas with different cultures.  Hart took everything he learned from his world travels and playing with Kreutzmann for thirty years as a blueprint for his finest project since Global Drum. His current project, simply called Mickey Hart Band has evolved from rocky beginnings to a tight musical unit representing different layers of Hart's vast understanding of world music.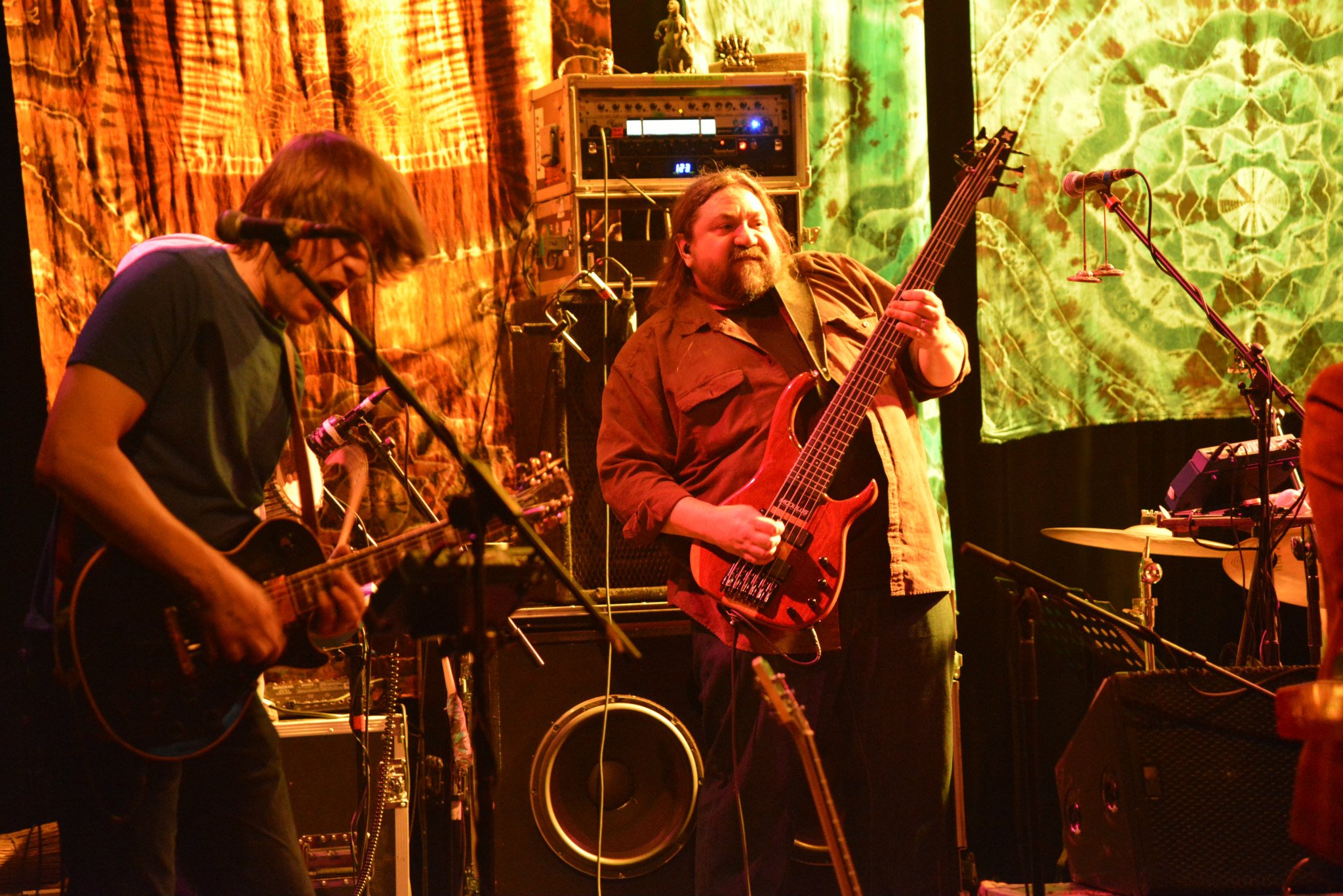 I saw an early incarnation of this band in November 2011 with vocalist Tim Hockenberry. I felt the project was sophomoric and didn't gel well with Hockenberry's contributions. After he left to pursue different projects, Hart used the opportunity to revamp his band with some seriously incredible vocalists. The band already consisted of Widespread Panic bassist Dave Schools, session guitarist Gawain Mathews, Planet Drum collaborator Sikiru Adepoju, and drummer Greg Schutte. Mickey brought in soul vocalist Crystal Monee Hall who revitalized the band's spirit with passionate enunciation and intentions to guide the group energy toward something bigger. The second new member came with Joe Bagale, a talented keyboardist and guitar player whose strong vocals also strengthened the newly assembled Mickey Hart Band. Since last summer the band has been building it's own following and produced a strong studio album with new original material (seven tracks were penned by Grateful Dead lyricist Robert Hunter,) called Mysterium Tremendum.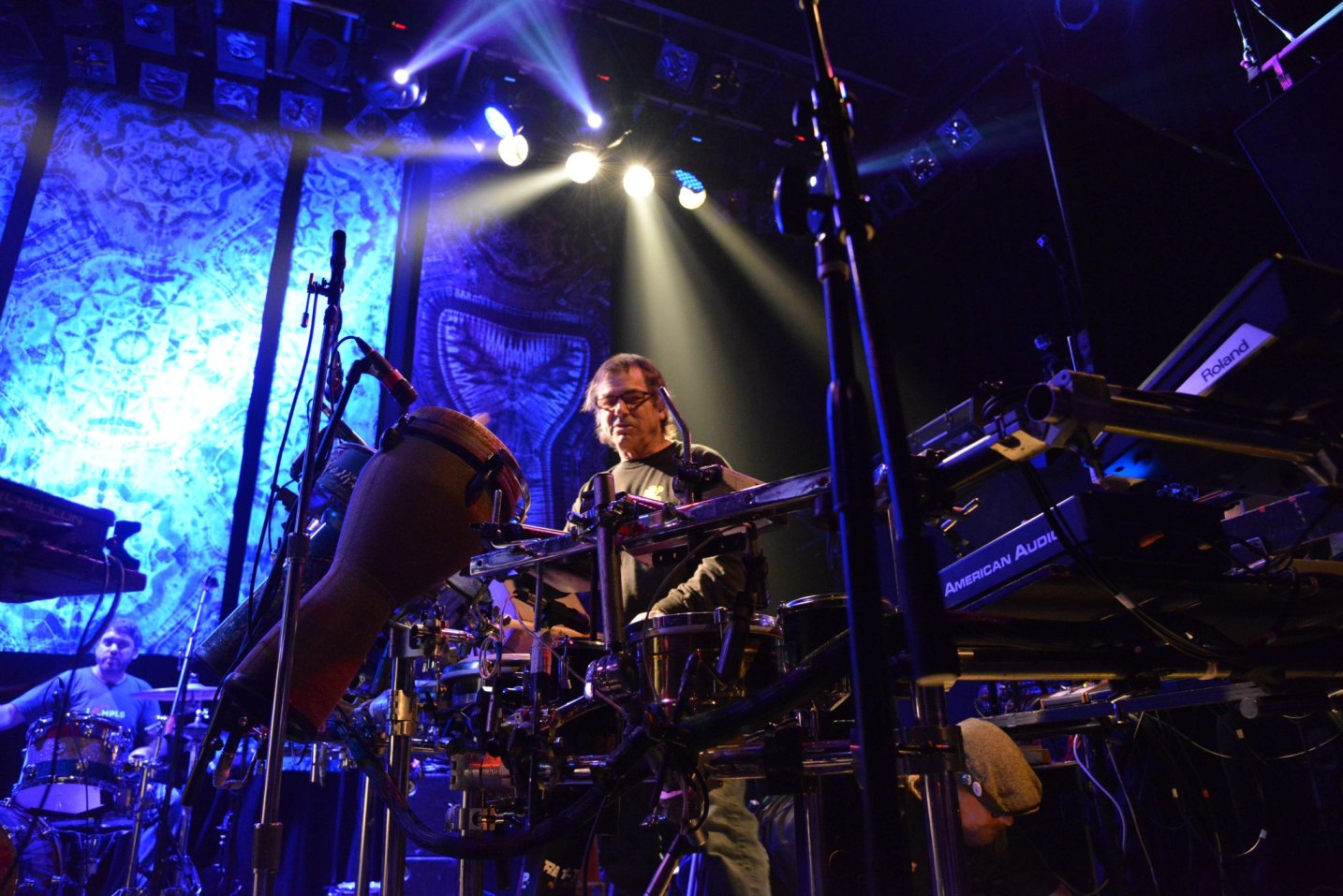 I saw Mickey's band at Gathering of the Vibes last summer with Hall and Bagale in the lineup, but last Thursday's Fox Theatre performance in Boulder revealed the band in a glorious state of confidence and cohesive understanding. Hart greeted the sold-out crowd with a toothy grin and launched right into Buddy Holly's love anthem "Not Fade Away".  Though the band performed a handful of Grateful Dead originals including "Ramble on Rose", "West L.A. Fadeaway", "Standing on the Moon" and "Bertha", the strongest moments came with the material from Mysterium Tremendum. Working against the paradigm of new material being in lesser favor than the classics, the new cuts were as alive as the musicians performing it. Hart's pronounced accented playing style was more lively than ever as it was apparent that he really believes in the music he is performing with this outstanding band. Mathew's guitar playing impressed me from the first time I saw him perform with Mickey, but his growing musical empathy with Hart is so impressive because it isn't just another Garcia parrot. He has his own unique style and evokes an evolving acid-bebop approach that is as fascinating to watch as it is to hear. My favorites of their original material were "Time Never Ends", "Diinn Dijnn", and most of all "The Sermon" which closed the first set with some powerful exchanges between the two vocalists, both with different approaches but similar intent.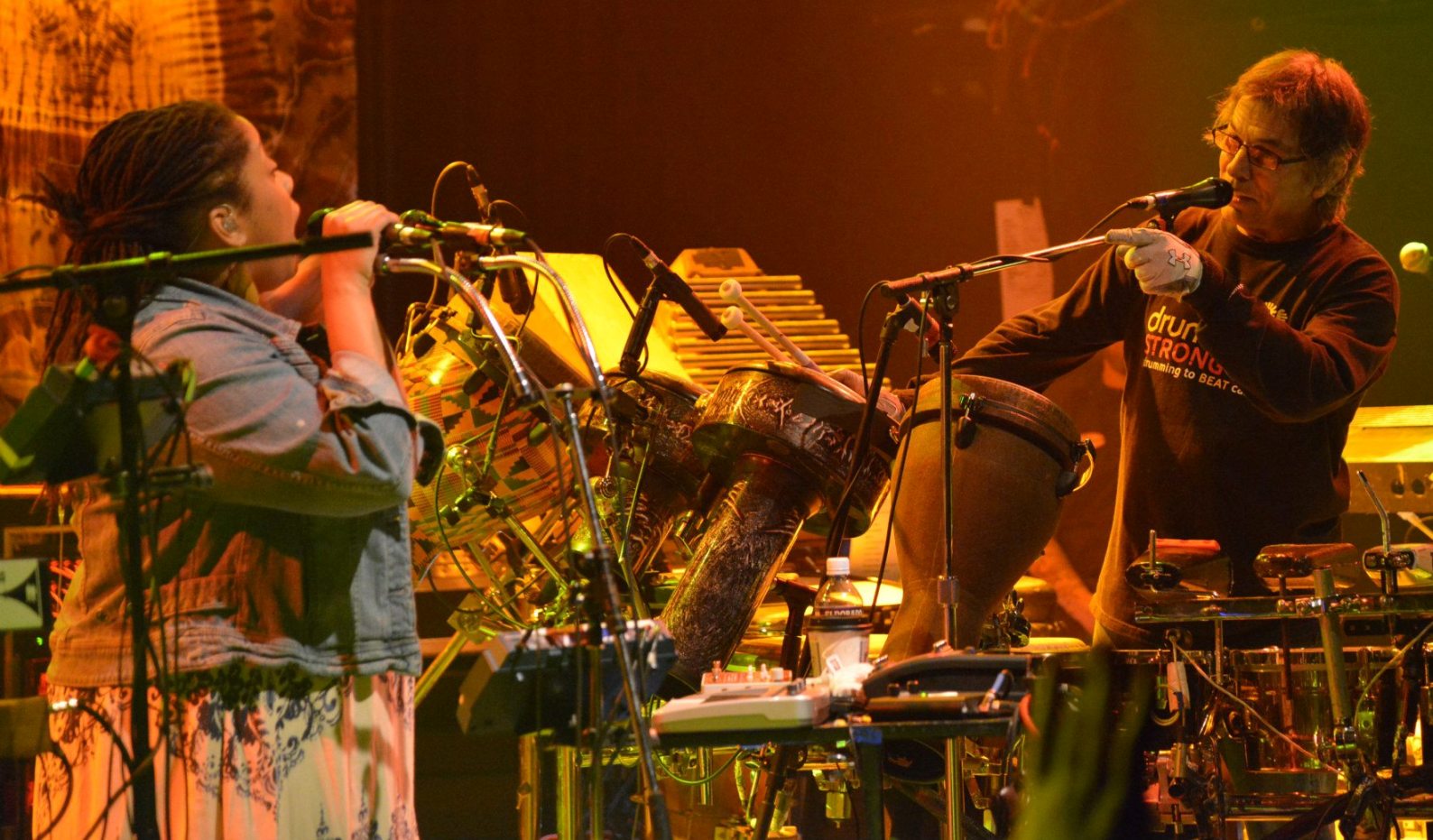 It's wonderful that a project that I initially considered to be listless has come so far. I sincerely enjoyed the performance more than anything I've seen from Hart in recent memory. The rhythm section of Hart, Schools, and Schutte guides a percussive backbone for the rest of the players to move forward with. The additions of Hall and Bagale vitalized Mickey's band and yielded strong studio work followed by great live execution and performance ethic. My only beef with the project is that talking-drum master Sikiru Adepoju, of whom I have seen perform in numerous bands with Mickey, is droned out by the electrified playing of his band mates. His acoustic percussion is a strange match with the rest of the lineup and is often overwhelmed which is a shame since he is such a fine drummer. Regardless it's great that him and Hart have continued to collaborate over the years and he shines with Planet Drum. In addition to a wonderful performance from Mickey's band, opening act, The African Showboyz, (who are supporting Hart on the entire tour) is a percussion ensemble from Ghana performing African song and dance that is worth the price of admission alone. I wish they had played for a bit longer or even came out with Mickey's band for a tune or two. Regardless, it's wonderful to see sixty-nine year old Mickey Hart continuing his career in drumming and musicology as he is a national treasure for bringing so many different kinds of world music to accessibility of a populous who might not have heard it elsewise.