It's a Friday night, and I'm back at the Fox Theatre in Boulder, CO.  The moon overhead is as big as it'll be for the next 8 years or so.  For the beginning of the weekend it's kind of slow, maybe because it's seriously cold outside.  The mood inside seems appropriately low key as well, featuring only three performers in total.  Joe Pug is on stage now, and the Boulder born and raised Wood Brothers will come on next.  People are trickling in wearing heavy coats and hats, quietly so as not to break the atmosphere.  It's a quieter show than most, but for some reason, the theatre fills from the back forward, and few people have made it in as far as the stage when I enter the scene.
Joe Pug is up on stage telling stories.  This guy from Chicago has got a little Neil Young in him, a little James Taylor, and more than a little Bob Dylan.  With only his guitar, a harmonica, and curly mop of hair (clothes too, in case you were wondering), Joe Pug takes the minimalist folksy bend, and even looks a little Dylanesque at times.  There is sorrow and regret in Joe Pug's music, but also defiance, and truthfulness.  Originally a playwright in college, Joe packed up and left before his senior year, and turned his ideas into songs.  At least, that's what it says on his MySpace page, and it's a good story, even if it isn't true.  There is craftsmanship in his music that is quite evident, and his stories grab you, making it nearly impossible to focus on anything else.
"Thanks for having me," he says, "this is my first time in Boulder.  I've heard a lot of stuff about this town though, your reputation precedes you."
"What have you heard?" someone yells.
"Well, uh, a lot about weed!" he says. Everyone laughs.
"What else?" she yells back.
"Oh, and Frisbee, too."  After a solid set, Joe Pug thanks us again, and says he'll be back next time he wants to play Frisbee and smoke pot.  After he's gone, I walk around the theatre, and everyone is whispering – man, that guy was good!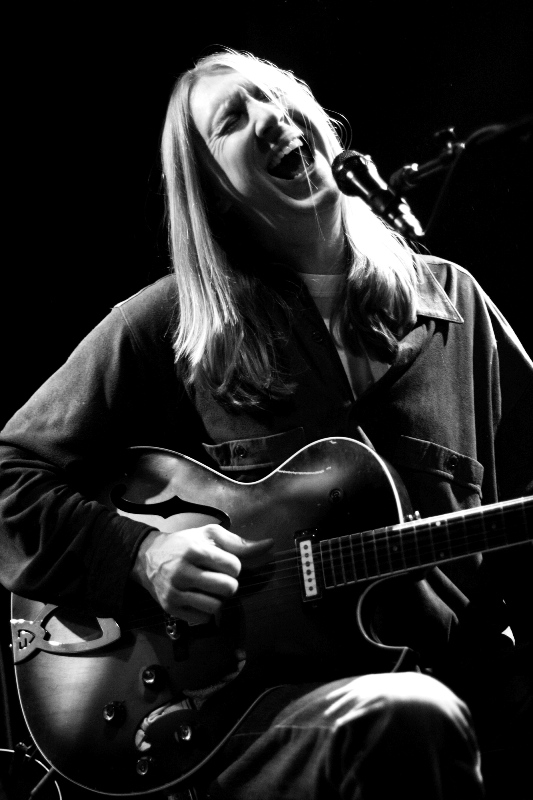 After a little while, the Wood Brothers take the stage.  Chris Wood, the "Wood" in Medeski Martin and Wood, picks up his standup bass, and his older brother Oliver grabs a guitar.  Mostly, Oliver sings, putting his gritty voice up against his guitar picking.  Chris Wood sings too, writes a few of the songs, and puts in the rhythm.  Chris brings the jazz; Oliver brings the blues.  Like Joe Pug, Oliver Wood is a storyteller, introspective and lyrical.  The combination of all these elements is soulful and groovy, sometimes mellow, sometimes hopping.  Its really basic, no frills stuff, but elegant in its simplicity, and inspiring in its honesty.  The brothers originally went in completely different directions to pursue their music as young men, and when they came together again, they each brought to the partnership everything they learned about music along the way.
When they're in front of you, the synergy between them is obvious, as is their love of making music.  It's the sort of intimate performance that a friend or two might do in your living room, real and personal, down to earth and passionate.  Complete, actually, with the awkwardly personal questions.
"So, since women are so closely tied to the moon," Chris starts out, "does this really big moon make your period worse?"  Apparently he really wants to know.  I don't know if we ever get a definitive answer back, but it ends up being a much talked about topic over the course of the evening.  "I'm menstruating!" one guy yells.  That's right, I said guy, and he'll yell it again before the night is done.  Chris laughs, a little amused by the weirdness he has inspired.  And who wouldn't be, weird is good.
The Wood Brothers play a bunch of stuff off their new album Loaded, including Twisted, Pray Enough, Postcards From Hell (a personal favorite), and a cover of Angel by Jimi Hendrix.  They talk to the crowd, cry, rage, and wail from the stage, and come back out for a few more songs at the very end.  More whispers abound.  Wow, these guys are good too, the people are saying.  Some of the best stuff out there, say others.  Out in front, the love of music is bringing people together more than the cold is driving them apart, and into their homes.  Good stuff all around is the consensus.  From Joe Pug to the Wood Brothers, just three guys, telling stories and singing songs, honest, pure, and true.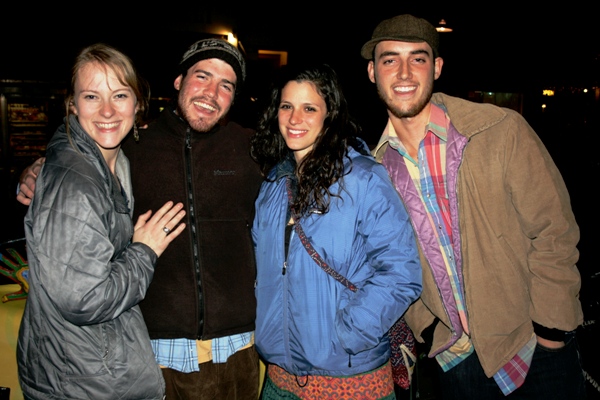 To see more pictures from the show, including yours maybe, please visit the Gallery.