Few musicians completely transcend cultural barriers while keeping their craft authentic to their origins. One of the few percussionists to achieve this feat in the 20th century is tabla legend Zakir Hussain. Traditionally in Indian culture, one carries on their family's craft. Zakir is son of iconic table master Alla Rakha, who frequently collaborated with Ravi Shankar. Both masters were pivotal in exposing the music of North India to the Americas. Hussain's career began at age three, when his father taught him Indian Pakhawaj drumming. He took to it naturally, and from there the prodigy began his lifelong exploration of rhythm. Hussain was decorated with a plethora of honors and prestigious awards from his native country as a master tabla player; it was with American percussionist Mickey Hart of the Grateful Dead that he would make his first big break in the West.
Hart was fascinated with drumming from around the world, and his band mate bassist Phil Lesh gifted him Drums of North and South India, which first introduced Mickey to Allah Rakha. In 1971, Hussain was a featured player on Hart's debut solo record Rolling Thunder. They would later form Diga Rhythm Band and record the remarkable album Diga (1976). It was the product of extensive rehearsing, precision, and theoretical experimentation. The cross cultural transfer manifested over decades of collaboration, culminating with their grand achievement of the acclaimed Planet Drum (1991) album, which featured percussionists from around the globe. It would go on to win the very first Grammy Award for World Music and is considered a treasure in World Music to this day. Hussain also notably collaborated with British fusion guitarist John McLaughlin and Indian fiddle master L. Shankar in the prolific trio Shakti, who occasionally play select reunion shows.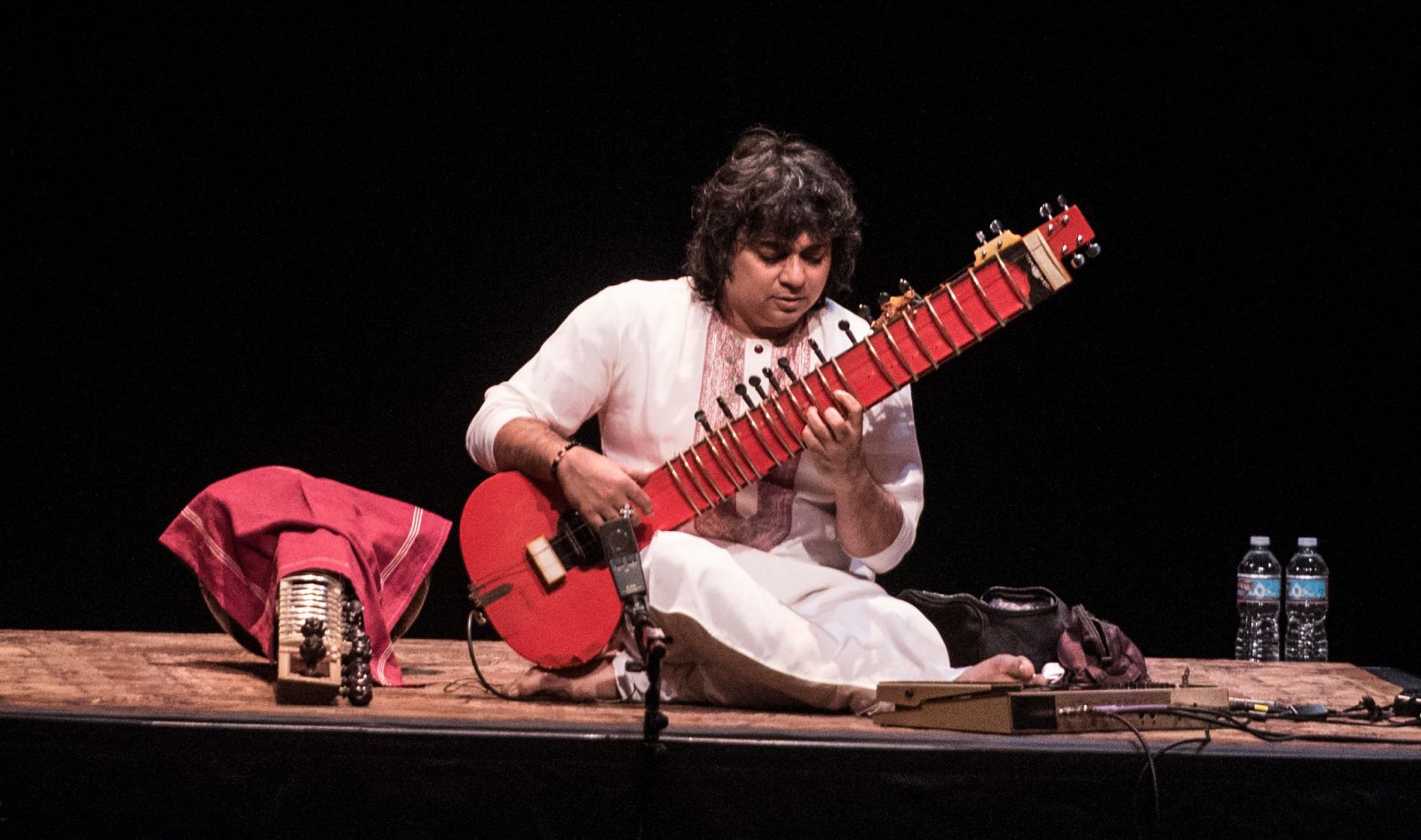 In the following generation of masterful Indian musicians, sitar priority Niladri Kumar, son of Kartick Kumar (a student of Ravi Shankar) was proud to continue the mind-boggling complexities of Indian music. Like Hussain, he was fascinated with American-born genres like jazz and rock. Since 2002 he has recorded, toured, and performed non-stop, which all began on Hussain's Masters of the Percussion tour in the early 2000s. Sixteen albums later, he has not just explored the bounds of Indian music, but invented and utilized an electric fusion instrument. The Zitar added an electric pickup to the sitar to give it a more diverse range of sound. He is one of the most innovative sitar players of the 21st century. When Zakir Hussain and Niladri Kumar announced a dual performance at Cal Performance's (UC Berkeley) Zellerbach Hall, it was an anticipated season highlight. Just a few weeks shy of the show, the duo announced Mickey Hart would be special guest for the performance. The rest is history.
Last Wednesday Zakir Hussain and Niladri Kumar stopped in Berkeley, California on their tour of the West Coast at Cal Performance's Zellerbach Hall. The stunningly renovated hall hosted 2,500 fans of all backgrounds, most boisterously familiar with the prodigious duo. As the houselights dimmed the special guest Mickey Hart surprisingly emerged first. As applause erupted he walked to stage front and began playing a steel drum looking percussion instrument that had various earthy tones. He walked back to his partial drum/percussion rig, which included his legendary beam and softly began to toy with. Kumar was next to emerge and sat stage center, cross-legged next to his sitars. As Hart's ambient foreword began to take solid structure, Hussain walked onstage and joined Mickey on the same instrument beside him. Clearly the interactions were unrehearsed but cohesively built toward a synchronized purpose. When Hart and Hussain concluded their introductory jam, Hart greeted and implored the audience, promising to return later on before he bowed off.
While Hart's presence and contributions were deeply significant, the traditional North Indian music of Hussain and Kumar was most captivating of all. Two compositions that lasted an hour-fifteen minutes built momentum in a way that besought a certain focus of their crowd. It wasn't about breaking out the craziest scales and progressions right off, but building the motion to serve the piece. The connection between the two was awe striking. The lively crowd kept quiet at the most delicate moments and broke into uproar to embrace the mastery. Hussain's chops and precision are unparalleled and the master progressively unleashed his skillset, as powerful and domineering as ever. Rhythmical pulses thrusting back and forth between soaring sitar lines, it often sounded mathematical, as if they were solving a musical puzzle, referring to previous themes to spawn a larger future full movement.
After the two movements of the first set and a brief intermission, Hart came back and Hussain addressed the crowd. "We're going to see where the music takes us and I hope you enjoy the journey." Hart stood before his drum rig and beam and took out a bow to begin playing it (just like pretty much every Grateful Dead show during the "Rhythm Devils" drum solo from the 1985 onward, but never the same way twice.) Some noise experimentation led to Hussain laying down a backbone beat with Hart playing around in the various spheres of his RAMU (Random Access Musical Universe) MIDI operated percussion equipment. All the while Kumar played some rocking zitar phrases and the jam really took shape. When the extended jam came to a close, Mickey took the mike and spoke briefly of his and Zakir's long and beautiful musical friendship. It was a humble way for him to bow off and leave the stage to the two Indian masters. The second set continued in a similar format of the first, themes and phrases leading into a movement of solidarity and exploration. This time around the duo joked a bit with Kumar teasing Deep Purple's "Smoke on the Water" in a moment of good cross-cultural humor.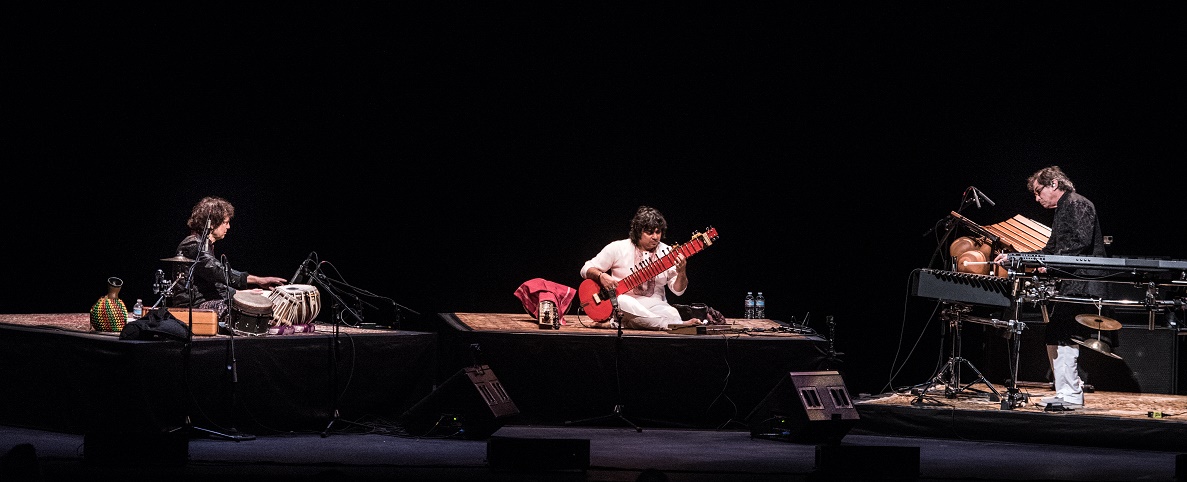 The performance was one that will be remembered. Though Hussain plays more often in the Bay Area than most places, last Wednesday was a truly intimate display of his skilled precision and improvisational aptitude. It was most of all a testament of the musical partnership between Kumar and Hussain, who are two North Indian traditional craft musicians not afraid to break the mold and go wherever their instruments take them. Mickey Hart's presence at the show was all the more significant, as this December is the 25th anniversary of the release of Planet Drum.