Picture this: it's the night before the New Year and throngs of revelers in all stages of anticipation are moving on downtown Boulder. Some of us are eager to put the shit behind us and start anew, others of us are ready to step it up a notch and make the next year even better, some of us are just out to party, and still others are wondering where we all go from here. 2009 has a lot worth to look forward to – a new president, a new age of reason, and a new chance to do all the stuff we forgot to do last year. And what better way to ring in the New Year than with the loudest, rockin'-est band on the local music scene. For the past several years now, Rose Hill Drive has transformed News Years Eve at the Boulder Theater into an all-out attitude extravaganza, a celebration of all things rock and roll in the most sinfully appropriate way possible. Each year these local legends pay tribute to the classic rock that inspires them, covering albums like Led Zeppelin I, Band of Gypsies, and Toys in the Attic. This year Rose Hill Drive revisited their fetish for Page, Plant, Jones, and Bonham, kicking out a powerful rendition of Led Zeppelin II.
Before the main event, another local favorite called Paper Bird warmed up the stage. With their traditional arrangement, and old-timey, folksy twang, Paper Bird occupies nearly the opposite end of the rock and roll spectrum from Rose Hill. The contrasting styles actually go quite well together. Although the fundamentals of Paper Bird's music take you back in time, they've got an unmistakably modern flare, just like Rose Hill Drive, but in an entirely different sonic landscape. They've got a bit of the psychedelic aura too, something else they've got in common with Rose Hill.
I've seen Paper Bird a few times now, and since they haven't really been on the scene too long, I've also witnessed their early career transformation as they move from local novelty to local export. The first time I saw them, it was like watching a high school talent show band – the hands down winners of the talent show no doubt, but still small time, barely out of the basement. This time, they were all care-free-hippy-rock-starred out, sporting long tangles of hair, loose, flowing, flower child clothing, face paint, bare feet, and the glaze of mild intoxication in their eyes.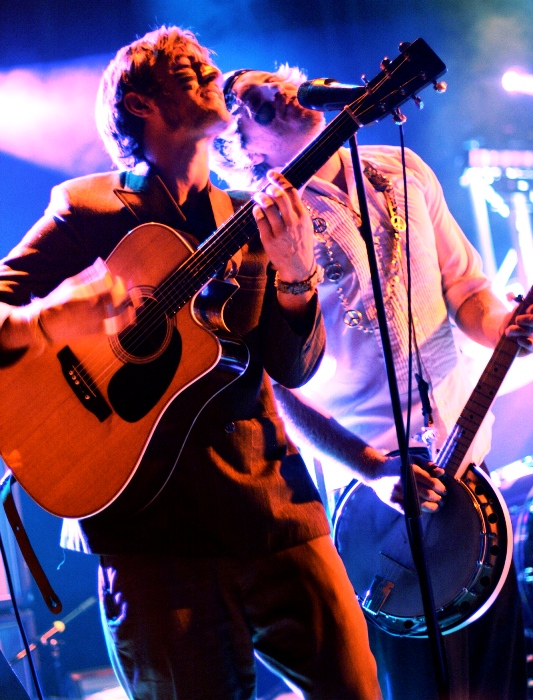 What the physical transformations don't say is how they have also begun to more greatly embody their music. The songs seem more personal, more emotional, and more dynamic than they did the first time around. The band members too seem more in touch with each other. There was no puppet show this time either. I'm not sure if that's a good change or a bad change, that's just how it was.
Paper Bird built up a pretty good momentum before their time was done, and a lot of people who weren't sure about the band when they first came on were starting to come around by the end. "Hey, these guys are okay!" was the word of the evening. I mean, it's not everyday that you see a pair of guys wail on the trombone and banjo like they were lead guitars. A heavy, mood-inducing standup bass, acoustic guitar, and three female vocalists round out the septet. Whatever they are, Paper Bird are far from ordinary.
The midnight hour was drawing nigh, and Rose Hill Drive was marching out to huge applause. Up there with the Halloween Naked Pumpkin Run, Rose Hill Drive's New Years Eve show is one of Boulder's favorite traditions, and in the few short years that they've been celebrating the calendar change, they have amassed a loyal following who comes to every year. The promise of hearing Zeppelin II was a deal-maker as well, the kind of rock and roll Rose Hill Drive does best. But when the band opened up with 'Trans Am,' an original track off the band's latest, Moon is the New Earth, the crowd didn't know what to think. As it would turn out, the change up was so that the band wouldn't have to pause in the middle of Zeppelin II to play 'Auld Lang Syne,' release the balloons, and watch the happy couples make out on the dance floor. Good thing too, because once these guys got going, there was no stopping them.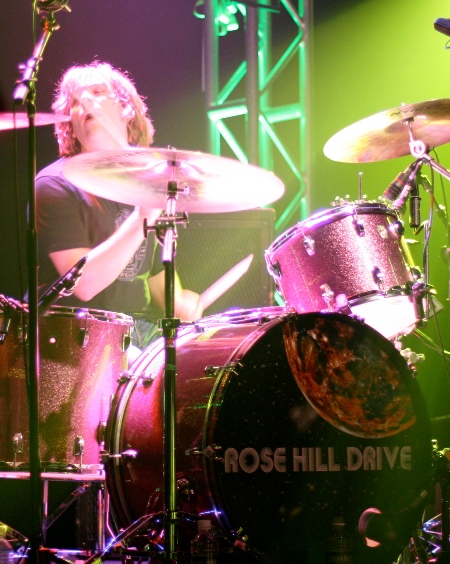 After the originals, including 'Sneak Out,' 'Laughing in the Street,' the '8th Wonder,' 'Reptilian Blues,' and 'One Night Stand' (Daniel Sproul makes all kinds of surreal sounds by using a bow on this one), and after the balloons and the kissing, Rose Hill Drive launched into 'Whole Lotta Love' with incredible force. For the Zeppelin tunes, singer Jake Sproul put down the bass guitar and donned the front man roll (and occasionally the harmonica), taking a page out of Robert Plant's playbook. It was a role he assumed easily, and even without the bass he makes a good front man, dynamic, full of energy, charisma, and charm. Jake is a damn good vocal match for Plant too, amazing as that may sound to anyone who recognizes Robert Plant as one of the greatest vocalists ever. Note for note, Jake Sproul held up well, and has the range and force to be one of the best singers around. A friend picked up the slack, taking over the bass for the night, giving Rose Hill Drive a more Zeppelin-accurate onstage cast of characters.
Earlier in the year I watch tribute band Lez Zeppelin play this same album, absolutely true to the Zeppelin legacy. But what sets Rose Hill apart from the Zeppelin tribute bands in this instance was the way they made the songs their own. Daniel Sproul's blistering solo during 'Whole Lotta Love,' for example, fits perfectly into the framework Zeppelin established for the song, but Daniel's fingerprints and the Rose Hill Drive flavor are all over it. In 'Moby Dick,' everyone in the band contributes to the epic drum solo. Nathan Barnes did all the real arm and leg work, while Daniel beat on a pair of floor toms, and Jake played the synth drums on the same keyboard he used in lieu of an organ during 'Thank You' a few tracks earlier. So really, they were Led Zeppelin songs as done by Rose Hill Drive, not just covers of Led Zeppelin, and there is definitely a difference.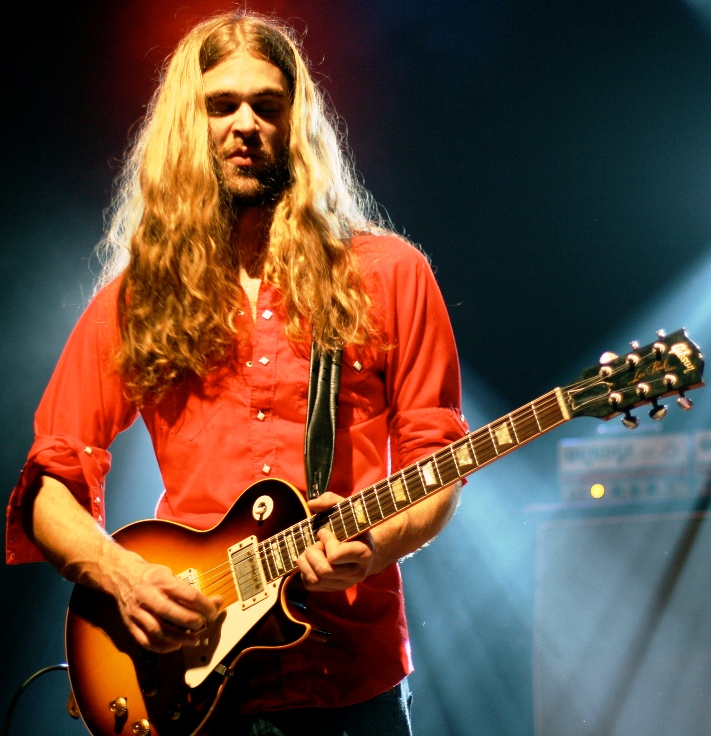 Just like "Hey, these guys are okay," was the most common phrase uttered about Paper Bird, "why aren't these guys more famous?" was the general buzz surrounding Rose Hill Drive. "I have no idea," is the only logical answer. "Because these guys are assholes," fits too, but they don't really seem like assholes (they always thank the crowd profusely, for instance). However, since I don't know them personally, I cannot say for sure, so for now I'll stick with "I have no idea." Anyway it's true, the Rose Hill Drive act is solid, start to finish, every time. They've opened for some of the giants of rock and roll, including The Who and the Black Crowes, have been talked up in Rolling Stone Magazine, and have performed at some of the nation's biggest summer music festivals. And on this particular New Years Eve, their light show was as good as any I've ever seen at the Boulder Theater. Strong vocals, towering lead guitar, powerful rhythm, catchy, defiant, heavy; it's hard not to gush, but what's not to like? It's rock and roll, pure, simple, and beautiful; the way it was before including a preceding adjective became necessary to describe the particular sound.
After thundering through 'Bring It On Home,' screaming harmonica and all, the band took a short break before coming out to play some more originals, including 'Do You Wanna Get High?,' and a cover of 'Shakin' All Over' by Johnny Kidd and the Pirates. Rose Hill was once again profuse with their thanks - "our best show ever, hands down!" said Daniel Sproul. It was obvious that the guys enjoyed themselves, and that the covering of Zeppelin II meant a lot to them. It is everybody's favorite album after all, again, what's not to like?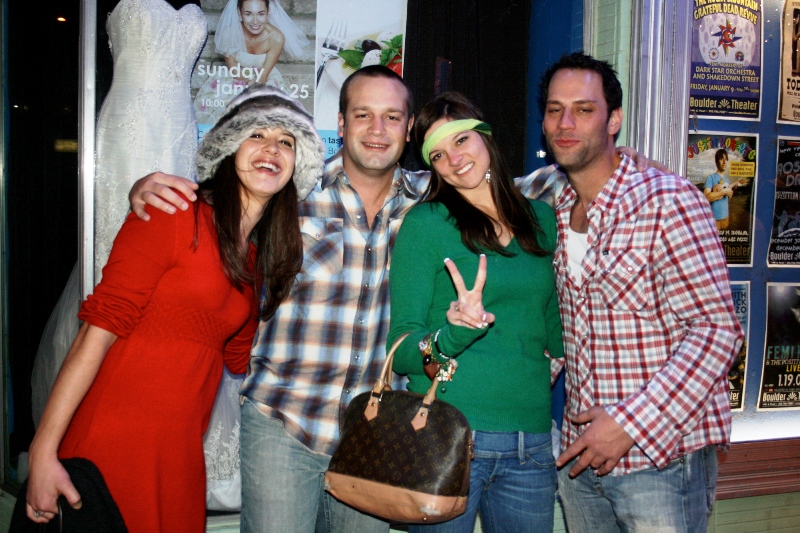 The lights and house radio came on around 1:30 am and the party moved out into the street in front of the theater, where the reality began to dawn on everyone. It was 2009, a new year, and a new excuse to begin again on the road to happiness, self-fulfillment, and a better world. It was the perfect time to celebrate, and Rose Hill Drive provided the perfect release – a high octane celebration of the rebel inside all of us, set to the spirited sounds of the late 60's. Happy New Year everyone! Happy 2009!
To see more photos of the night's festivities, including pictures of you, please visit the Gallery.