The act, Tuck and Patti, is comprised of guitarist William Charles "Tuck" Andress and vocalist/arranger Patti Cathcart. They began garnering steam in 1981 after making the decision to perform as a duo. Their recording career was launched with the release of "Tears of Joy" (Windham Hill Records) in 1987. Then went on to record nine additional albums for that label, including the follow-up to their debut, entitled "Love Warriors," followed by "Reckless Precision" and "Dream" and ultimately started their own label, T & P Records. Also of note is the album, "Taking The Long Way Home," which featured a complete set of originals.
The duo intrigue because they create a flow through careful and complete concentration—part of the pleasure of watching them perform is due to their process. Tuck's watchdog eyes remain faithfully on his wife as she performs, so as not to intrude on her phrasing, and to embellish her unique style with precise chordal voicings or subtle counter-rhythms. Any aspiring performer would profit from following their example of professionalism. By the same token, Patti made it clear though her body language and even her clever quips that she appreciates and is fascinated by her husband's skills.
But technical expertise tells only half of the story. It is their essential message that keeps crowds coming back. Leave it to a long-time aficionado to hit the nail on the head—in response to a YouTube video, the fan stated that Tuck and Patti are "avatars of love." Their much-anticipated Wednesday evening performance illustrated that description to a tee.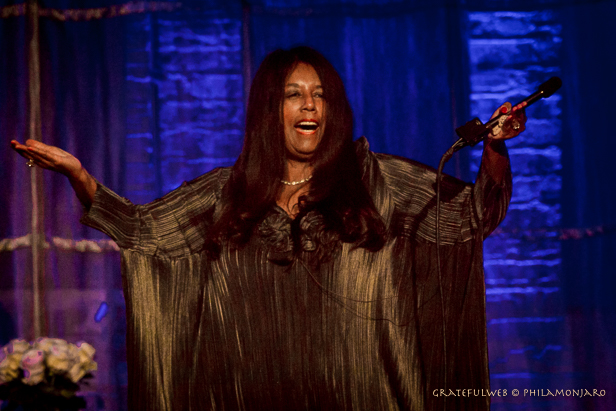 "Let Me Hear You Say Yeah", a great opener, allowed Patti plenty of space to boast her multi--octave range and flex her seasoned, improvisational chops. Tuck's own instrumental scat was also unpredictable and playful; he name-checked his own instrumental heroes throughout the night with grace and clear tonality.
They followed up with a cover of Nancy Wilson's 1964 ballad, "(You Don't Know) How Glad I Am" by Jimmy Harrison and Larry Williams. Patti's exploratory sensibilities were made to interpret such airy and meaningful lyrics:
"My love has no beginning; my love has no end. No front or back and my love won't end."
The most quintessentially clever lyrics of the night, however, were found in their celebration of Al Jarreau. This one-off rendition proved the duo's versatility as Patti scatted the names of jazz giants in a contemporary hip-hop style. Most impressive was her use of the microphone as she wowed the audience with her expert command of vocal percussion.
And what could be more timely than her passionate recitation of the phrase, "I'll be your sanctuary" from "Live in the Light" ("Learning How to Fly", 1995) -- Chicago is, of course, a sanctuary city, and Patti's no-nonsense introduction alluded to our country's current political state.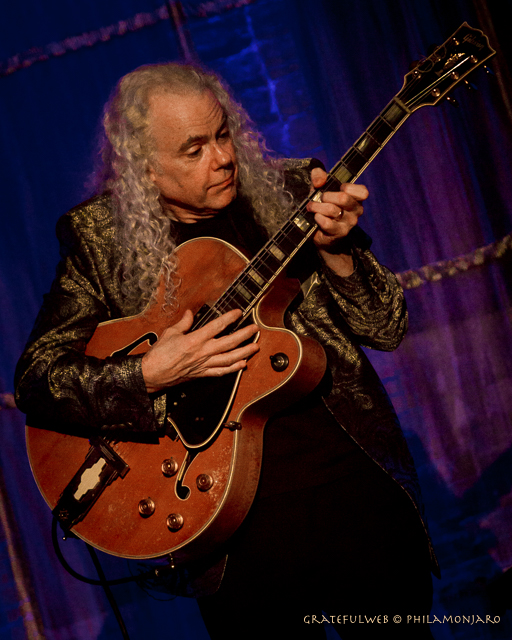 But musically, she masterfully transformed her voice from husky and rich to a persuasive purr and back again. I heard shades of Cleo Laine and Minnie Riperton, as she explored intricate ways of returning to the contagious refrain. Tuck followed her scalar moves with uncanny precision, while impressing the sold-out house with a "slap" technique commonly reserved for bassists.
Patti dedicated the original "Love Warrior" to a couple celebrating their anniversary. The words tell a remarkable story: "We give up our love so easily; every little thing seems to turn us away." As it progresses, Patti sings about a "promised land." The words are hopeful, yet cautionary. Patti brought out the rough patches as well as the payoff.
"I am soft and silly and my name is Lillianaloo…"
"Die! I would lay me down and die, for my captain."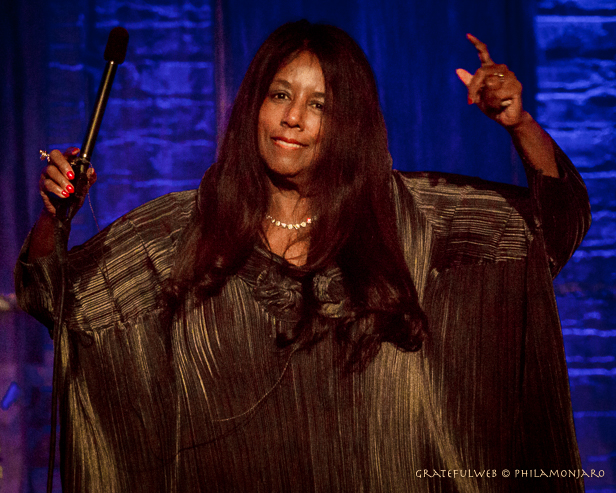 "Captain for Dark Mornings" is from Laura Nyro's third album, "New York Tendaberry" (1969). Tuck vamped on a dissonant chord that stood delightfully behind the beat; just the way Nyro would have wanted it played. Typical of the late singer-songwriter's style, the words drifted from illusionary to devastatingly raw. Patti finessed those transitions with maturity and clarity.
Kenny Rankin, "In The Name of Love" is a song about relationships that go south. It takes a while, though, to realize it as the song has a resilience and tempo that could move it in the opposite direction. Tuck's jangular chords added the right degree of tension.
It was on to the classic, 'My Romance," which has been so widely covered that it's easy to forget how poignant the lyrics are. Patti made sure each delightful phrase received her special legato treatment. It was also the right moment for the couple to talk about their three-decades plus marriage.
Then Patti took a break, allowing Tuck to play "a great old standard" called "Body and Soul" and Santana's flamenco-edged "Europa." "Body and Soul" is known, harmonically, for its complicated circle of fifths and crafty resolutions. Tuck subtly ran through the progressions, taking care to anchor the sensual melody.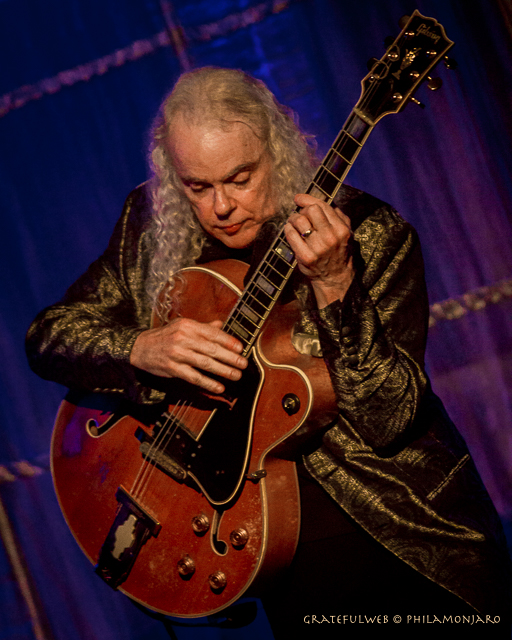 On the latter, one of his most beloved signature pieces, he segued from shimmering harmonics to catchy calypso-blues. The visual effect of his fingerstyle performance left the audience begging for more.
Another show stopper, which was from the "Tears of Joy" album, was "Takes My Breath Away," which was every bit as awe-inspiring as the title suggests.
But the concert was not just about performance; it was equally about establishing connections. In another intimate moment, the couple thanked two fans that "drove eight hours" to be at the show. Later Tuck would jest, "We had to be here. We signed a contract. You didn't!"
Cyndi Lauper's "Time After Time" is another song that's included in many concert sets, but Tuck and Patti's version could be the litmus test for overall creativity and audience interaction.
Patti divided the audience in three-parts so we could join in. I've witnessed other audiences shy away from this type of tactic, but this crowd, prompted by Patti's loving encouragement, responded immediately and seemed to find the task irresistible. I have to admit we sounded pretty darn good.
As they turned to exit the stage they received a unanimous standing ovation. The duo looked sincerely pleased to return. Perhaps they viewed it as an honor; not an obligation.
"Love is the Key" was the encore; a T & P original that exemplified the community spirit they so expertly facilitated. Patti, still in superb voice, wailed, cajoled and diligently circled back to the theme, while Tuck synced the fevered pitch up with his fierce, electric embellishments.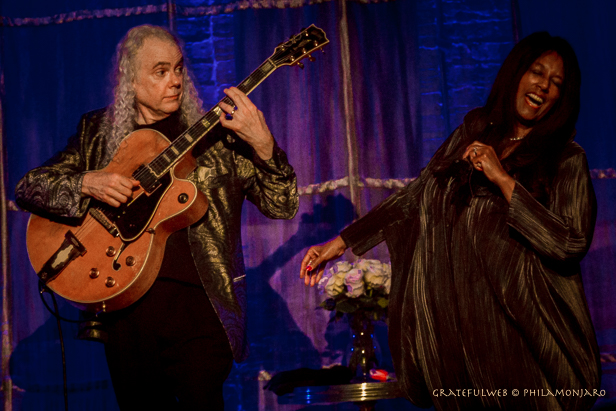 Tuck and Patti won this audience over with their genuine, celebratory spirits, attention to nuance and a deep respect for the bygone artists (Wes Montgomery, Sarah Vaughan, Art Tatum, etc.), they painstakingly acknowledge.