The Los Angeles-formed Vintage Trouble consists of vocalist Ty Taylor, guitarist Nalle Colt, bassist Rick Barrio Dill, drummer Richard Danielson and newcomer extraordinaire Brian London on keys. Their youthful flair for performance was immediately apparent on their 2011 debut, "The 'Bomb Shelter Sessions' and then peaked on 'The Swing Acoustic Sessions' (2014) and most recent chestnut '1 Hopeful Road' (2015). It's hard to believe that it was only a decade ago that they first performed live. The VT sound is so compelling that they were selected to open for The Rolling Stones, AC DC and The Who, classy bands that admired their three-piece suits and gift for unprecedented audience interaction.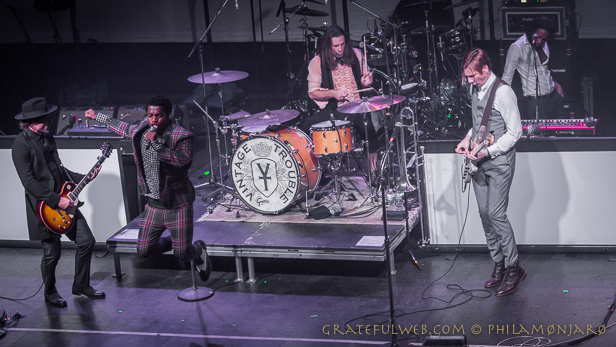 Funny thing is, one might think these cats traveled through time and space to jam with Sam Cooke or The Temptations or hung out late nights at Stax with the likes of Otis Redding (VT, of course, did guest on the 2013 Booker T. Jones album, 'Sound The Alarm', just saying…) because they do "old-school" so divinely, but then there's a difference between bands that superficially tribute the soulfulness of the '50s and '60s and bands that internalize the intricacies and hip, holistic hoodoos. Vintage Trouble has, historically, achieved the perfect balance so it was no surprise that they acquired a whole new set of "Trouble Makers" at Chicago's stately Riviera.
This is one ambitious group. After the Riv, they make their way through Canada and fifteen North American cities, but Ty made sure to namecheck Chicago multiple times during the well-constructed set list. They lost no time getting started and soon the venue rocked with hand claps, tambourine taps and extended electric guitar intros and outros that coolly clung beneath Taylor's gritty, purposeful pipes. Opening song, 'Blues Hand Me Down' was rife with spectacular starts and stops; a veritable hoedown…
Though it was certainly easy to get lost in Danielson's manic beats on 'Blues Hand Me Down,' those that chose to listen well to the words, got a special lift upon hearing 'Doin' What You Were Doin', which the sly front man introduced by grunting, "Y'all like to dance together in this town?"
Taylor continued the tease, by grasping a fan's hand and breathlessly announcing, "You see what I need." And every move he made was accentuated by the other players with the rhapsodic screech of a keyboard, the steady thump of the bass or Colt's bluesy-plus intones. And the moves were fluid and consistently surprising. Ty sat on the stage, knelt at eye-level before an excited fan, pounded his chest and conducted the orchestra.
Taylor, dressed to the nines in a plaid suit and black and white patent leather kicks, made a point of celebrating the release of male emotions with 'Another Man's Words', "a love song for the fellas." This one was terrifically enhanced by the elaborate electric riffs and screaming organ sounds. Colt's sweltering, finishing touches framed Taylor's breathtaking outro.to a tee.
Then Taylor surveyed the venue and commented on the theater's ornate design, growling, "We're gonna turn this bitch into a dance hall." 'Can't Stop Rolling' had an intoxicating swampy allure which got everyone wildly excited, as the words spilled out of the man in torrents.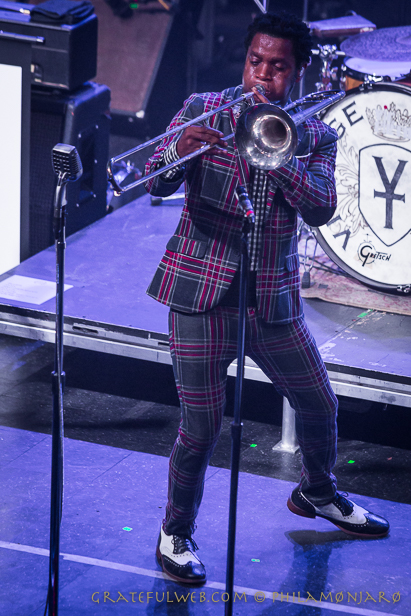 Taylor then turned up on stage holding a trombone. It was true that a lot of fans had come to see the headliner, Trombone Shorty, and many had not yet heard of Vintage Trouble, so the sight of Taylor with the trombone definitely inspired an aire of mystery. Was he holding it for show? Or tell?
Taylor seemed to enjoy the suspense. He took the time to share his philosophy: "Turn off the noise and dig into what is your gift" before taking off full speed ahead with 'Crystal Clarity." Ty did treat the crowd to some tasty bits with the trombone, after all, and the percussion was also spot on
"How many people want to go to church right now?" Taylor inquired. 'Run River Run' definitely inspired religious zeal with its sharp rhythms, heady chants and great all-around ensemble appeal.
"I need you to come closer," Taylor pouted. "I need both hands." And when he wasn't begging for mercy, he succumbed to flocks of trusting hands that moved him from the stage towards the balcony, where he paused, and scribbled his initials in this writer's composition book.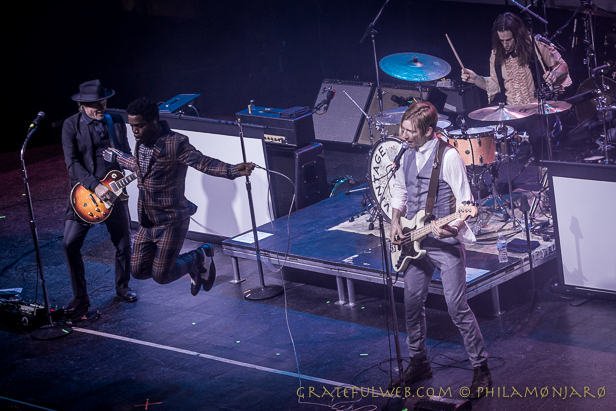 Closer, 'Knock me Out' found Taylor skip roping over the mic cord, but oddly, barely breaking a sweat, despite that perilous horizontal traverse across the jam-packed theater. But then that's the glam, spit and polish those trouble makers came for and that left them in a state of undisputed awe.
VINTAGE TROUBLE SET LIST, Riviera Theater, Chicago, Il., October 21, 2017
Blues Hand Me Down
Doin' What You Were Doin'
Another Man's Words
Can't Stop Rolling
Crystal Clarity
Run Like the River
Knock Me Out