When I woke up on Sunday morning, it was raining.  I was bummed.  Rain at Red Rocks is only fun if the band is playing a song like Red Rain, Have You Ever Seen the Rain, Looks Like Rain, the Rain Song, Rain Fall Down, or Louisiana Rain.  It also seems to work for Under a Blood Red Sky (aka New Years Day), but for different reasons.  When I got to Red Rocks, however, the rain had ceased, the clouds had thinned, and the sun was poking through in places.  But it didn't feel summery anymore.  All the hipsters were back, pink hair, facial piercings, leather pants and all.  The diversity of displays of the human spirit always thrills me, and I love being in an interesting looking crowd.  The backdrop of sandstone, and the music-filled air were also invigorating, and before I knew it, I was charging up the stone stairs again.
I had a late start that day, rain and gloom usually does that to me, and Tokyo Police Club's 3:00 performance was the first I was able to catch in full.  Tokyo Police Club's post-punk garage band style includes keys, by Graham Wright, in an upfront position, and hard and fast bass lines care of David Monks.  The pair share singing and strutting duties as well.  I didn't quite make it to the end though, since on the upper deck, the Handsome Furs were supposed to come on, and I had several hundred stairs to climb to get there.  The Handsome Furs, a duo from Quebec, plays dance-worthy electronica, and the band that was coming on certainly did not.  I never found out what happened to the Handsome Furs, but Denver-based the Swayback had taken their place.  Belting out some hardcore big beat rock and roll, covered in tattoos, headbands, and dark clothing, the Swayback exude rock and roll attitude.  At times psychedelic, and at times grungy, the Swayback are definitely worth a listen.  But maybe I'm biased, since they're from my little chunk of the world.
Moonspeed was playing downstairs on one of the visitor's center stages, and I decided to have a listen.  After pushing my way through to the front of the crowd like an asshole, I realized that there were like eleven people on the tiny little stage.  That explained the lush sonic ensemble I'd heard on my way into the building.  With the exception of DeVotchKa the night before, who had 15 people on stage with the strings and horns players, Moonspeed had the largest number of musicians present of any band in attendance.  Moonspeed is nothing if not complex, and it is that complexity that makes their sound fascinating.  Three or four guitars, two synthesizers, several people on percussion, two drummers, and a bass player, and somehow, no one steps on anyone else's feet.  A musical feast, for sure, and their name certainly does them justice; there is something cosmic about them.
I had to leave early, like really had to.  The Avett Brothers were about to go on at the Main Stage, and after seeing them play at the Jackson Hole Music Festival the month before, I knew they were too good to miss.  Brothers (obviously) Seth and Scott Avett front the band, and play a variety of instruments.  Scott plays mostly banjo, and stomps on a big bass kick drum in front of him, but also occasionally plays a full drum kit, and electric guitar, while Seth plays acoustic guitar, a high-hat that he plays with his foot at the same time, and also does some work on the drum kit.  The pair is accompanied by standup bass and cello, filling out their sound.  If you went by the instruments alone, you would probably get the wrong impression of the Avett Brothers, who are far more rockin' and punky than they are bluegrassy.
The only term I can think of to describe the Avett Brothers is Blue-Country-Punk, a term I coined specifically to define the Avett Brothers based on their storytelling lyricism, their instrumental tone, and their high-energy, high-passion, and highly unique live performance.  By the end of the last song, everyone, including the bass and cello players were sweaty and exhausted from throwing themselves around stage, and Scott Avett was slumped over on top of his Gibson SG and his amplifier, ending the show in a wave of volume and feedback.  I heard from a bunch of festival-goes that the Avett Brothers were the highlight of their day, and to bue sure, the Avett Brothers are definitely one of the most interesting, innovative acts I've seen lately, and a ton of fun, live or on CD.  For fans, there is more good news.  The brothers are involved in a variety of other projects as well, including Seth's solo act, Darling, and Oh What a Nightmare, a rock band featuring both brothers.   Scott Avett paints as well, and examples of his work can be found online at scottavett.com.
Tilly and the Wall was playing on the Upper Deck.  They're a little bit folksy, a little more poppy, and feature a percussion section represented in full by a tap-dancer.  The tap dancer is definitely the best thing about the band, who is more fun than they are innovative in all other respects, and the taps actually work remarkably well as a percussive device.  Back down on the main stage, Sharon Jones and the Dap Kings were ready to heat the place up.  Before they did, I had a chance to check out the crowd a little, and noticed that most people in the front row were the same bunch who had been there all day, and I wondered who they were waiting for specifically, there being so many exciting acts to come on this stage.  Then the music started, and the Dap Kings came out alone, warming up the crowd and getting into the "swing" of things.  Jazzy, funky, and full of the big band swing, the Dap Kings finally introduced their soulful front woman, Sharon Jones, a short woman with a huge voice and spirit.  "I'm feelin' bit of a Tina Turner thing going here with me," she told the crowd, music going behind her at all times, "but her legs go up waaaay higher than mine!"  It wasn't exactly the type of music I would have expected at an Indie Rock festival to be sure, but Sharon Jones was able to connect with a fair few people, putting a little rhythm in their lives, including a few of the young, music snob hipsters that I'd seen wandering about.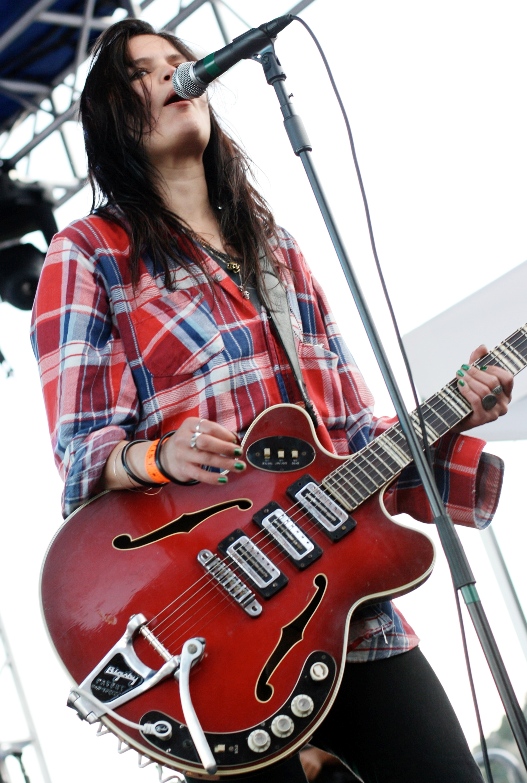 I walked back up the stairs, for the last time I swore to myself (although that would turn out not to be the case), to see the Kills.  The Kills are made up of American singer Alison Mosshart and British guitarist Jamie Hince.  There sound is a bit hard to describe, and is built upon elements of blues, electronica, and lo-fi punk rock.  The pair uses pre-recorded beats, which are simple enough (mostly bass and snare) that you hardly notice there isn't anyone present to play them.  It was the sort of raw, and unrefined sound that touches on something primal inside of me, bringing to light aspects of my animalistic souls.  Sound weird?  Well, so did the Kills, but in a good way.
After stopping inside briefly to check out another band whose name didn't actually make the bill until earlier that day, a young, high-energy pop band called Hockey, I slogged back down the stairs to see Band of Horses.  Still very much an underground fan favorite, Band of Horses is on the rise.  They are often compared to My Morning Jacket because of their genre defying, thoughtful style, but Band of Horses is truly their own band, and this comparison is more in reference to their approach than to their actual sound.  That said, there are similarities between the two bands, which would be hard to avoid given that each makes a habit of incorporating a little bit of everything into their sound.  The sun was down and the sky was growing dark, and Band of Horses had some of the best lights yet, vividly colorful and visually epic.  It was just the mood I needed after two long days, mellow, folksy, and with a touch of the drawling southern rock vibe.  Often waxing poetic about the grandeur of Red Rocks, front man Ben Bidwell at one point brought out a glow in the dark, LED illuminated Frisbee disc, and threw it into the crowd, hoping to start up a game.  After only a few tosses, someone decided to hold on to it.  Bidwell gently called him out about it (not that anyone seemed to know who actually had it), but the Frisbee never returned to the air.
I sat down and gave my legs a rest, and swayed with the rest of the crowd, many of whom were singing along and fawning over Ben Bidwell's rugged and humble good looks, and emotional, impassioned Neil Young-type voice.  Band of Horses is a six-piece and with all the instruments on stage, their sound is intricate and rich, without any of the angry, anti-authoritarian angst, which I love, but which also wears me out.  I guess I just can't be angry all the time.  As Band of Horses approached the end of their allotted time, they began to plead for a little more.  The crowd supported them, and they were allowed to play two extra songs, much to everyone's satisfaction.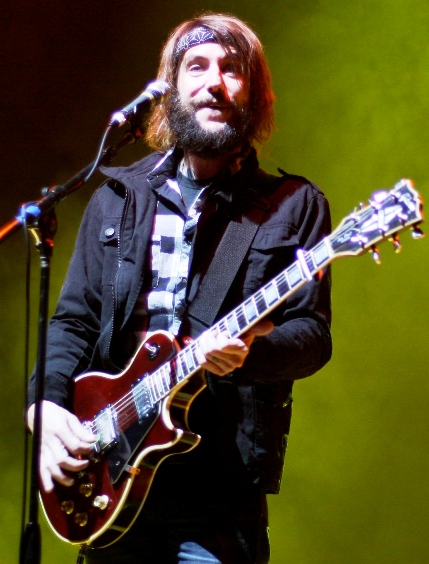 After Band of Horses had finished, I went out to catch a quick glimpse of Paper Bird, an altogether unique assemblage of musicians, who were playing at the mini acoustic tent down by the merchandise hut.  Another band from my part of the world, Paper Bird is not quite like anything else you've ever heard.  With three singers, all women, a guitarist, a banjo player, a standup bass, and a trombone, Paper Bird is making something of a name for themselves, and it's not too hard to see why.  Their sound is mostly indescribable, with elements of old-time Americana, jazz, bluegrass, country and good ol' rock and roll, and their stage presence is relaxed and inviting, almost as if they were playing in your living room.  But there's more to the band's unique qualities than just their music, they also hand-make all the tee shirts and other merchandise they sell.  I've seen them once before in Boulder, and they have yet to disappoint me.
All day there had been rumors, wicked rumors, that the next band to grace the main stage might not make it.  The band in question was TV on the Radio.  Here's how the story goes.  At 11:00 the band called the Festival management from Salt Lake City, saying that their bus had broken down and they were currently looking for the proper parts.  You'll never make it, they were told, but refused to believe it.  We'll make it they said.  A few hours later they called to say they were on the road again, with less than 9 hours to get from Salt Lake to Denver.  At five they called again, this time from Grand Junction, just inside the Colorado boarder, and with the Rocky Mountains still between them and Red Rocks.  We'll make it, they said.  At 9:00 they rolled into the amphitheater, and by 9:30 they were on stage and kicking out the jams, without even doing a sound check.
TV on the Radio is often referred to as hip-hop, but to me they sound more like psychedelic electro rock, they just happen to also have a hip-hop style singer.  The band played loud and proud, happy to have made it, and stoked about their enthusiastic reception.  And who could blame them, after all they went through to get there?  I know I'd be stoked.  In fact I was stoked, having been worried that I would miss them due to forces beyond anyone's control.  They may have started late, but they played late to match, hardly pausing to breathe so that they could fit in as much music as possible.  I appreciated it, and so did the crowd, who yelled for more after it was all done.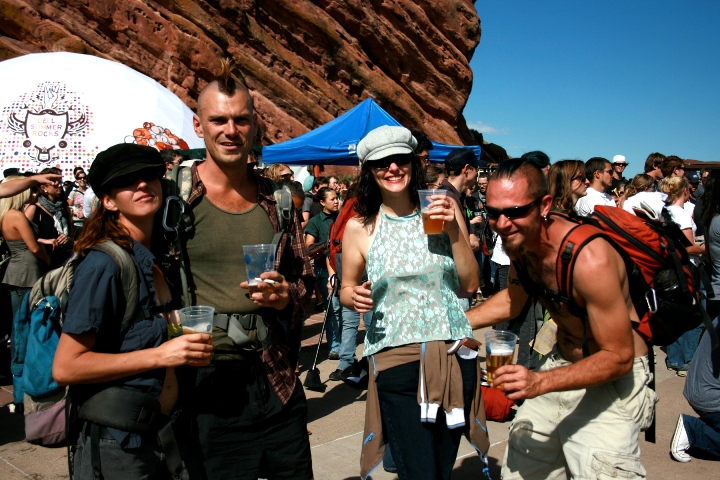 Before the last act of the night came on, I decided to walk back up the stairs one last time, despite my promises to myself that I wouldn't.  A Brazilian band was coming on, called Cansei de Ser Sexy, which translates to "tired of being sexy" in case you were wondering.  I almost immediately regretted making the trip, and was soon Cansei de Ser Unimpressed, tired of being unimpressed.  Cookie-cutter dance pop just doesn't do it for me, no matter how many brightly colored flashy lights you've got, or how shiny your silver Big Bird suit is.  The guy next to me agreed.  "All there songs kinda sound the same, huh?" he said to me.  "Yeah, man.  Just what I was thinking."  If you're in the mood to dance around mindlessly though, well, CSS might be your thing.
When I got back down to the main stage, it was empty except for two stacks of nine Marshall amplifiers bordering either side of a platform flush with wires and lights.  In the center of the platform was a large cross, the centerpiece and announcement of religious affiliation of Justice, the two man DJ duo from Paris, France.  I must admit to being highly skeptical of any and all bands that overtly associate themselves with Jesus.  Nothing against Jesus, I just hate being preached to.  But it's hard to preach to an audience when you don't do any singing, so even if Justice (its pronounced jus-TEECE, remember, since they're from France) refers to themselves as a "Christian" band, it wouldn't come across that way if you didn't know it explicitly.  In fact, at first I wondered if maybe the cross was more of an ironic commentary.  And even if religious icons aren't your thing, it's still a striking image, and Justice uses it well during their show, lighting it up and blacking it out as it suits them.
When Xavier de Rosnay and Gaspard Auge came on stage, all the lights went off and the cross lit up.  Dramatic strings came on over the PA, and the pair sat motionless at their platform, looking out across the audience.  Then, BAM, they sprung into action and the show was on.  Deep into the second song, they blew a fuse during a particularly intense moment of lights and sound, but after a few minutes they were up and running again, and all was as it should be.  The light show was awesome by normal standards, but given the venue, I think it could have been better.  But not-quite-great-enough for Red Rocks is still better than pretty much anything else, we just hold ourselves to a higher standard here in Colorado.  Heavy, pulsing beats thundered out across the amphitheater, and the on-the-fly programming, synthesizers, and bass lines of Justice filled the air with electricity.  The whole of the amphitheater became a dance party, and Xavier and Gaspard controlled the ebb and flow, the ups and downs of energy with dramatic precision.  The front rows were packed, and as it turns out, most of the people who had been camped out there all day were waiting for Justice.  They too had sprung into action, in as much as they could actually dance on the densely packed benches.  The crowd thinned as you moved up the rows of seats, and as the density of the crowd grew less, the people danced more fervently and more frenetically, silhouetted by the glimmering lights of Justice. The festival had reached its climax.