When Papadosio took over the Fox Theatre Thursday night and turned it into a hypnotic display of light, sound and video projections, the crowd and band both knew that something special was in store. This was documented at the end of the show when lead guitarist Anthony Thogmartin called Colorado a second home for the band to mass cheers and rooster crows. Chants of "O-H-I-O" broke through, and what was on display was a coming together of music lovers from around the country partaking in one of their favorite hobbies, and the same can be said for the band. If it's true that music brings people together, it was on full display during Papadosio's marathon long performance that churned at times like a quiet caravan squeaking through desert sandstorms and at other points roared like a locomotive at full bore barreling down the tracks.
In an age where we've been spoiled and somewhat overwhelmed by the amount of talent pouring forth from the evolving blend of the crunchy jam band scene and the bass pounding, fist pumping electronic scene, it's always a pleasure when a band comes along and continues to keep audiences on our toes. Papadosio has seemingly embraced that notion and run with it, birthing a non-stop touring monster during their six years together.
Formed in Athens, Ohio, home to a wide variety of madness (Google Ohio University Halloween), Papadosio has been cutting their teeth on the road while crafting an intricate new double album years in the making called "T.E.T.I.O.S." or "To End the Illusion of Separation." Despite being based out of Asheville, North Carolina, they make their way to Colorado often, and are rewarded by an ever-growing fan base that has seen them elevate from the old B-Side Lounge, most recently the now defunct Shug's, to opening the Fox Theatre. On Thursday night in Boulder, they took the stage as the headliners they've deservingly become in front of an energetic audience blitzed with glitter and sequins, flat-billed Grassroots hats and accompanying crystals and lot pins.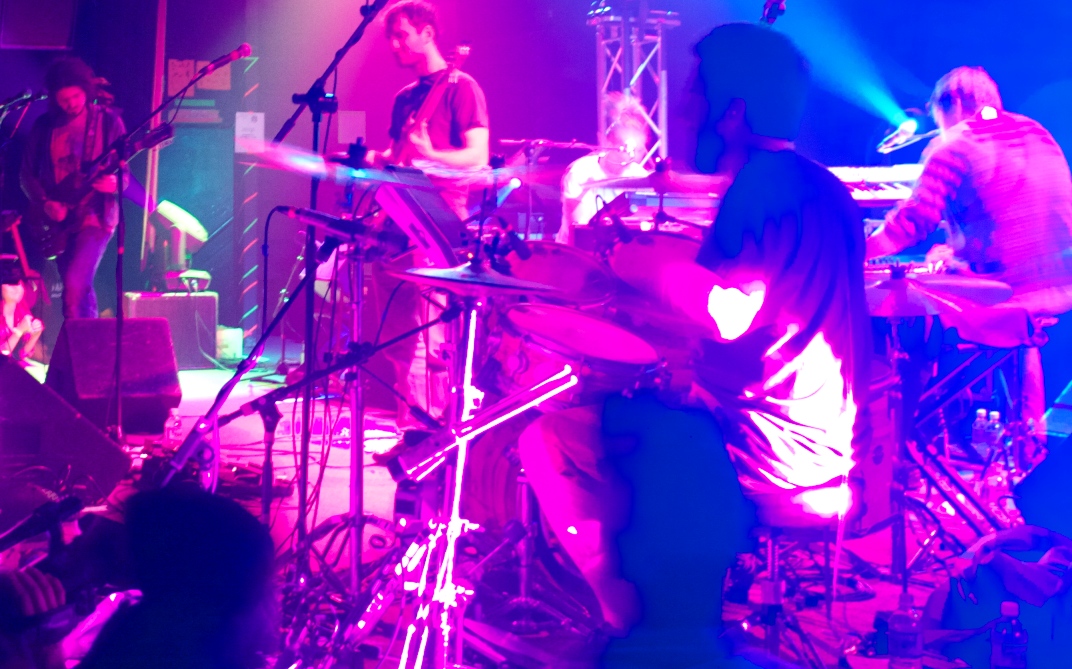 Despite an abundance of similar acts, Papadosio has crafted their own niche, refusing to be slapped with the Jamtronica label that so often attaches itself to their style and musical counterparts like STS9. When you hear the splices of reggae, jazz-fusion and tribal drumbeats, you realize how basic and big of a copout the jamtronica label can be. Papadosio can carry you to a different time and place throughout their sets, and at times on Thursday night they did, leaving little else to be desired from the audio and visual spectacle that took place.
With Denver locals Octopus Nebula kicking things off after a short DJ set by their guitarist, the night was started and driven by bass. So often in jam bands and electronic music, the bass is the driving force, and along with the drums, create breaks and thumping rhythms that hypnotize your body into slithering around the dance floor. This was certainly the case for Octopus Nebula, who torpedoed through their set at the speed of a heart in need of a pacemaker. The floors shook and I felt like the propulsion of notes could have capsized the roof of the Fox if it hadn't been renovated last summer.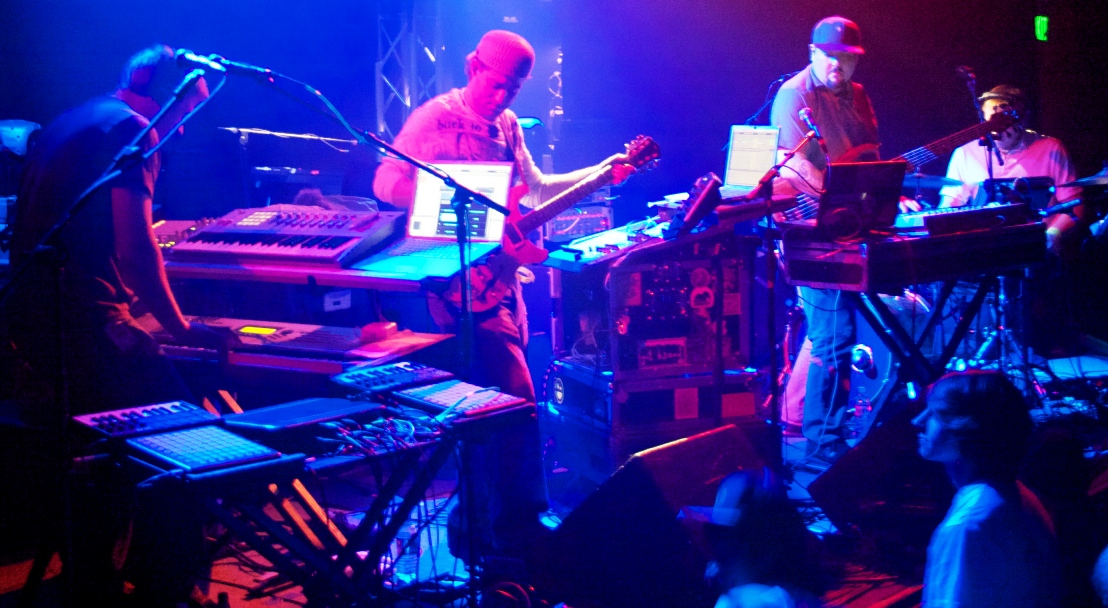 By the time Papadosio took the stage, most of the crowd had already fallen victim to the captivating video projection screens behind the band. At any given moment, the visuals could swirl into a psychedelic worm hole reminiscent of making the jump to light speed, an intricate pattern of fractals shattering with each boom from the bass, and even that of a Pharaoh of ancient Egypt along the banks of the Nile. Not only was the music carrying us around the world, but also the visuals were transporting us there. I'm not always a fan of light designs stealing the show from the band, but this was complementary. The audio and visual worked together to truly put the audience in a space that concerts don't usually propel the mind and body to.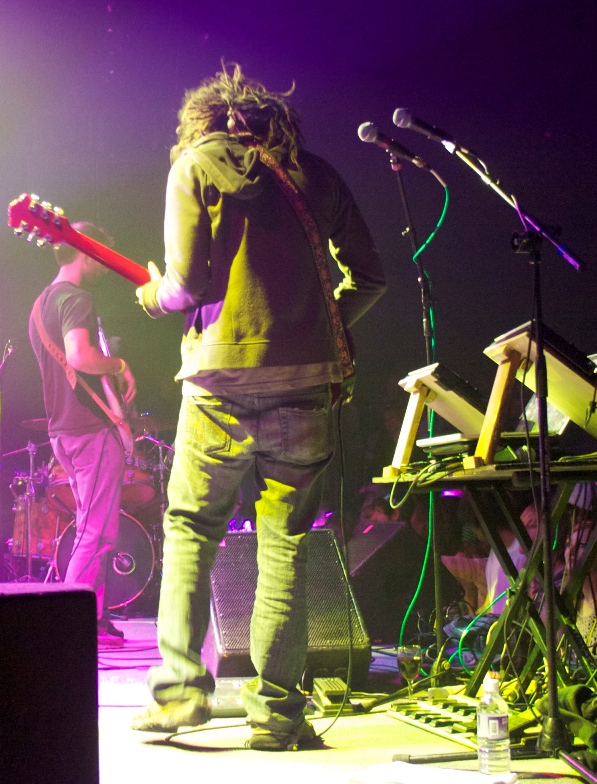 While Octopus Nebula lacked vocal harmonies, in fact, they didn't sing at all, Papadosio blended their grooves and jams with pieces of cohesive song structures including fascinating lyrical content. They are no longer solely noodling with each other's musical backgrounds. They've become a well-tuned engine with V8 power. While at times it doesn't seem like they're playing a song, and appears that they're just jamming, they are in fact always aware of what they're playing and when to bring things back down to earth. I remember songs coming to an end even though there was no clear beginning, and people in the crowd looked at each other as if they had just witnessed the resurrection.
Papadosio finished off their paramount set nearing curfew with a sweat dripping funk number that brought the crowd back to reality and had them remembering the dancing bass grooves that sometimes strayed into mystics throughout the show. The combination of music and visual art was dumbfounding, and for those who hadn't seen Papadosio pick up their instruments and go to work since their B-Side days, well, it is safe to assume that they left with a new perspective on Papadosio, and on the constantly changing music scene they encompass.